On the claim of "Security Purposes": Israeli Occupation Forces demolish a house in Hebron governorate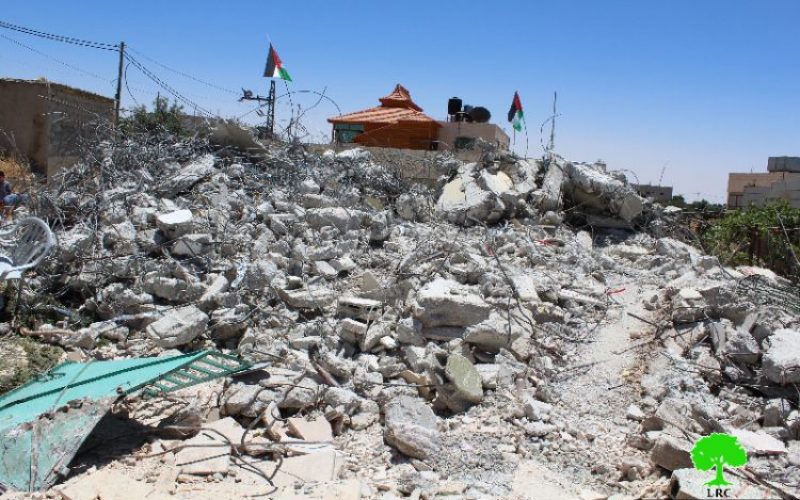 Violation: demolition of a house
Location: Beit Imra-Yatta town, Hebron governorate
Date: June 11, 2016
Perpetrators: Israeli Occupation Forces
Victims: family of Badir Idees
Details:
Israeli Occupation Forces demolished on June 11, 2016 the house of Badir Idees on the claim of "Security Purposes" in the Yatta village of Beit Imra in Hebron governorate.
Idees said that a massive force from Israel army and Border Police raided the village at one after midnight and surrounded the targeted house. An accompanying dozer, then, embarked on demolishing the gate and wall surrounding the house before reaching the structure itself and bringing it down.
Photos 1-3: sings of the demolition operation
It should be marked that the demolition lasted for three hours. The demolition was carried out on the claim that the son of the house owner Murad (16 years old) murdered on January 2016 a female colonist from the nearby colony of Atniel.
Photos 4-6: the house before demolition
It is reported that Israeli occupation authorities served a demolition and confiscation order on the house time ago. As a result, the owner objected to the order in Israeli courts. The case was sent to Israel Supreme Court, which eventually ruled the demolition of the house.
Photos 7+8: the demolition order
The targeted house totals 330m2 in area and is composed of two floors. It has a water well of 70m3 and small garden. Idees seven member family including two children had to move in to the apartment of Idees's brother after getting their house demolished.
It should be marked that the Israeli Occupation Forces issued the demolition and confiscation order on Idees's apartment in reference to article 119 of British Emergency Law that was effective during the British mandate in 1945. Noteworthy, the law is now abolished.
According to article 119 of that law, "Confiscation" of property means that the owner can not re-build structures in case of demolition.
Land Research Center sees Israeli practices and measures as a collective punishment against the families of martyrs and prisoners. The occupation seeks to traumatize and humiliate Palestinian families through such practices.
The Israeli government claims such orders to be deterrent for Palestinians who carry out stabbing attacks. Such attacks come in response for colonists' attacks on Palestinians, the latest of which was represented in torching a family alive, not mentioning running over kids and women, attacks on trees (torching , cutting down, robbing) and lands confiscation.
Land Research Center LRC sees that demolitions contradict with all of the International conventions and Humanitarian laws including:
Article 17 of the (1948) Universal Declaration of Human Rights stating: "Everyone has the right to own property alone as well as in association with others. No one shall be arbitrarily deprived of his property."
Section ‹G› of article 23 of the (1907) The Hague Conventions asserting: "In addition to the prohibitions provided by special Conventions, it is especially forbidden to destroy or seize the enemy's property, unless such destruction or seizure be imperatively demanded by the necessities of war."
Article 53 of the Geneva Fourth Convention (1948) declaring: "Any destruction by the Occupying Power of real or personal property belonging individually or collectively to private persons, or to the State, or to other public authorities, or to social or cooperative organizations, is prohibited, except where such destruction is rendered absolutely necessary by military operations."
Prepared by
The Land Research Center
LRC