Colonists to Judaize Al-Rabyeh hamlet in Hebron village of Al-Samou'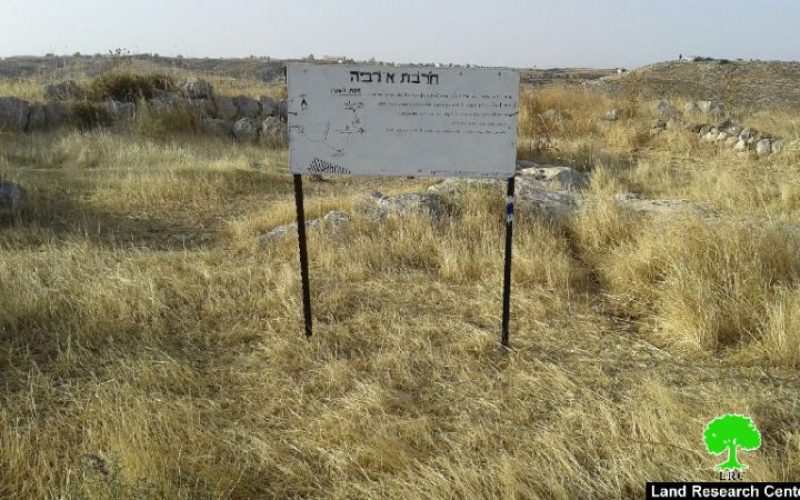 The Israeli occupation used various fraud methods to forge history and deface the Arab Palestinian identity. It first started with marking most of the archeological and religious sites as area "C", which is controlled by the occupation according to Oslo Accords of 1993. Now, around 3850 archeological and religious sites (55%) are under Israeli control. It should be marked that no specialized Palestinian authorities are given control on those areas whatsoever.
The occupation went far in its Judiazation process to give faux stories on the history of ancient sites and Jewish references to locations that are originally Islamic or Christian. This case is seen in the Josef tomb and the shrines of Dthu Al-Kifl, Yashua and Dhu Al-Noon in Nablus city. Also, Sebastian and Samarian ancient monuments are seen as Jewish for the occupation.
On June 2016, citizens from Al-Smaou' village were surprised to see sings and direction boards in Hebrew installed on the lands of Al-Rabyeh archeological hamlet. The signs included introduction about the area as a Jewish historical site.
The hamlet accommodates a number of ancient caves and water wells on an area of 25 dunums. Noteworthy, the hamlet is surrounded by hundreds of agricultural dunums. Until eighties, shepherds used to use the caves to shelter their sheep and wells for drinking.
It should be marked that the lands of Al-Rabyeh hamlet belong to Abu Aqil family from Al-Samou' town. It should be also marked that Atniel colony is 1km to the west of the hamlet. According to witnesses, colonists repeatedly break into the hamlet to tour the area.
About Al-Rabyeh
The hamlet is located on lands relative to Al-Samou' town and is 7km away from it. It is edged by AL-Dhahiriya town from the east, Rabud hamlet from the north and Atniel colony to the west.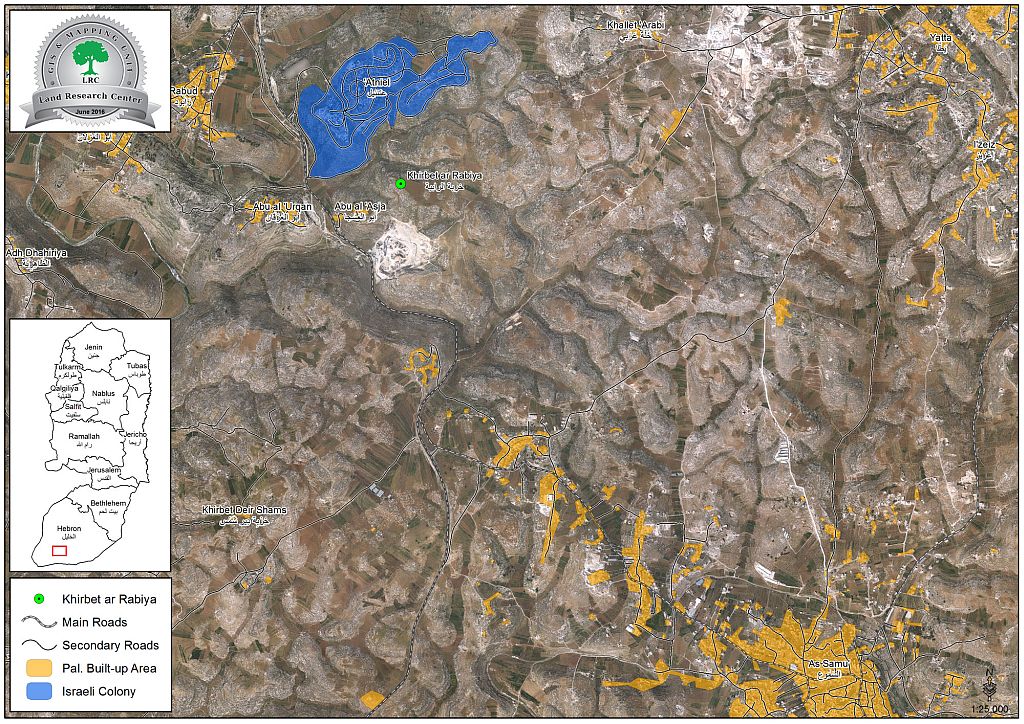 The hamlet is full of archeological sites and hamlets that framed the history of the area. It should be marked that Al-Rabyeh was included in West Palestine Survey (1870-1877) and in the British survey too until 1944. Not only, Israeli surveys of Kukhabi and Ofer included the place in 1972 and 1993 but no excavation works occurred in the area so far.
Al-Rabyeh location is 680m above sea level and has an area of 17 dunums. The hamlet accommodates archeological sites that belong to the Roman and Byzantine eras. The sites have foundations for structures that were never completed in addition to a square-shaped building in the center. It is believed that the location was a fortress, which protected the commercial caravans passing from the area.
Prepared by
The Land Research Center
LRC