The occupation notifies four agricultural pools of Stop-Work in Beit Ummar town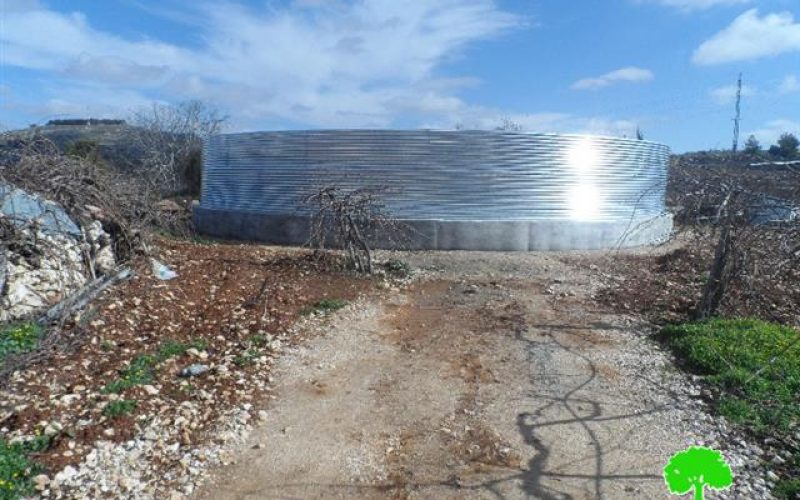 Violation: Stop-Work orders on water pools
Location: Beit Ummar town- Hebron
Date: January 05, 2016
Perpetrators: Israeli Occupation Forces and Civil Administration
Victims: farmers from the town
Details:
The Israeli occupation authorities notified on January 05, 0216 four agricultural pools of Stop-Work on the claim of "Unlicensed Construction" in the Hebron town of Beit Ummar. Famers affirmed that a staff from Israel Civil Administration raided the area of Wad Al-Arab, east Beit Ummar and hanged the orders on the pools.
It should be marked that the orders stated the halt of construction works and assigned January 21, 2016 as a hearing session for the Planning and Construction Committee- Israel Civil Administration in the Israeli Court of Beit El colony to consider the legal status of the notified structures.
It is reported that the pools are constructed above the ground with a volume of 400m3 for each to collect water that will be later used for agricultural ends. The project of pools was implemented by Union of Agricultural Work Committee UAWC and Palestinian Hydrology Group.
The following table shows information about the affected owners and structures:
No.

Famer

Irrigated areadunum

No. of order

Photo of pool

1

Wahid Abu Maria

8

200672

2

Ghassan Breighith

20

200670

3

Jamil Abu Maria

6

200673

4

Khalid Breighith

6

200669

Total

40
Source : Field observation- Department of Monitoring Israeli Violations- Land Research Center-2106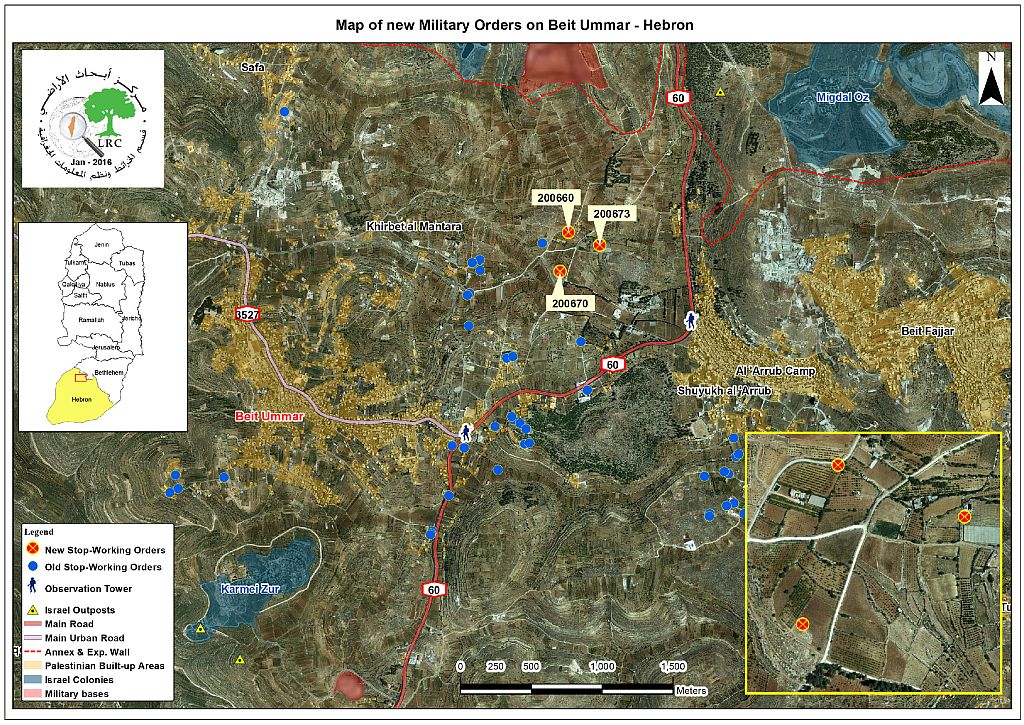 It should be marked that the town of Beit Ummar has been lately targeted by the occupation through enforcing closures and a fence at its entrance to hinder residents' movement. Not only, residents themselves in addition to structures are targeted .
About Beit Ummar:
It is located 12 km to Hebron city. The village's total area is 21,285 dunums , of which 1,375 dunums are considered the built-up area; around 13, 548 people inhabit Beit Ummar.
The Israeli occupation authorities confiscated 560 dunums from Beit Ummar for the favor of the bypass road no.60. The occupation also confiscated 1,216 dunums for the favor of the following colonies:
Colony

Year of establishment

Dunums confiscated from Beit Ummar

Built-up areadunums

No. of colonists

Karmei Zur

1984

179

289

623

Migdal Oz

1977

682

10764

298

Kfar Etzion

1976

1806

923.5

404

Efrat

1976

98.6

206306

7037

Alon Shevut

1971

237.8

934

3146

Total

1216

5286.5

11508
Source: Geographic Information System- Monitoring Israeli Violations Team- Land Research Center
Prepared by
The Land Research Center
LRC