The occupation is to establish eight watchtowers on lands from Nablus suburbs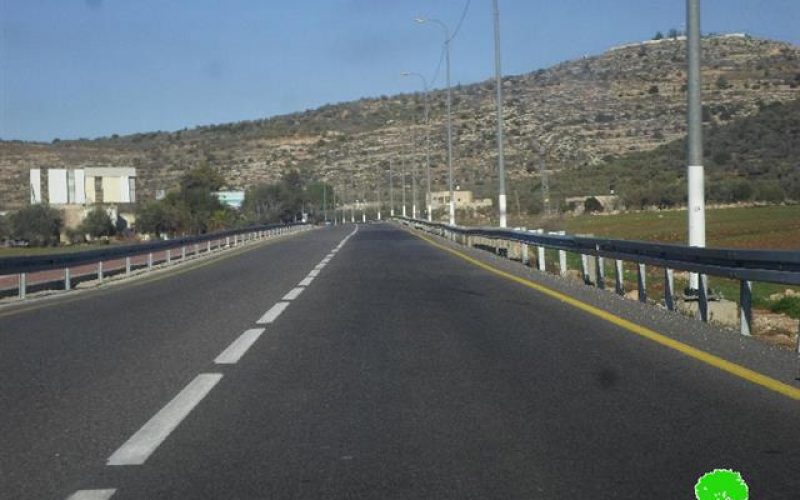 Violation

: confiscation orders on lands

Location: Madama, Tal, Huwwara and Burin villages
Date: January 12, 2016
Perpetrators: Israeli Occupation Forces
Victims: residents of the villages
Details:
In a new step to take over the Nablus southern suburbs, the Israeli occupation authorities declared on January 12, 2016 the confiscation of some lands from the villages and towns of Madama, Tal, Huwwara and Burin for the sake of establishing eight watchtowers. Note that the confiscation locations are founded nearby the bypass road number 147 that travels by Yizhar colony.
The responsible of the colonization file in the northern West Bank, Ghassan Daghlas, told Land Research Center that such measures aim at confiscating more lands and will cause farmers and lands owners become denied from accessing and using their plots.
When established, the watchtowers will ban people to approach lands from a distance of 100-150 meters. This will double the confiscated area as mentioned in the military order. Note that the new area will be declared as closed military zones where Palestinians are not allowed in for any reason whatsoever.
It should be marked that the military orders claimed control on the lands on the pretext of Public Interest. The orders were signed by the officer of the infrastructure department at Civil Administration Iby'ad Kasfi. The confiscation will be valid until December 31, 2018 but it is likely that the occupation will call for an extension when the deadline is to end.
The following table shows information about the locations of the suggested watchtowers:
Town village

No. of natural block

Location

Affected aream2 according to the order

Actual affected aream2

No. of watchtowers

No. of military order

Huwwara

13

Al-Amd location

0.4

400

One watchtower on the road no. 147

15/1/ش م ص

Madama

4

Al-Aqab and Al-Amayra locations

.018

700

Two watchtowers at Nablus circle

15/3/ ش م ص

Tal

10

Al-Araq location

.018

700

Two watchtowers at Nablus circle

15/4/ ش م ص

Burin

8

Al-Silsileh

.009

350

One watchtower rat Nablus circle

15/2/ ش م ص

Tal

10

Al-Arqan

.009

350

One watchtower rat Nablus circle

15/6/ ش م ص

Tal

16

Sl-Sahlat

.009

350

One watchtower rat Nablus circle

15/5/ش م ص

Total

0.463

2850
Source : Field observation- Department of Monitoring Israeli Violations- Land Research Center-2016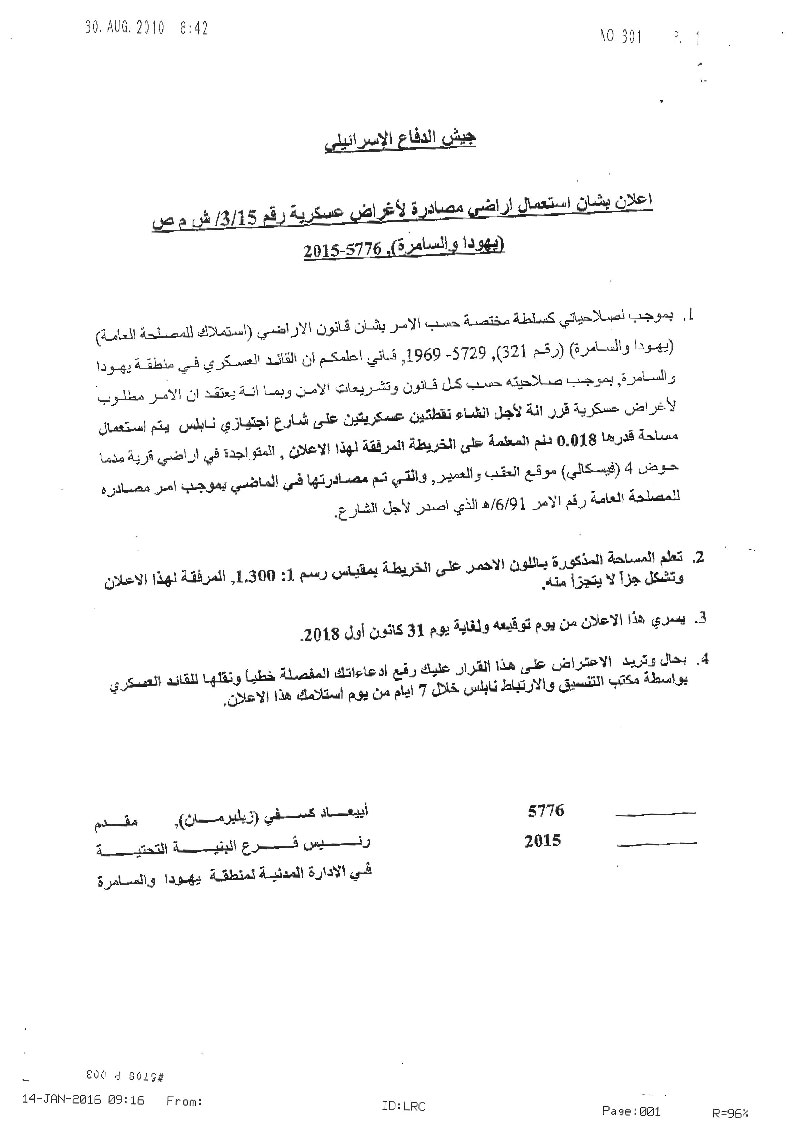 Photos 1-7: the military orders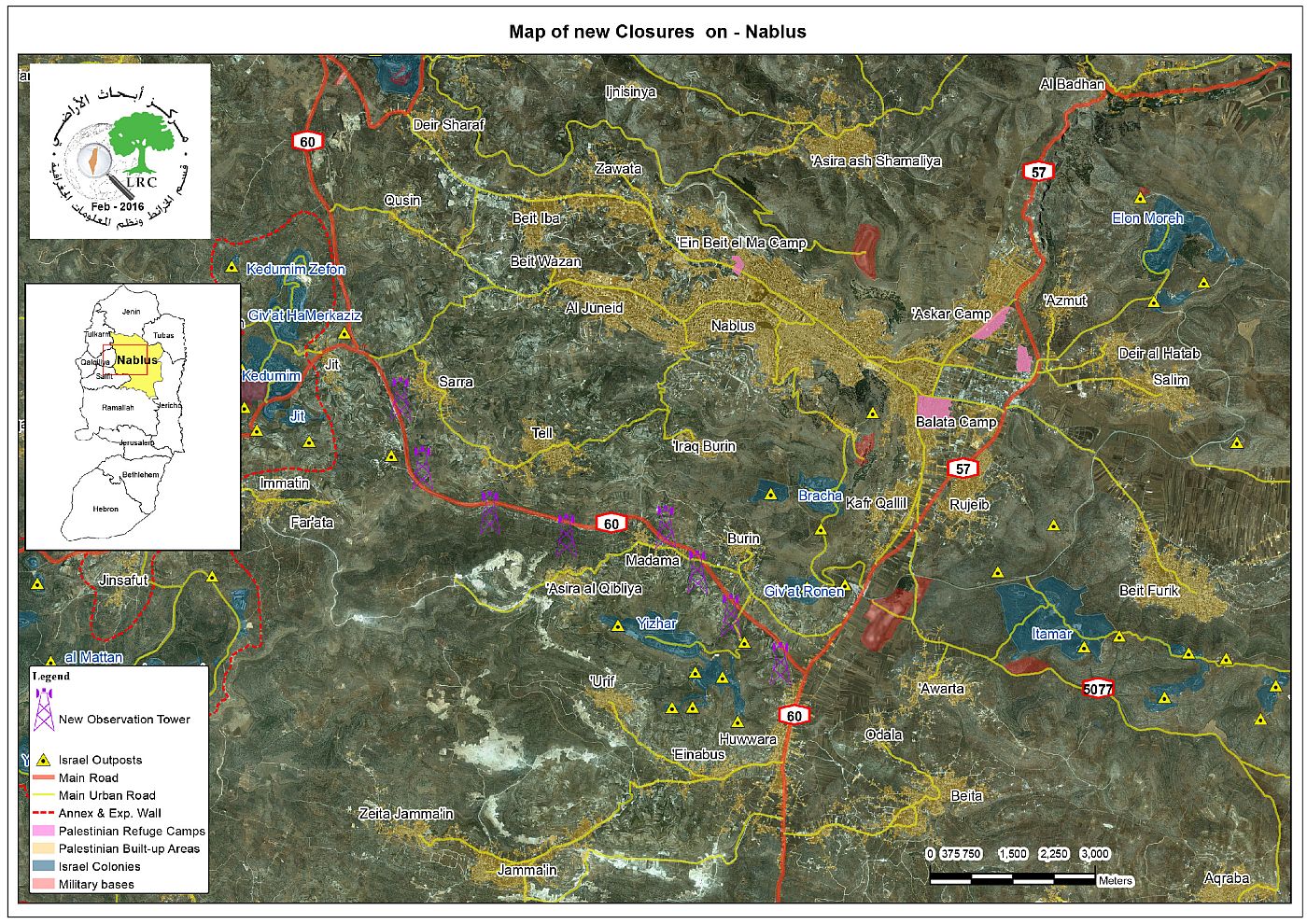 It should be marked that the southern suburbs of Nablus city have been a constant target for attacks and violations conducted by army troops and colonists. Attacks were represented in cutting trees off, torching properties and assaulting farmers after sending them out of their lands.
The colonies of Bracha, Yizhar and Itamar that are founded in the area are forming an imminent threat on Palestinians. Colonists are reported to carry out attacks and crimes against unarmed and marginalized Palestinians in an inhumane way that contradicts all international laws and human rights conventions. Ironically, the Israeli Occupation Forces protect and support colonists in their violence against Palestinians.
Prepared by
The Land Research Center
LRC