Stop-work orders on residences and barns in Jericho city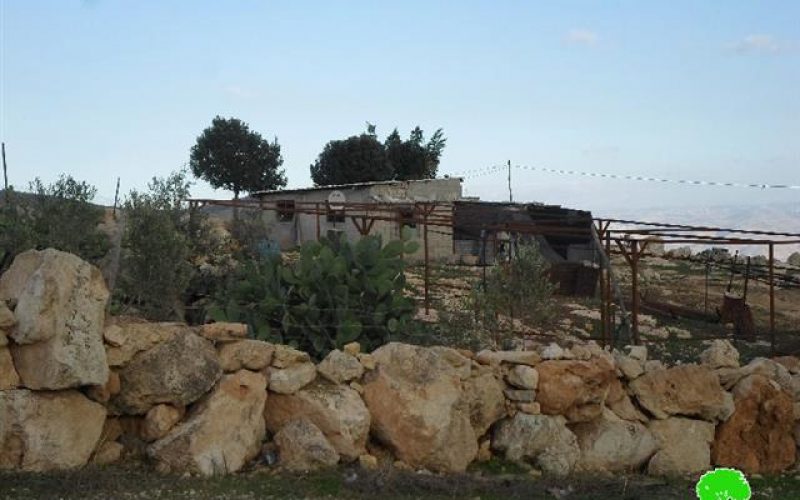 Violation: serving stop-work orders on structures
Location: Al-Jiftlik village- Jericho
Date: January 12, 2016
Perpetrators: Planning and Construction Committee- Israel Civil Administration
Victims: five Bedouin families
Details:
The Planning and Construction Committee- Israel Civil Administration delivered on January 12, 2016 stop-work orders to five Bedouin families residing in the Jericho village of Al-Jiftlik on the claim of "unlicensed construction"
According to the military orders, the affected people were given a deadline until January 27, 2016 to complete all licensing procedures. This comes in time with the hearing session of the Planning and Construction Committee in the Israeli court of Beit El to consider the legal status of the notified structures.
The following table shows information about the damage resulted due to the orders:
Affected

Family

Minors

Notified structures

No. of order

Remarks

Photo

Residence

Barrack for sheep

Najih Ka'abna

7

3

A 45m2 residential barrack

—

Ali Ka'abna

7

4

A 90m2 residential barrack

A 45m2 barrack for sheep

Previously notified of stop-work

5

Hussein Ka'abna

4

2

—

A 60m2 barrack for sheep

4

Khalil Jahalin

5

2

A 90m2 house

—

3

Mer'i Oudeh

9

4

A 110m2 house

—

Previously notified of stop-work

2

Suliman Jahalin

5

3

A 90m2 house

—

Previously notified of stop-work

1

Total

37

18

5

2
Source : Field observation- Department of Monitoring Israeli Violations- Land Research Center-2016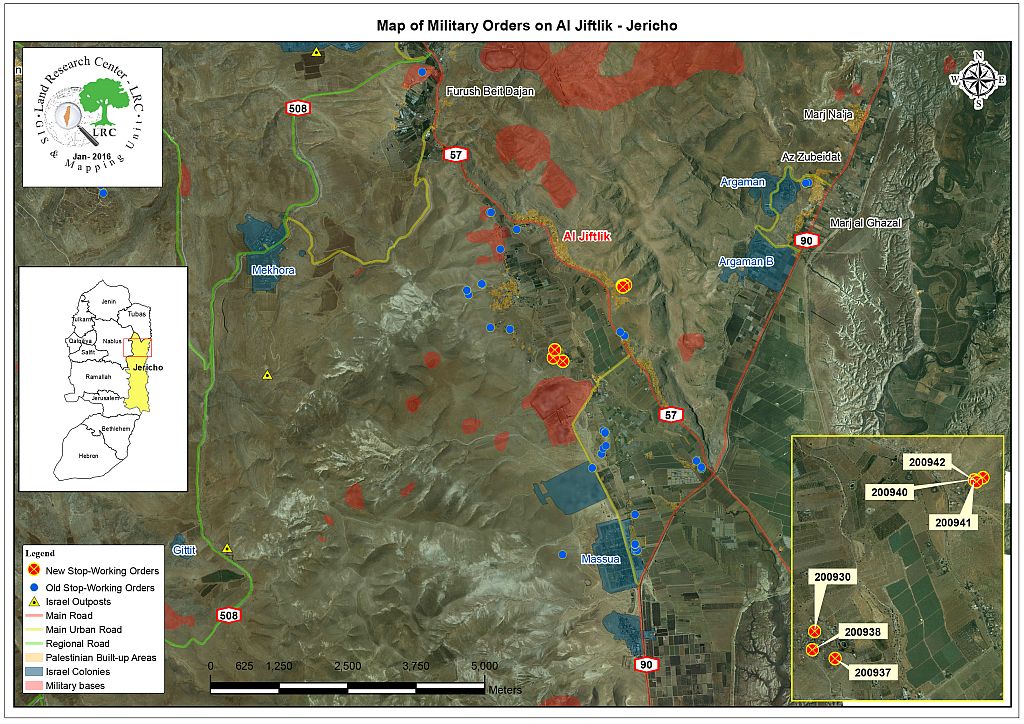 About al- Jiftlik:
It is located 35km from the northern part of Jericho city and is edged by the village of Beit Dajan from the northwest and Massua colony from the west.
The village has a population of 4789 people until 2014 and has a total land area of 185031 dunums of which 1110 dunums are built-up area. Noteworthy, the occupation expropriated around 12040 dunums from the village as follows:
3207 dunums were confiscated for the favor of establishing colonies in the nearby.
3328 dunums were confiscated for the bypass roads no. (90, 505, and 508).
5505 dunums were confiscated for the favor of military camps.
Prepared by
The Land Research Center
LRC