A final demolition order on a water pool in Kardala village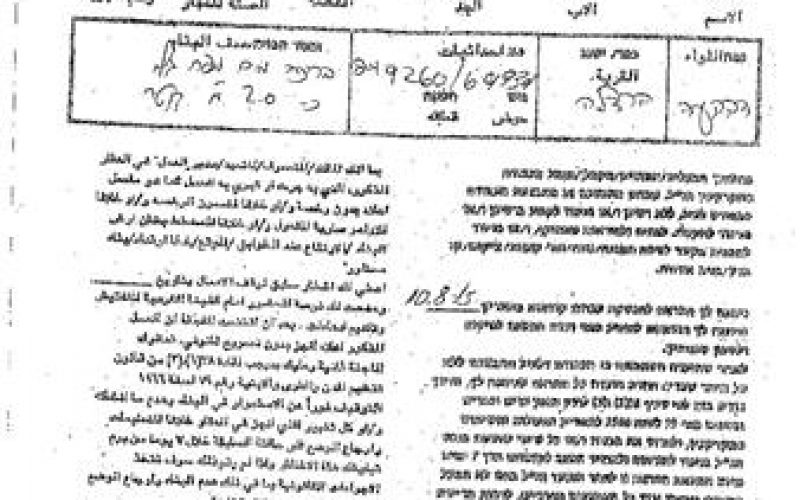 Violation: serving a final demolition order on a water pool
Location: the middle Palestinian-Jordan Valley
Date: January 06, 2016
Perpetrators: Planning and Construction Committee- Israel Civil Administration
Victims: farmers of the area
Details:
The so-called Planning and Construction Committee- Israel Civil Administration delivered on January 06, 2016 a final demolition order on a water pool to the village council of Kardala. The pool is founded in the heart of northern Jordan Valley. Noteworthy, the pool was served a stop-work and construction order on July 2015. For further information, read the report of Land Research Center issued in this regard (link).
It should be marked that the previous order held the number (121208) where the second one got the number of (391086). The second order gave the affected a seven day deadline to demolish the pool and restore the previous status of the area.
It should be marked that the village council of Kardala in cooperation with one of the international relief organizations on April 2015 established a water pool that is of 1000m3 in volume. The pool is designed to collect water via rainwater harvesting techniques in order to save water for agricultural ends.
According to the chairman of Kardala's village council Mr. Ghassan Faqha, the village accommodates a total of 1500 dunums that are planted with irrigated crops; those lands provide livelihood for many families.
About Kardala:
Kardala is 18 km away from Tubas governorate; the village is still unacknowledged by the Israeli occupation. It became an interest for the occupation due to the fact that it is located on lands classified as area "C" according to Oslo accords. According to the data of Kardala village council, there are 8 structures notified with stop-work orders, not mentioning the 13 facilities that were demolished in the area.
People of Kardala come hail originally from Tubas city; more specifically from the following families ( Sawafta, Daraghmeh, Qabha
Prepared by
The Land Research Center
LRC