The Israeli Occupation Forces confiscate construction materials and tools in Hebron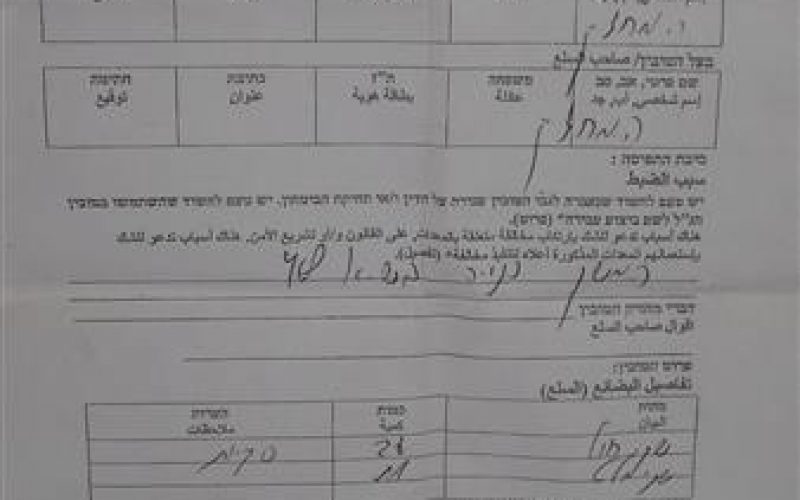 Violation: confiscation of materials and tools
Location: Khirbet Al-Tabban- Masafer Yatta
Date: December 09, 2015
Perpetrators: Israel Civil Administration and army forces
Victims: residents of Al-Tabban
Details:
The Israeli occupation authorities on December 09, 2015 confiscated construction materials and tools from Khirbet Al-Tabban in the Hebron area of Masafer Yatta.
It is reported that a force relative to Israel Civil Administration accompanied by an army patrol arrived at the construction site and confiscated several tools and materials. Noteworthy, the confiscated items were moved by a military truck and a "minute of confiscation " was delivered to the affected people.
Photos 1-2: the minute of confiscation
The following table shows information about the affected citizens and their materials and tools:
No.

Name

Family

Minors

Confiscated materials

1

Nasir Oubaid

9

6

Sand, cement and a eclectic drill

2

Issa Hammad

5

3

Cement, sand plastering materials

3

Mousa Mislih

6

2

Cement, wood panels and plastering materials

Total

20

11
It should be marked that any confiscated materials by the occupation get moved to the colony of Kfar Etzion, south Bethlehem. The "minute of confiscation" receipt is meant to allow affected people to restore their items but after paying financial fines and pledging not to use the confiscated materials ools at the confiscation site agian.
It should be marked that Khirbet Al-Tabban is part of Masafer Yatta area and is one of eight hamlets the occupation is working hard to empty and displace their inhabitants.
Prepared by
The Land Research Center
LRC