The Israeli occupation confiscates agricultural equipments from Sahel al- Bikaia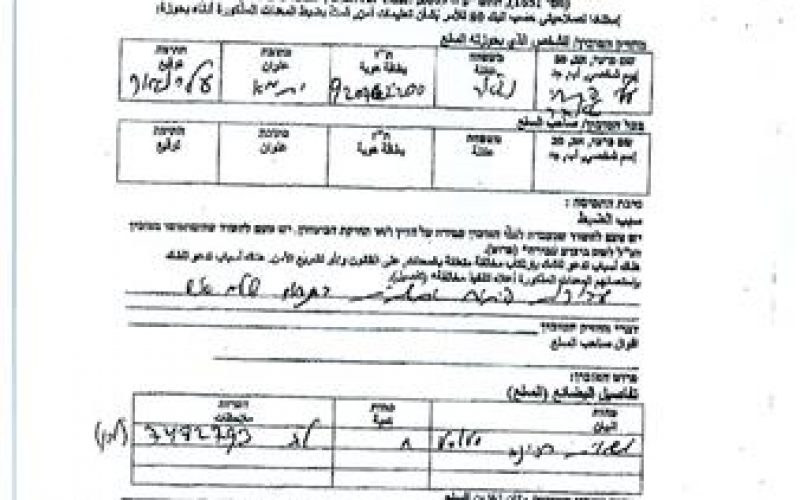 Violation: confiscating agricultural equipments at a rehabilitation site
Location: Sahel al-Bikai'a
Date: November 22, 2014
Perpetrators: the army of the Israeli occupation
Victims: Dumra Excavations Company
Details:
Agriculture is the crucial nerve that supports the economy of civilized peoples. It is a sign of stability and growth of economic wheel. Thus, the Israeli occupation is unstoppably striking this sector to destroy the lives of farmers and ban them from using their lands; especially those located in area "C" according to Oslo Accords.
It should be marked that a massive force from the occupation army on November 22, 2014 raided the area of Al-Ras Al-Ahamar, east Tubas governorate and confiscated a JCB dozer and two Volvo trucks belonging to Dumra Excavations Company. The confiscation occurred at time of rehabilitating a 14 dunum land belonging to Citizen Fakhri Daraghmeh (34).
Noteworthy, the confiscated machineries were moved to the nearby Beqaot colony. The occupation justified the confiscation on the claim of "entering a closed military order", taking into account that the land is registered as tabo "Ottoman Land Registry" with ownership documents. A big fine was imposed on the machineries as a result.
Such violations were frequently repeated not only by confiscating agricultural equipments but by targeting Bedouins' structures, residences and livestock. This is to displace people from their indigenous habitat so that the occupation takes it over for the favor of colonial expansion.
Photos 1+2: the area of Sahel al-Bikai'a
Photos 3-4: the confiscation minute
Sahel al-Bikai'a: a looted treasure by the occupation
According to the mayor of Tammun Abdelkarim al-Qasim, the total land area of al-Bikai'a is 98800 dunums, of which 25000 dunums are located within area classified (B &A) according to Oslo Accords. What remains of the lands is classified as area C. These lands are subject to colonial activities represented in the expansion of Buq'ut and the nearby colonies.
He also asserted that the major parts of the Sahel are unused properly for the occupation confiscates and expels farmers out of the lands. Farmers were even deprived from water, which is essential for farming. This made farmers shift to field crops because of water rarity rather than other crops.
Prepared by
The Land Research Center
LRC