Stop-work orders on a school and structures, west Jericho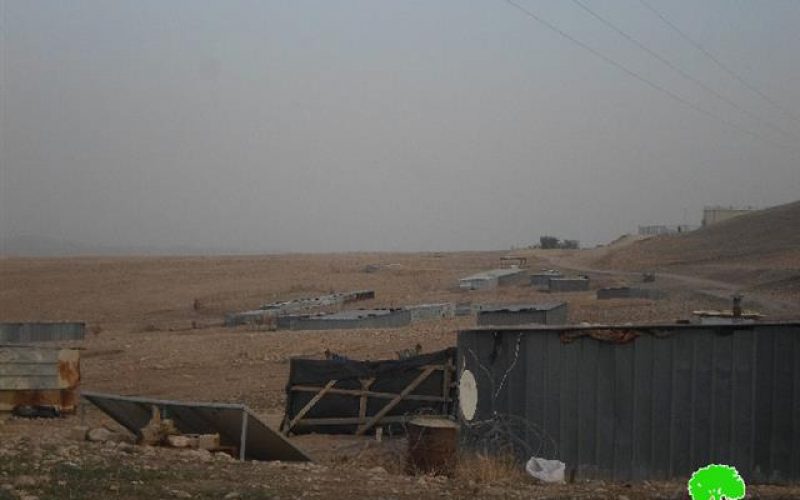 Violation: stop-work orders on a school and structures
Location: Al-Mu'rjat – Jericho
Date: November 18, 2015
Perpetrators: Planning and Construction Committee- Israel Civil Administration
Victims: 35 students
Details:
Bedouin communities and gatherings in the areas of Jordan Valley (Al-Ghoor) are considered a form of resilience and steadfastness against occupational and colonial plans that aim at taking over the whole area.
Since 1967, the occupation has been active in hindering any plan to settle down Bedouins in the area. Bedouins have been chased and targeted through demolishing their structures, barns, sheds and tents. Also, their pastures and livestock have always been a target too. This caused many Bedouin people to leave the area looking for a safer shelter.
Stop-work order on a school:
The so-called Planning and Construction Committee- Israel Civil Administration notified on November 18, 2015 a school of stop-work on the claim of lacking building permits in area classified "C" according to Oslo Accords.
According to the order (200932), the affected people were given until December 03, 2015 to complete all licensing procedures. This comes in time with the hearing session of the Planning and Construction Committee- Israel Civil Administration in the Israeli court of Beit El colony to consider the status of the notified structures.
It should be marked that the school was built in 2014; it is comprised of 6 caravans that are put on a 2 dunum area. The school also accommodates bathrooms and recreational games that serve 35 students (1st to 4th grades).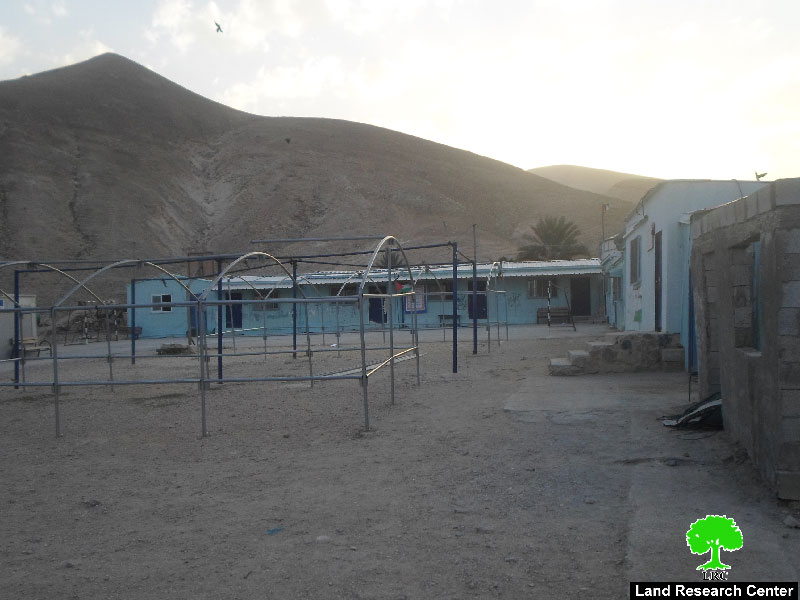 Photos 1-5: the targeted school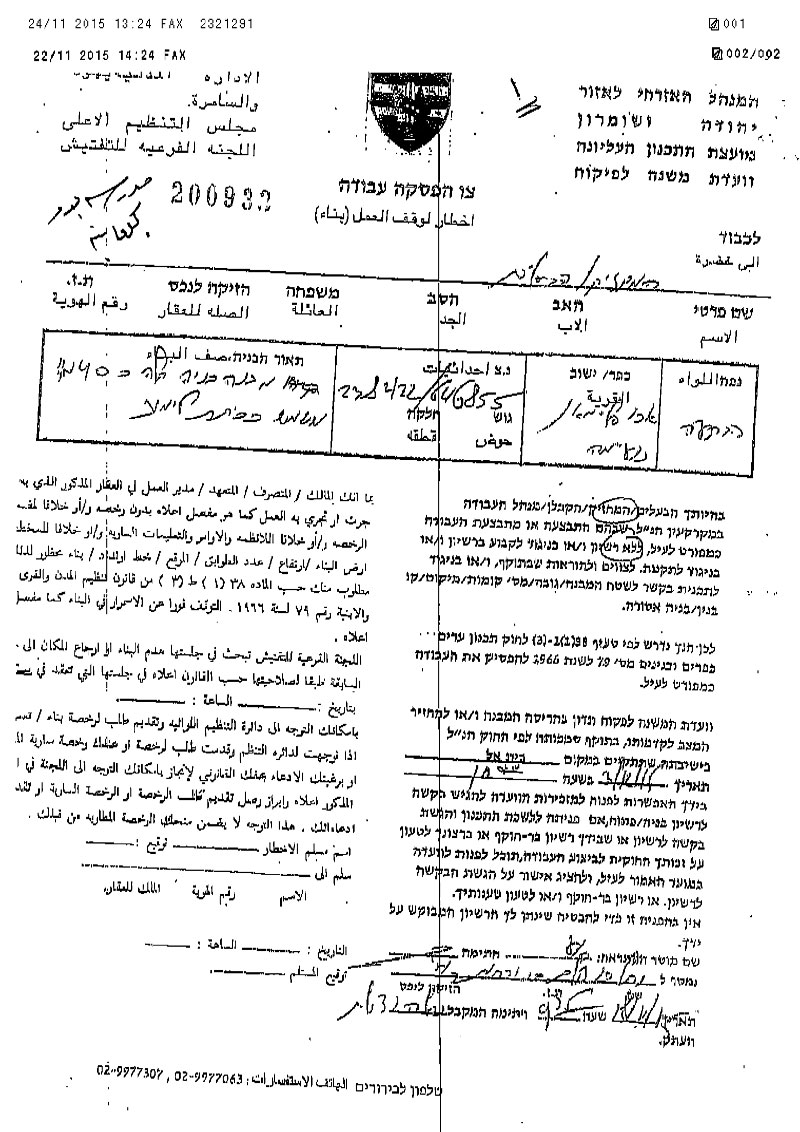 The order number 200932
The school is reported to be located in the Bedouin community of Al-Mlaihat in the area of Al-Mu'rjat. That area is inhabited by 120 people, who live a primitive life and depend on livestock to make living.
Despite all the hard conditions of life Bedouins endure, the occupation never leaves them safe. It targets them with demolition and displacement; Israel had made a plant to re-locate Bedouins from that area in a place called Al-Nuwei'ma that lacks all proper life conditions.
Stop-work orders on residences and sheds
Additionally, the Planning and Construction Committee- Israel Civil Administration served stop-work orders on the residences of four Bedouin families (24 members including 10 children). Noteworthy, the targeted structures (4 residential barracks and 6 sheep sheds) are made of metal slaps. The order was served on the claim of unlicensed construction.
According to the order, the affected were given a deadline until December 03, 2015 to complete all licensing procedures. This comes in time with the hearing session of the Planning and Construction Committee- Israel Civil Administration in the Israeli court of Beit El colony to consider the status of the notified structures. The following table shows information about the affected owners by the orders:
Affected citizen

FAMILY

Minors

No. of sheep

Notified structure

No. of order

Residence

Barrack

Mohammed Mlaihat

9

3

67

Residential barrack(28m2)

Sheep tent (16m2) + barrack (16m2)

Ali Ka'abneh

5

2

85

Residential barrack(45m2)

barrack (16m2)

Awad Mlaihat

7

4

45

Residential barrack(40m2)

Sheep tent (12m2) + barrack (9m2)

Roudi Mlaihat

3

1

40

Residential barrack(25m2)

Sheep tent (12m2)

Total

24

10

237

4

4 tents and 2 barracks
Source: Field observation- Department of Monitoring Israeli Violations- Land Research Center-2015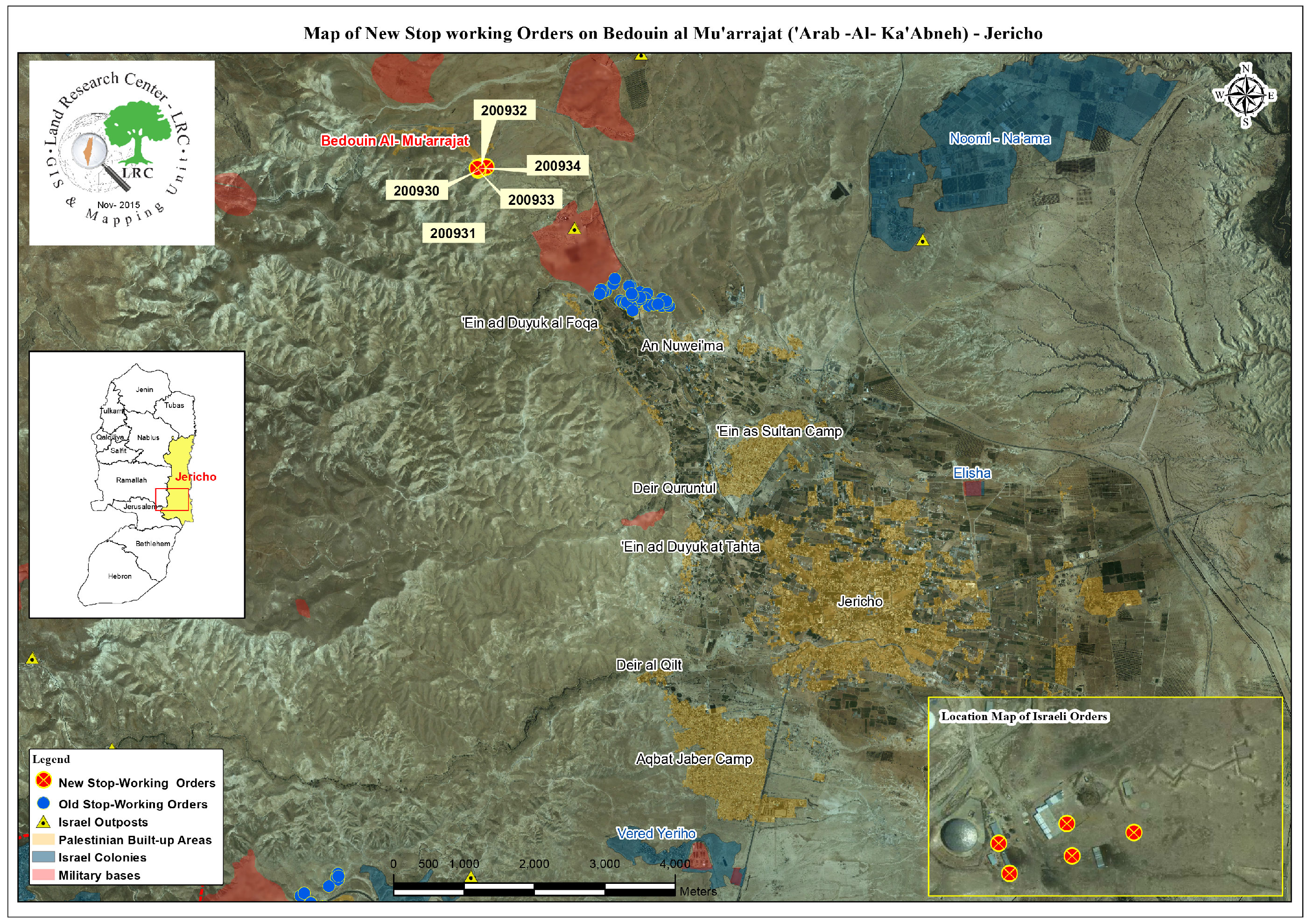 Stop-work orders on a residence and barracks in Fasayil Al-Wusta- Jericho
In the same context, the Israeli occupation authorities served on November 17, 2015 a stop-work order on the structures of Abu Khraibish family on the claim of unlicensed construction. Noteworthy, the family is comprised of 11 members including 4 children. The following table shows information about the affected family:
Affected citizen

Family

Minors

No. of sheep

Notified structure

No. of order

Residence

Barrack

Ismael Abu Kharbish

11

4

160

Barrack (45m2)

Barrack for sheep (12m2)+ two tents (12+9 m2)

Total

11

4

160

1

3
Source: Field observation- Department of Monitoring Israeli Violations- Land Research Center-2015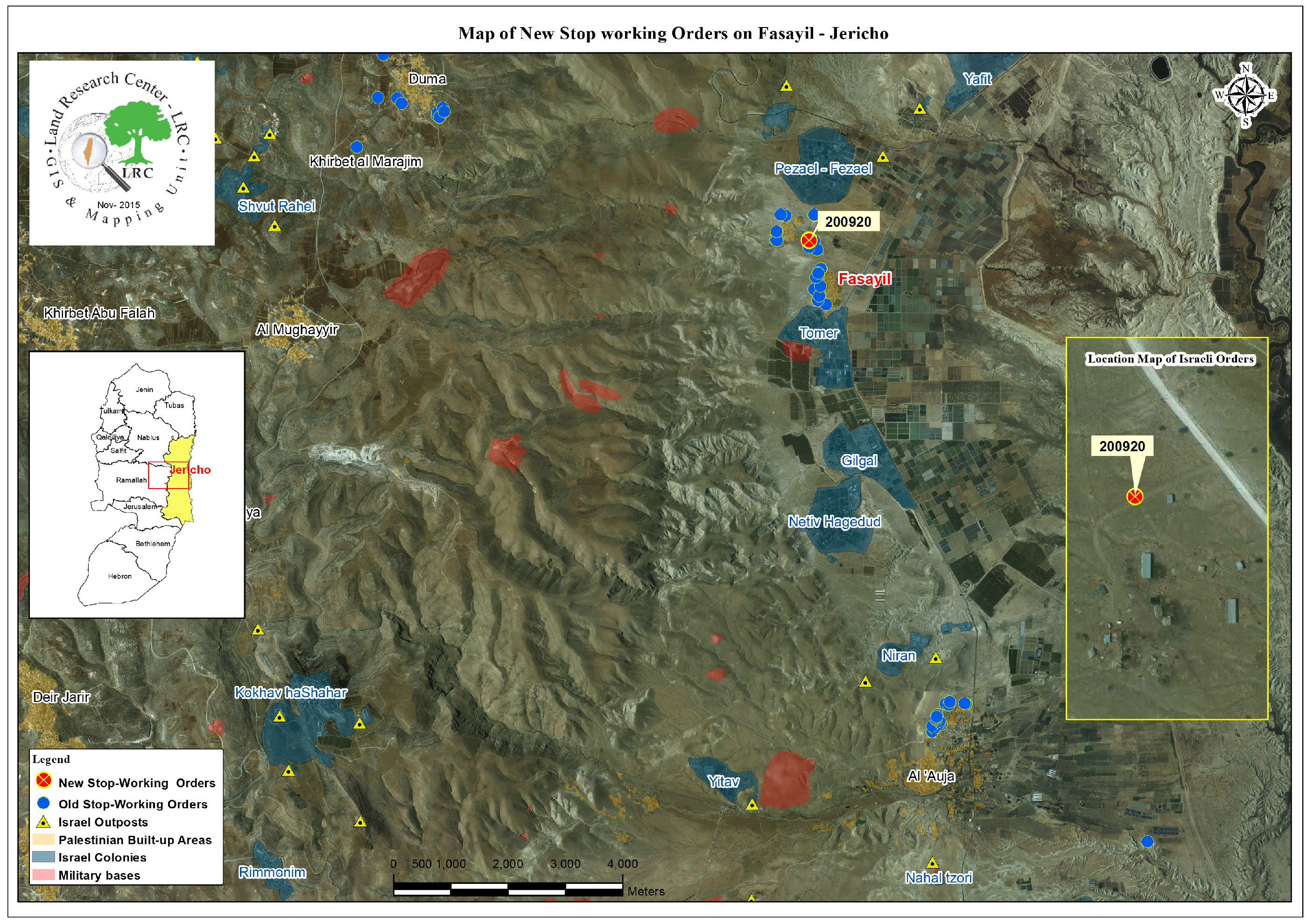 An aerial photo illustrating the location of Abu Khbarbish residence
Prepared by
The Land Research Center
LRC