Itamar colonists ban surveying works in Aorta-Yanun road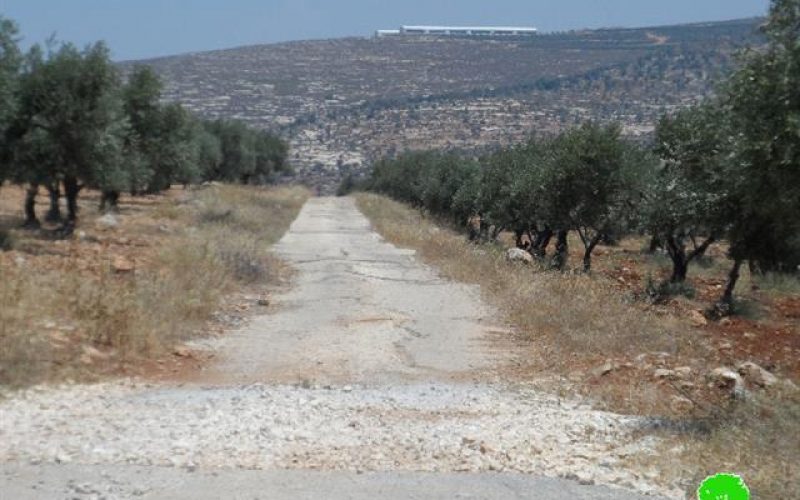 Violation: banning survey workers from working in a road
Location: Al-Yanun-Aorta /Nablus
Date: July 09, 2015
Perpetrators: Itamar colonists
Victims: residents of Nablus southern suburbs
Details:
A group of Itamar colonists that is founded on confiscated lands from Aorta and Aqraba villages on July 09, 2015 banned workers from Ministry of Public Works from completing surveying points on the road of Aorta-Yanun. The road was reported open in 2013 to be rehabilitated and used by the residents of Nablus southern suburbs.
The mayor of Aqraba village Mr. Ayman Bani Fadil told a researcher from Land Research Center the following:
"We lately managed to obtain a fund to rehabilitate the road(located within lands classified as area "B" according to Oslo Accords) though UNDP; 4km of the road were supposed to be rehabilitated. At time of implementing the project, Itamar colonists came and sent the workers of the Ministry of Public Works out of the area and banned others from rehabilitating the road".
He also added:
"Previous coordination was made through Israel District of Coordination Office to let workers survey the area, and yet the occupation army prohibited them from carrying on their work"
Photo 1: Aorta-Yanun road with a view of Itamar colony in the back ground
It should be marked that the road was closed from 2000 until 2013 under "security purposes" as the occupation claimed. Colonists invested all efforts to take over the area through targeting lands by using them as pastures for their animals and destroying crops in there.
The road is only 1km away from Itamar; colonists carry out attacks and violations under the watchful eye of the Israeli occupation soldiers, who provide utmost protection and give hand to colonist at time of attacks as well.
In the aftermath of the second intifada, the road was closed as part of the closure and siege plan imposed by the occupation on the West Bank.
About Aorta-Yanun road:
It is indicated that this road dates back to the Ottoman era, where it was used as an economical and agricultural passageway, serving the villages of Nablus southern suburbs namely (Aorta, Al-Yanun, Beita, Aqraba, Osrin, and Majdal Bani Fadil). The road serves hundreds of agricultural dunums of olive groves, which are hard to access but through this very road.
Despite the road is claimed opened by the Israeli occupation, Palestinian cannot pass through it without being attacked and violated by colonists if Itamar. As a result, residents now are forced to take a new route through Beita village to go Nablus from where they are. The new route is double in distance than the original one and causes more fatigue to travelers.
Prepared by
The Land Research Center
LRC