Israel accelerates the annexation of the Western Segregation Zone in Qalqilyia Governorate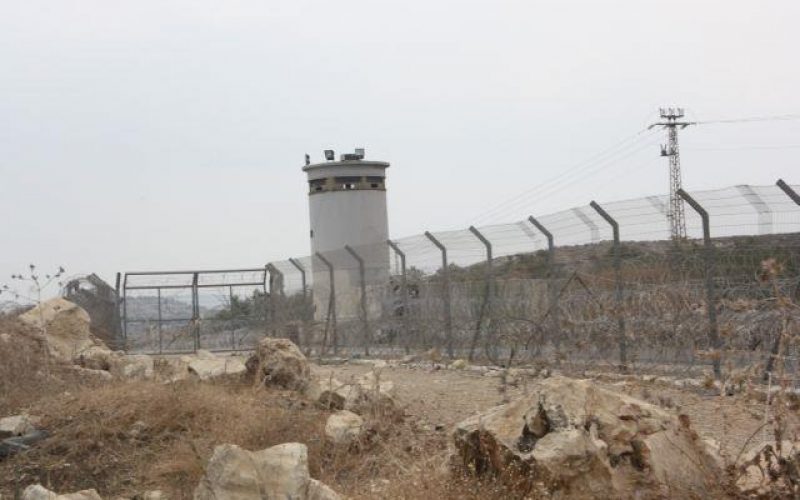 On the 27th of January 2015, the Israeli daily newspaper, Haaretz, revealed about an investigation that revolves around 2400 dunums of Palestinian land in Qalqilyah Governorate that has been illegally transferred by some officials in the Israeli civil administration to an Israeli company (development of Samaria, Inc.) affiliated to Samaria "Shomron" Regional Council".
The transfer of land was made despite an order made by the head of the Israeli Civil Administration's, Nitzan Alon, not to transfer these lands for the time being until a dispute between the Samaria "Shomron" Regional Council and the settlements of Elkana and Oranit over the control and management of the land in the future is resolved; not to mention the millions of shekels that this land will bring to whomever will manage it in the future from development fees and municipal taxes. See Map 1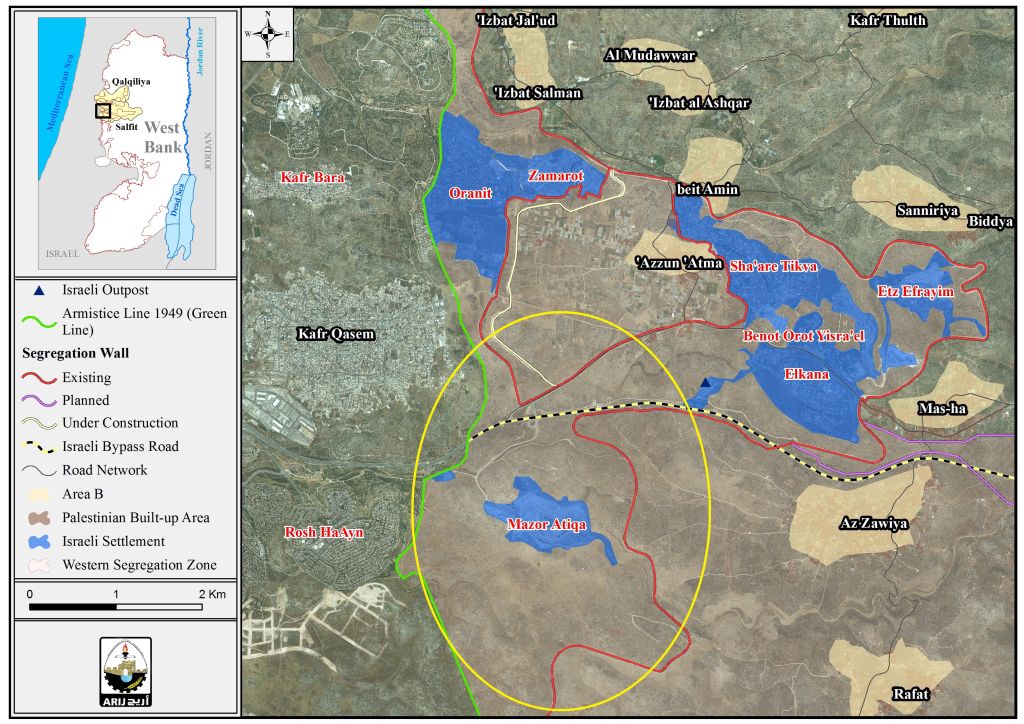 However, and regardless of the individual who facilitated the transfer of the Palestinian land to the Israeli company or who will manage this land in the future, it should be noted that the file of this land was held by the Israeli civil administration for some time and the only obstacle that stood in the way of annexing it is who will manage this land in the future. This means that the Israeli Civil Administration has already finalized land confiscation issues but was awaiting for a dispute to be resolved. In fact, the latest Israeli confiscation aims to achieve many goals, amongst which are the following:
To consolidate the concept of constructing the wall.
The confiscation of Palestinian land west of the wall and annexing it to Israel.
To create more facts on the ground that would ultimately affect any final status outcome with the Palestinians.
To ensure geographical continuity between Israeli settlements in the Western Segregation Zone at the same time stop any natural expansion of Palestinians communities in the direction of settlements in the Western Segregation Zones.
To preserve settlements' sustainability in the future; and
To grab as much Palestinian land as possible for the future Israeli settlement programs
The targeted Palestinian land is located west of the Israeli Segregation Wall, in the area known today among Palestinians as "the western Segregation Zone", between the 1949 Armistice Line and the line of the wall, bordering the Israeli settlement of Rosh Ha'ayin. There is also talk about the establishment of an industrial zone in the area belonging to the Israeli settlement of Rosh Ha'ayin.
To Conclude,
The illegal seizure and transfer of Palestinian land to Israel is a true manifestation of Israel's intention toward the peace process and the negotiation process with the Palestinians as it keeps manipulating law to legalize its improper actions in the occupied State of Palestine.
Additionally, the Israeli annexation of Palestinian land is illegal as stated in many international laws and many United Nations Security Council resolutions, one of which is the United Nations Security Council Resolution 452 which 'calls upon the Government and people of Israel to cease, on an urgent basis, the establishment, construction and planning of settlements in the Arab territories occupied since 1967, including Jerusalem.' Moreover, the Fourth Geneva Convention states in Article 49 that 'The occupying power shall not deport or transfer parts of its own population into the territories it occupies'; as well as Article 174 of the same convention also prohibits the 'extensive destruction and appropriation of property not justified by military necessity and carried out unlawfully and wantonly.'
Prepared by:
The Applied Research Institute – Jerusalem