A military order banning any Palestinian construction in periphery of the apartheid wall surrounding the colonies of Beit Arye and Ofarim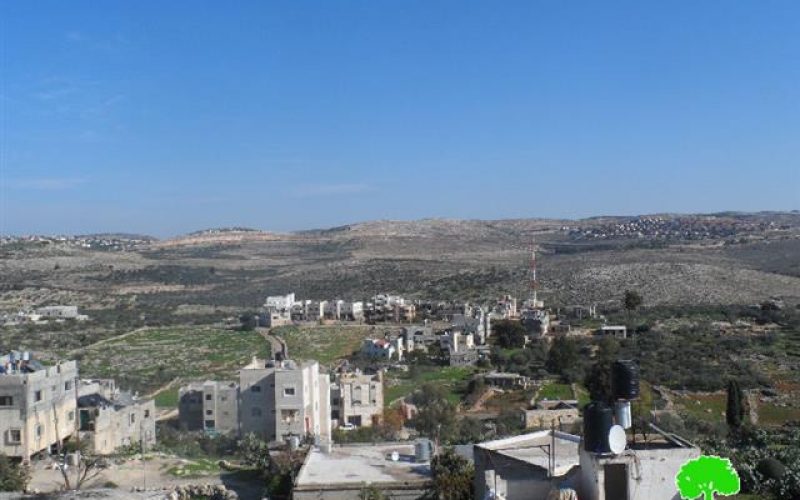 Violation: banning the Palestinian construction
Date: 05/01/2014
Location: villages of Ramallah
Perpetrators: Israeli occupation army
Victims: residents of the villages
Details:
In a new Israeli plan that aims at looting more area of lands and pinning down the Israeli presence in the West Bank, the commander of Israeli army Nitzan Alof on January 05, 2014 issued a military order on the Palestinian villages (Shabqa , 'Abud, Lubban al-Gharbi, and Rantis). The order banned using the lands located nearby Ofarim and Beit Arye colonies.
The order entitled " Stop-work and termination no. 11/16/C in the buffer zone (Beit Arye- Ofarim) and extending validity no. (2) 5774-2014" mentioned that the Israeli occupation army has the absolute right to prohibit Palestinians from any act of construction in the periphery of the apartheid wall surrounding the colonies of Ofarim and Beit Arye.
Predictably, the occupation justified the order under the pretext of organizing the area and maintaining the safety and security of the two colonies.
Photos1+2: the military Order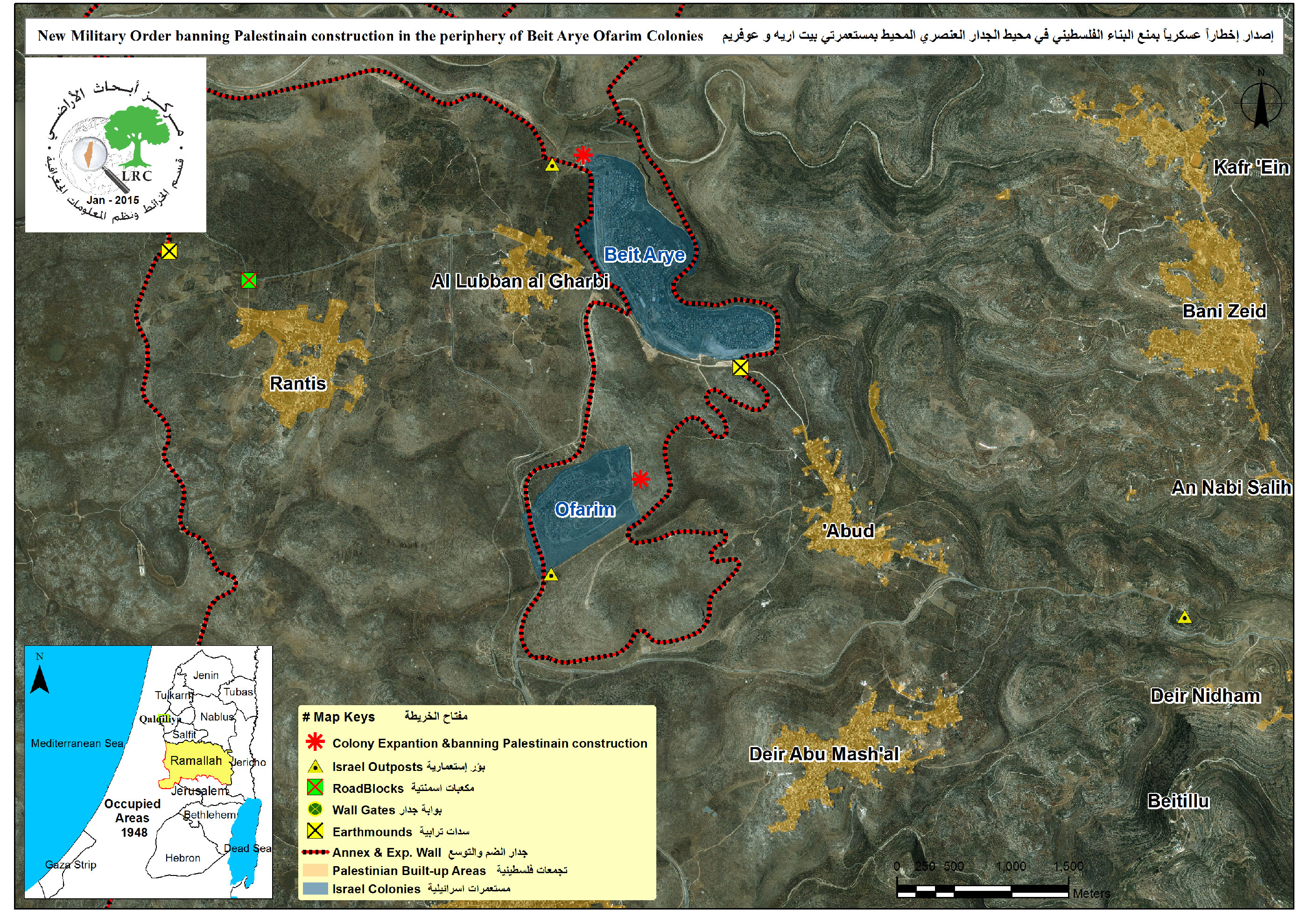 A new catastrophe on the villages' residents:
The chairman of 'Abud village council told a researcher from Land Research Center the following: " This order is to be considered a catastrophe on the residents of these areas. The order is not just for banning construction but banning farmers from using lands from a distance of 500-800 m from the apartheid wall. The wall takes a shape of a circle surrounding the two colonies and devours hundreds of agricultural dunums from the area. In other words, an area of 200 dumums will be added for the favor of colonial expansion not mentioning the confiscated and annexed lands to colonies"
Beit Arye :
Beit Arye was established in 1977 over lands of Al Lubban and 'Abud to the north of Ramallah. Its total area nowadays is around 1653 dunums inhabited by over 3400 people.
The colony is named after Arye Ben-Eleizer one of the leaders of the Herut terrorist movement and one of the founder of the Israeli "Likud" party.
Ofarim:
Ofarim is a (religious- secular) community " Kiputs" that was established in 1989 on lands from 'Abud, Rantis and Lubban al-Gharbi villages. The colony's total area is 1380 dunums. The colony accommodate a synagogue, a daycare, a day club, and a library. Ofarim population totals around 870 until 2008.
Prepared by