Expansion works on Ariel industrial zone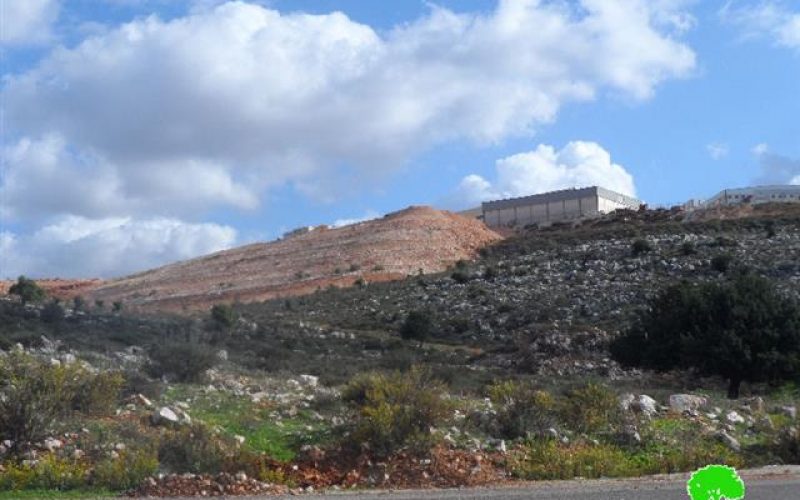 Violation: Ariel industrial zone is going under expansion
Location: Bruqin village/ Salfit
Date:17/11/2014
Perpetrators: Ariel industrial zone
Victims: farmers from Bruqin
Details:
The industrial zone of Ariel has been lately undergoing expansion works represented in ravaging a vast area of lands for the sake of building more illegal Israeli factories, which ,in a way or another, destroy the environment and the Palestinian agriculture.
Bruqin village got its share from the systematic targeting represented in ravaging the eastern part of the town known as al-Za'faran. Noteworthy, three factories are being built on the aforementioned lands .
According to Land Research Center field observation on the location, the total area of ravaged land reached 18 agricultural dunums.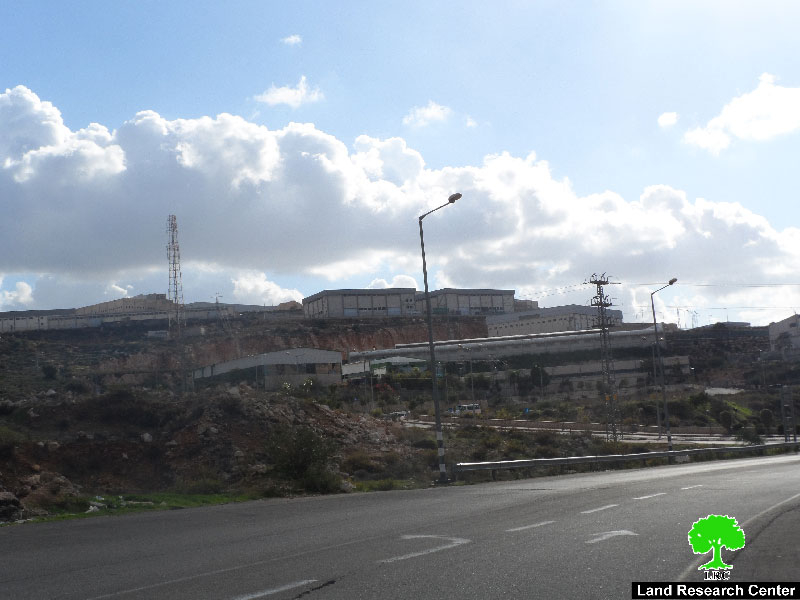 Photos 1-3: Ariel factories expanding at the expense of Bruqin village
Ariel industrial zone :
It should be marked that the Israeli authorities confiscated on 1999 a vast area of lands from the Palestinian villages of Haris , Surta and Bruqin for the sake of establishing a core for a colonial industrial zone that is to the west from the colony of Ariel.
Ever since, the industrial zone has been witnessing a rapid growth at the level of infrastructure and the number of factories founded on it. Famous factories in the area produce oils, agricultural plastic and threads. Noteworthy, the Israeli government has given so many privileges for those factories in terms of tax reduction, logistic services and other promoting services.
Ironically, there is less care shown in regard to the nature and agriculture by bodies related. For example, Israel Nature Protection authority is not paying any attention to factories exhausts and leftovers. According to report issued by one of the occupation Lawful associations in 2012, most of the industrial zones that are located within colonies don't abide by environmental conditions and do not take part in statistics related to environment.
About Bruqin:
It is located 8km to the west of Salfit city; it is one of the Palestinian villages that depend mostly on agriculture in its income. The village's total area is 13273 dunums including 1470 dunums of built-up area inhabited by around 3500 people. 1200 dunums are planted with olives while 3000 dunums are used for herding purposes.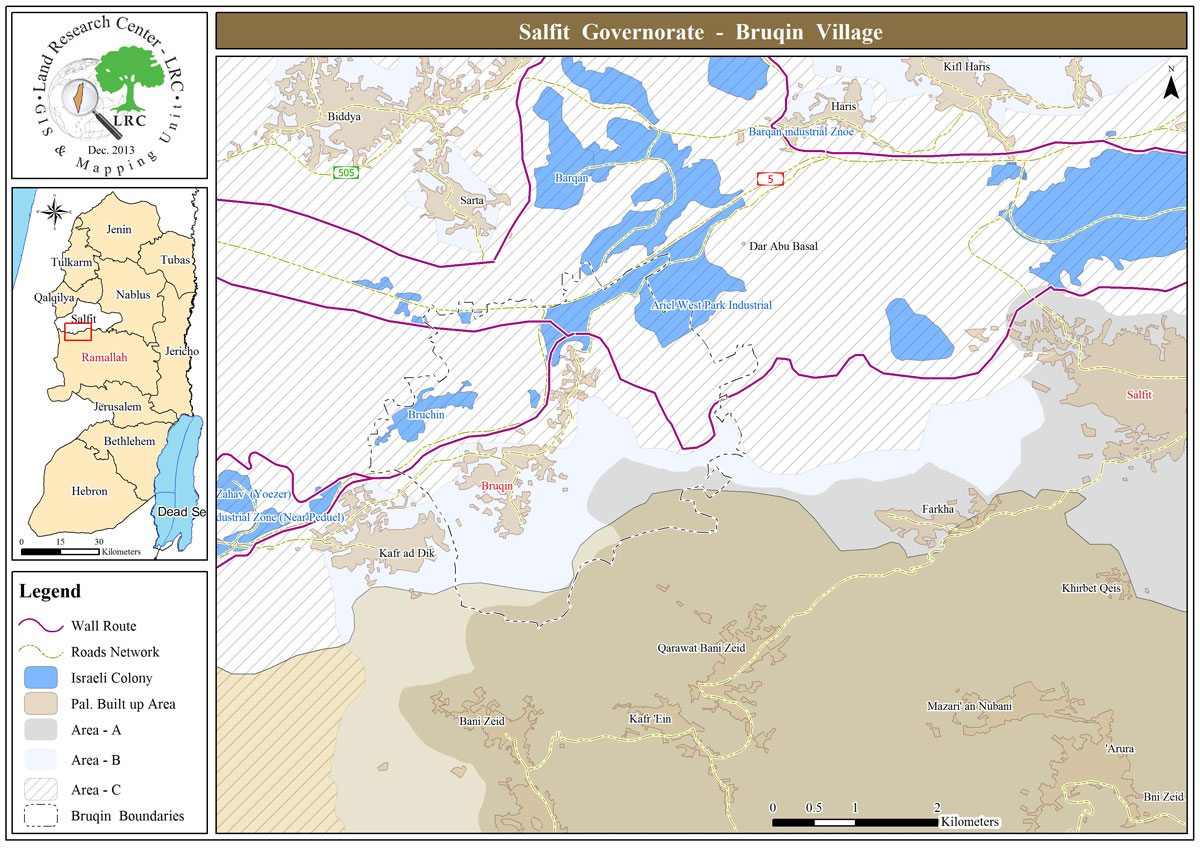 The village is facing vicious attack from the Israelis; more than 8000 dunums of the village lands were confiscated for colonial expansion purposes.
Table 1: land confiscations in Bruqin:
| | | | | | |
| --- | --- | --- | --- | --- | --- |
| No. | Colony | Establishment date | Built-up area | Type | Built over |
| 1 | Barkan | 1981 | 622.5 | Industrial | Sarta, Bruqin, Haris |
| 2 | Bruchin | 1999 | 265.5 | Residential, industrial | Bruqin, Haris |
| 3 | Ariel Gardens | 1978 | 5226 | Industrial | Bruqin |
*GIS unit – LRC
Prepared by
The Land Research Center
LRC