Confiscating the equipments of al-Rayyan for dairy products factory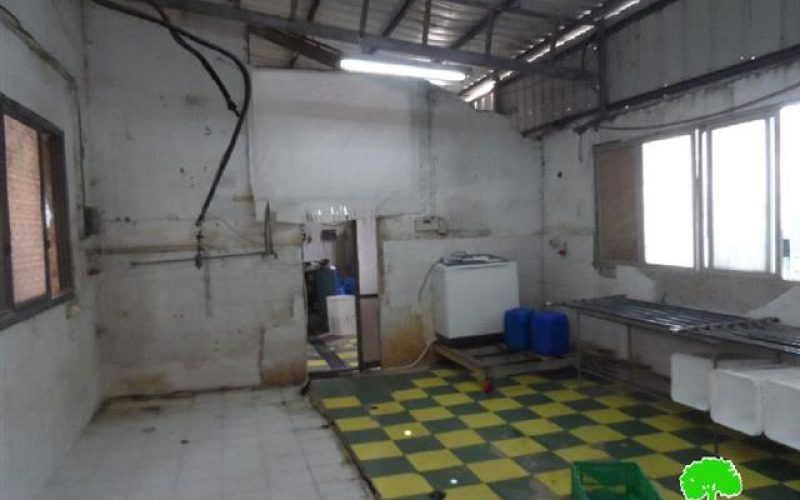 Violation: the occupation confiscated the equipments of al-Rayyan for dairy products factory
Date: July 03,2014
Location: Dahyat er-Ramah- Hebron
Victims: three thousand orphans
Details:
On July03, 2014 , the occupation army raided al-Rayyan for dairy products factory and confiscated all the its equipments and machines leaving it paralyzed and totally shut down.
Ja'far al-Mouhtasib; who is the production manager and one of the founders at the factory denied receiving " a three days military order to "object the demolition order no.10433 served by the occupation army on 20/06/2014". The occupation justified the confiscation by the trivial pretext of " Environmental threat"
Al-Mouhtasib asserted that the factory is licensed since early 90s by the Civil Administration under the title of "agricultural structure". When receiving the demolition order on 20/06/2014, the factory's decision makers filed a case in the Supreme Court of Justice which ,in this regard, requested the Civil Administration to prove the building unlicensed. Noteworthy, the occupation mainly aimed at shutting down the factory which justifies confiscating its equipments.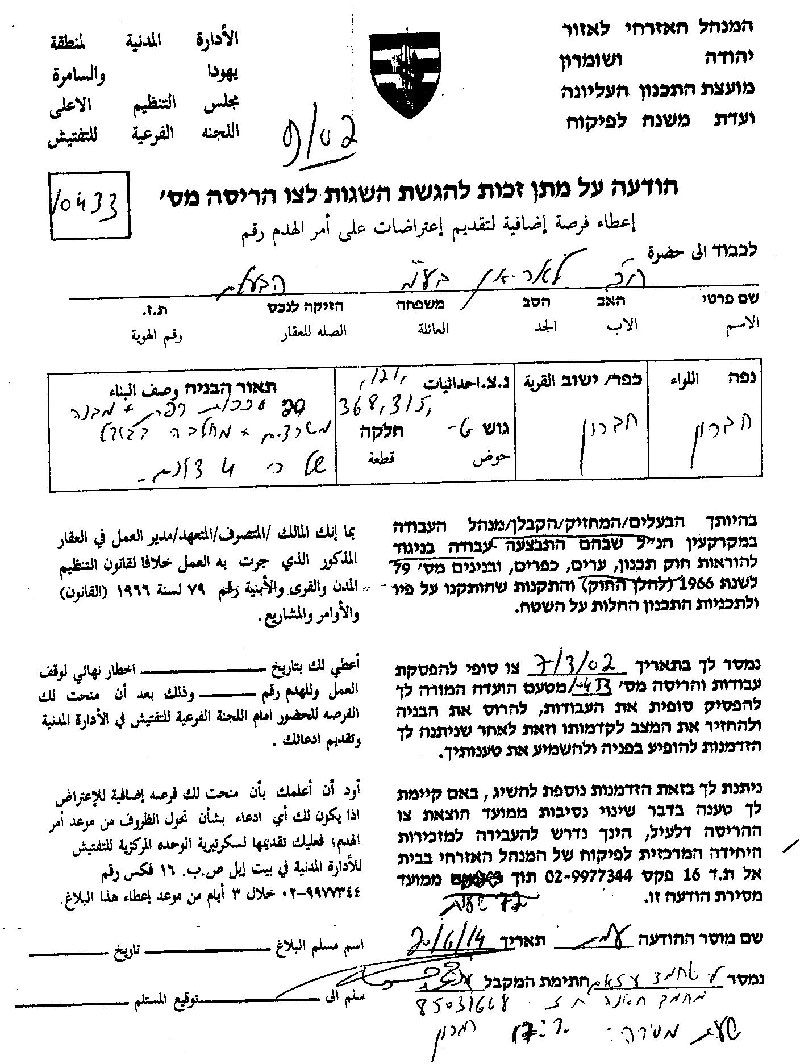 Photo 1: the military order
At night , a massive force of the occupation accompanied by a number of trucks surrounded the factory and raided it. Technicians of the occupation dismantled the machines and loaded them in the trucks.
The homogenizing and pasteurizing machines that are made in Italy and cost about 100-150 thousand dollars were confiscated in addition to a packing machine, a yogurt mixer, and eight cooling containers.
Photos 2-9: damage evidences in al-Rayyan factory
After had been closed, more than 3000 orphans of the Islamic Charitable Society ,who fully depend on the factory products, were negatively affected not mentioning the 25 workers who became unemployed by then and who provide living for more than 120 people.
Since the factory stopped consuming the milk produced in its dairy farm , milk promotion in the markets became a bit of a burden on the company.
It should be marked that al-Rayyan factory is located in the area of Dahyat er-Rameh, east of Hebron city on a land estimated with an area of 4dunums that belong to the Islamic Charitable Society -Hebron. The factory started as a dairy farm that produces and sells milk before it became a functioning factory. Noteworthy, the farm was moved to a place near ed-Dahrya town.
It is worth mentioning that the occupation military has confiscated a total of 800 thousand dollars worth of tools and equipment and that, in 2001, two workers were killed in a shell over the farm.
Prepared by
The Land Research Center
LRC