10 barracks ordered of stop work in Khirbet al-Hadidyeh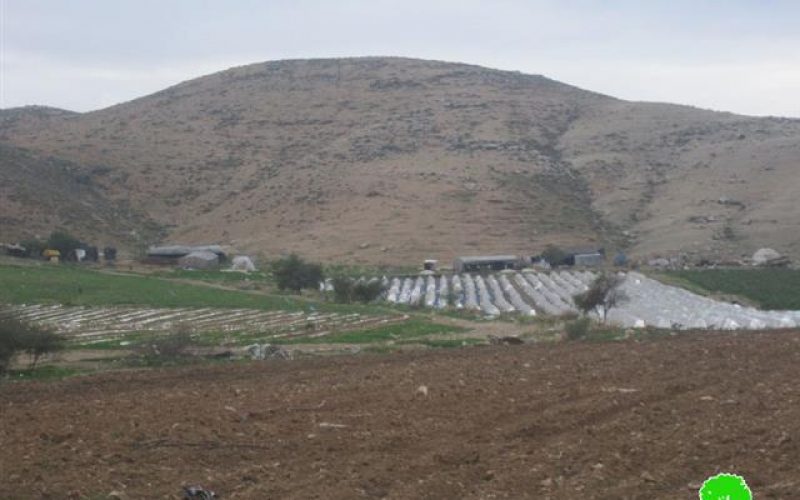 Violation: 10 structures ordered of stop work in Tubas
Date: April07, 2014
Location: Khirbet al-Hadidyeh- Tubas governorate
Perpetrators: the Inspection Sub-Committee of the Civil Administration
Victims: 13 members including 3 minors
Details:
On the Apirl0, 2014, the so-called Inspection Sub-Committee of the Civil Administration (CA) served three stop work orders for three Bedouin families that reside in the village under the pretext of unlicensed construction within area classified C according to Oslo Accords.
It should be mentioned that the CA gave the families until May04, 2014 as a final date to complete the licensing procedures that comes in time with the Planning court session of Beit Eil to consider the notified structures statuses.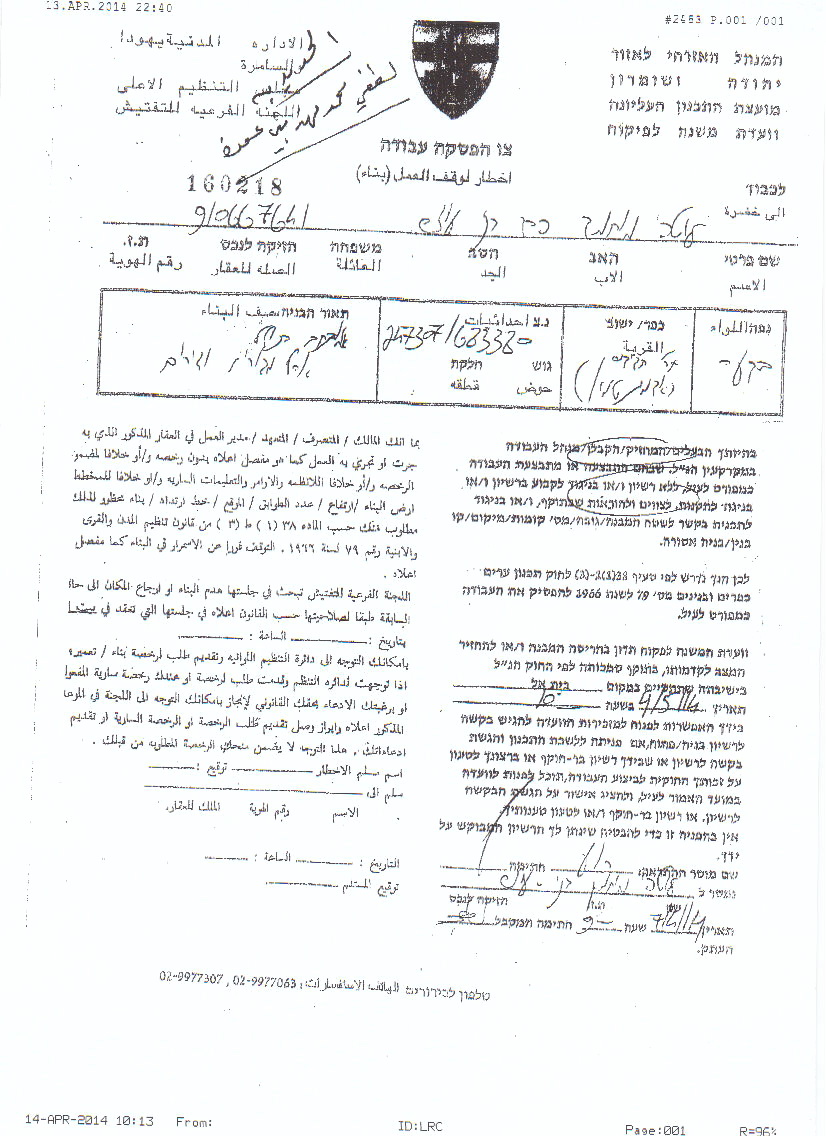 It is marked that the three orders targeted three tents, three barns, and four barracks all belonging to three Bedouin families of Bani Aoudeh( 13 members including 3 minors). Sheep breeding and grazing is considered their only source of living where they own 460 sheep.
Victim

Family

Sheep

Targeted structures

Tents

Barns

Barracks

No.

Area in m2

No.

Area in m2

No.

Area in m2

Lutfi Aoudeh

7

240

1

45

1

180

2

120

Mohamad Lutfi Aoudeh

4

120

1

45

1

140

1

60

Rashid Lutfi Aoudeh

2

100

1

45

1

150

1

45

Total

13

460

3

135

3

470

4

225
*Source: Field Research- Monitoring Israeli Violations Team- Land Research Centre (LRC).
About Hadidyeh:
33km to the north of Tubas city and is considered a part of Dahr al-Maleh area. It has a total built-up area of 70 dunums inhabited by 200 Palestinians who fully depend on agriculture and sheep grazing. The Aoudeh and Bsharat families came from Tamoun town and resided, as other Bedouin families did, in the al-Bq'ya plains of the northern part of the Jordan Valley. Residing that area was for the sake of plantation and livestock breeding in the fields inherited by villager's fathers and grandfathers.
Prepared by:
The Land Research Center