The Israeli occupation demolishes a number of agricultural structures and confiscates tools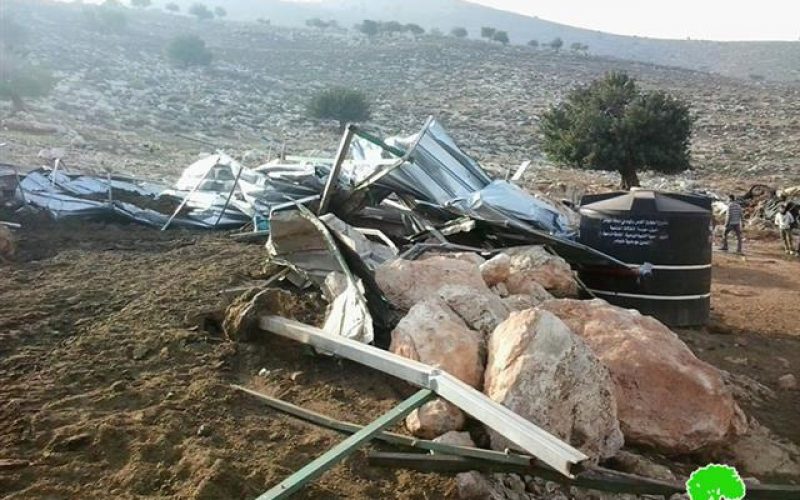 Violation: Demolition of pens and confiscation of agricultural equipment
Date: 17/02/2014
Location: Yarza- Tubas governorate
Perpetrators: The Israeli occupation army
Victims: 5 Bedouin families that consist of 28 people including 12 children
Details:
Yarza, east of Tubas, is a victim of recurrent attacks by the so-called Israeli Planning and Construction Committee that aims to kick out indigenous Palestinians and seize the whole region for the benefit of the Israeli plan to take over the Jordan Valley. On February, 17/2014, a big force of the Israeli occupation army accompanying officers of the Planning and Construction Committee raided Yarza, where the bulldozers embarked on leveling structures without giving time to the Bedouins to take their possessions out. 3 living tents and 3 pens were demolished. Besides, some agricultural tools were confiscated. The table gives information about the last demolition operation in Yarza:
Affected citizen

Family

Children

Damage

Observations

Fayiz Daraghma

5

2

Living tent- 60m

Not the first time

Mithqal Daraghma

7

3

Shed used as barn- 120m

Tractor confiscated

Not the first time

Sami Daraghma

4

2

Shed used as a pen- 60m

Hasan Daraghma

5

3

Tent used as a barn- 60m

Not the first time

Naeema Masaeid

7

2

4 tents confiscated – 80m each

28

12
The Israeli occupation confiscated a tractor owned by a farmer named Mithqal Daraghma (53) who used the tractor in transferring water and fodder to the Khirbet. The Israeli soldiers moved the tractor to Nahal camp in Wadi Al Maleh. They justified confiscating the tractor that it was parked in a closed military zone according to the Israeli occupation.This demolition operation is the second of its kind that took place in less than three weeks from the first.
Yarza in lines:
Khirbet Yarza is a small Bedouin community located in the heart of the northern parts of the Jordan Valley. It has always been targeted by Israeli occupation forces in a sustained effort to uproot it and use its lands for further colonial expansion under a number of pretexts. None of the structures in the Khirbet (including houses, animal sheds, etc) have been spared Israeli-issued demolition orders under the pretext of being present in "Military Closed Areas". In the face of this sustained eviction policies, the 70+ residents of the Khirbet insisted on staying put in their lands as to cut short the Israeli plans of their eviction.
Prepared by
The Land Research Center
LRC