Israeli Civil Administration to Deposit a Master Plan for Shilo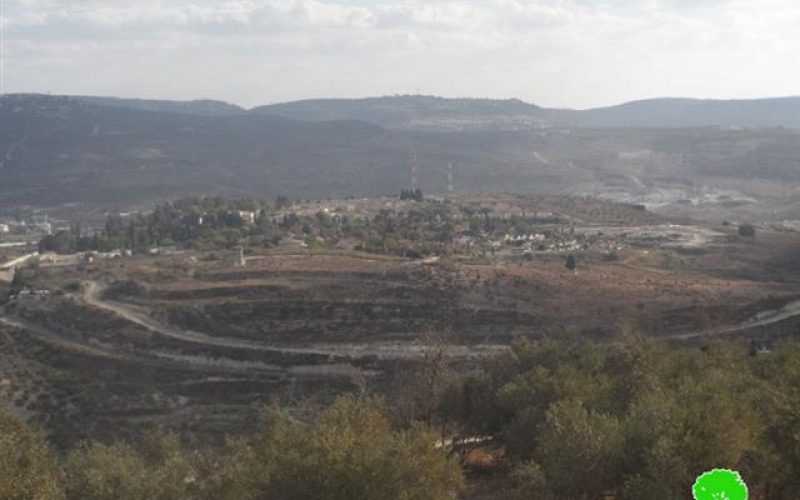 Violation: Announcement about a deposit of an expansion plan for the colony of Shilo
Location: Parcels of land in Jalud village and Turmus'ayya town
Date: 13/02/2014
Perpetrators: The Settlement Subcommittee of the Israeli Civil Administration
Details:
According to al Quds daily newspaper on February 13, 2014 the so-called Inspection Subcommittee of the Israeli Civil Administration deposited a master plan number 16/205 that includes changing the use of land surrounding the colony of Shilo confiscated by the Israeli occupation in 2001 from agricultural to being residential; used for basing infrastructure, opening roads and establishing structures that shall serve the expansion of the colony.
According to the plan, no less than 65 dunums of agricultural lands will be used for the expansion and infrastructure development of Shilo. The targeted pieces of land are located between Shvut Rachel and Shilo colonies, specifically natural blocks (basins) number 12 and 13 of 'Sara' and' Al Khafafesh' of Jalud lands and natural block number 3 in 'ash Sh'ab al Masri' location of Turmus'ayya land.
Mr. Bashar al-Qaryoti, a member of Jalud village council, stated an LRC observer that: "Since 2000, farmers have been denied access to their lands in Turmus'ayya, Jalud and Qaryut since their lands are within the security borders of Shvut Rachel and Shilo among other colonies. Parts of the land have been declared a closed military zone while other parts have been confiscated for "security reasons" as the occupation claims. Colonists took advantage of that to change the nature and use of the land."
The recently revealed plan about changing the use of the agricultural land to serve the expansion of an Israeli colony is obvious evidence of the interchangeable role between the Israeli occupation army and colonists in looting and Judaizing the Palestinian land.
Colonization and the International Law:
According to article 49 of the Fourth Geneva Convention (Convention (IV) relative to the Protection of Civilian Persons in Time of War, Geneva, 12 August 1949):
Individual or mass forcible transfers, as well as deportations of protected persons from occupied territory to the territory of the Occupying Power or to that of any other country, occupied or not, are prohibited, regardless of their motive.
Shilo colony: Location, area, and population (Source: Foundation for Middle East Peace)
The Israeli colony of Shilo is located to the north of the West Bank city of Ramallah and is inhabited by more than 2300 colonists. Shilo was built in 1978 on land confiscated from Jalud, Turmus'ayya and Qaryut villages.
The colony is now about 1364 dunums in area and is located in the center of a number of Palestinian villages. It is surrounded by Jalud and Qaryut (north), Turmus'ayya (south), Mizpe Rahel colony and bypass road no. 485 (east) and a number of outposts and the colony of Maale Levona (west).
Prepared by
The Land Research Center
LRC