Eviction orders on al-Mafqara lands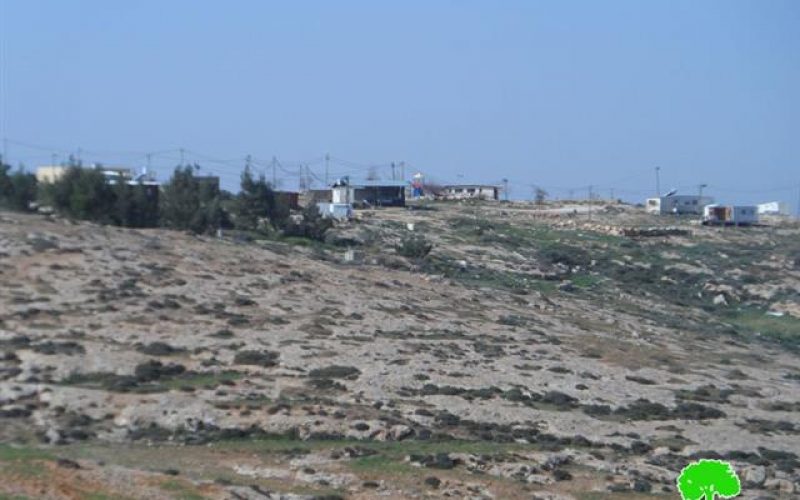 Violation: Order to empty a piece of land
Location: Khirbet al Mafaqara, Yatta/ Hebron governorate
Date: 17/02/2014
Perpetrators: The Israeli army and the Civil Administration
Victims: A citizen named Mahmoud Hamamda

Details:
On February 17, the Israeli authorities served citizen Mahmoud Hamamda an eviction order for his piece of land, located in Khirbet al Mafqara, east of Yatta town. The order entitled "Eviction Order" was issued by the Israeli occupation army and Civil Administration- Inspectional Central Unit under the number of 1032.
According to the order, Hamamda owns the land 'illegally' and thus is ordered to return it to its previous status within 45 days, starting from the day of receiving the order. In case Hamamda does not comply, the authorities will carry out the eviction and fine him the costs.
Pictures A+B: The eviction order sent to Hamamda
The order included the coordinates of the targeted piece. It is 13 dunums in area and located to the east of the Khirbet al Mafqara. It is a piece of the 24 dunum land belonging to Hamamda who has recently reclaimed part of it, fenced it and planted it with olive and almond seedlings.
Pictures 1+2: The targeted land
Drawing from previous eviction operations: In case the Israeli occupation authorities carry out the eviction, it is expected that the bulldozers will ravage land, destroy all structures on it, uproot trees and seedlings then confiscate it.
It is worth noting that the targeted piece of land is located two kilometers to the south of the colony of 'Maon' founded on Yatta lands and only 1 kilometer to the west of the outpost of 'Avigal'. According to Hebrew dailies, the Israeli authorities intend to "legalize" the outpost and expand and annex it to the colonies founded on Yatta, namely 'Maon', 'Susiya' and 'Karmiel' to form a colonial congregation on the lands of Hebron.
Prepared by:
The Land Research Center