Jabal Abu Ghneim "Har Homa" colony is going under expansion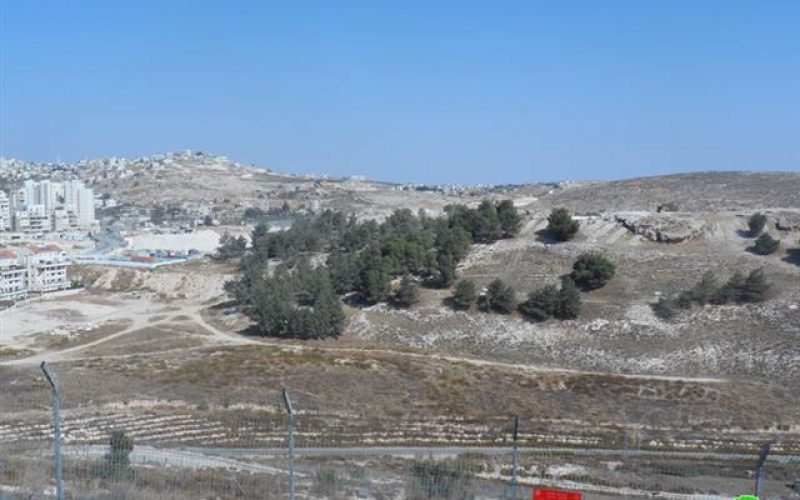 Violation: ravaging 30 duums of agricultural lands and uprooting tens of forest trees for the sake of expanding Har Homa colony.
Location: Beit Sahour/ Bethlehem governorate
Date: 07/11/2013
Perpetrators: Har Homa colonists
Victims: some of Beit Sahour residents
Details:
At morning of 07/11/2013, the bulldozers of the occupation ravaged about 30dunums and uprooted tens of forest trees in the area of Jabal es-Soqour, which is located in the eastern part of Jabal Abu Ghneim that is relative to Beit Sahour. Noteworthy, the lands are owned by residents of the Beit Sahour.
It should be mentioned that the leveling activities are going non-stop on the mountain peak for the sake of connecting it with Har Homa colony. This serves at the colony expansion and the establishment of new outposts as a result.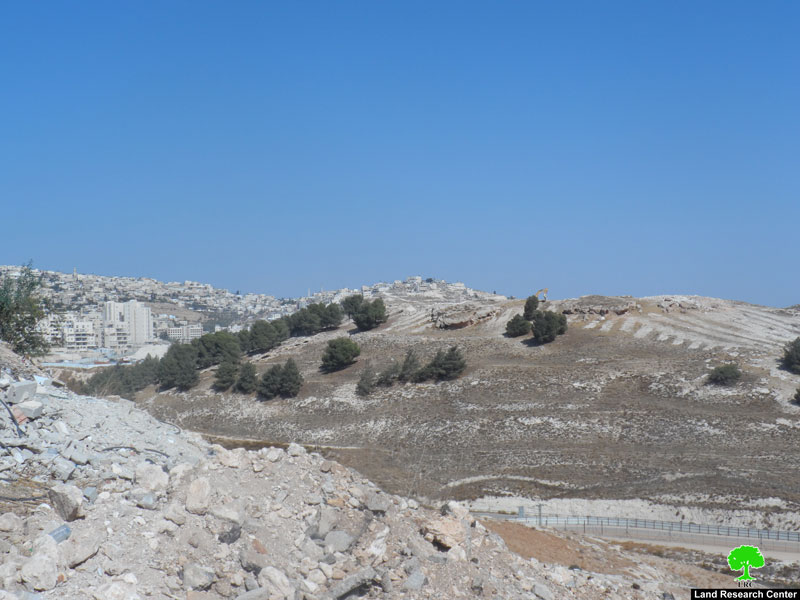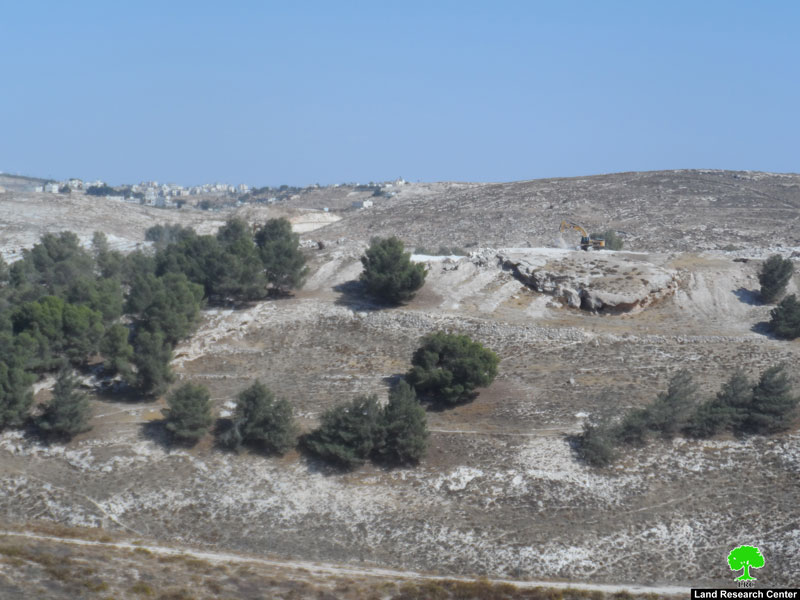 Photo 1+2: the ravaging works to expand Har Homa colony
Citizen Suliman Zawahreih to the LRC researcher stated that: "the bulldozers of the occupation continued leveling the lands and uprooting the forest trees in the site and that is for the sake of opening a road to connect the ravaged mountain peak with Har Homa. My house is located in front of the mountain and I daily watch the leveling activities over there". He also added that: " there is a plan to establish a hospital in the site and that is what Peace Now movement said to me".
About Beit Sahour:
It is located 2km from the eastern part of Bethlehem. The town is surrounded by Um Tuba(from notrth) , Bethlehem(from west), Dar Salah (from east) and Hindaza and Braid'a (from south).
Beit Sahour has a total land area of 8,303 dunums of which 1,301 dunums are built-up area and has a total population of 12367 people until 2007.
The Israeli colonies looted 3473 dunums of the town lands. The colony of Har Homa was established in 1906 on 553 confiscated lands of Beit Sahour and is of 1125 people in population. More than 447 dunums were looted for the favor of the bypass road no.356. Not only that, the route of the apartheid wall destroyed more than 568 dunums of the town lands and will segregate around 1906 dunums behind it. Noteworthy, the segregation wall is of 5688m in length.
According to the Oslo Accord classification of lands, the town has 50% lands classified as area A , 1% classified as area B, and 49% lands classified as area C, which is under the full authority of the Israeli occupation. The areas in dunums are as follows:
4179 dunums are classified as area A
13 dunums are classified as area B
4111 dunums are classified as area C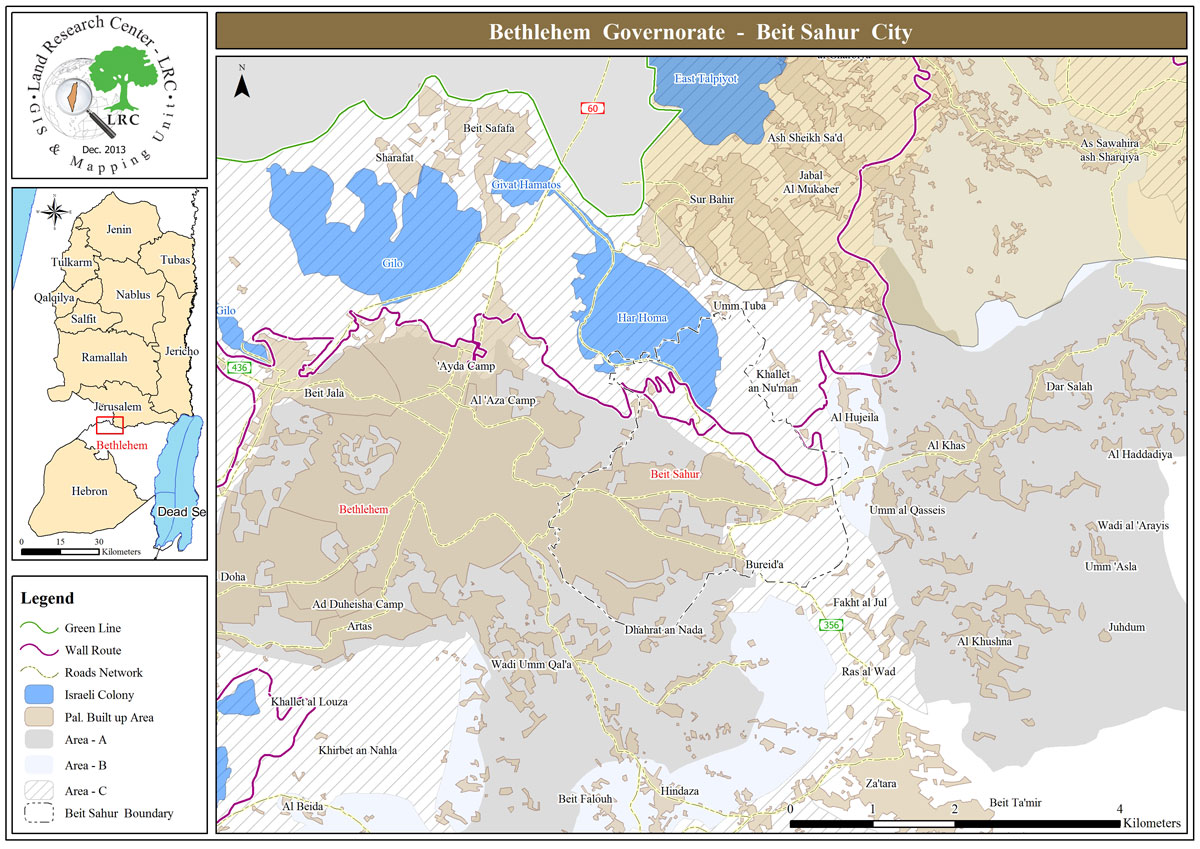 The geographical location of Beit Sahour and the land's classifications of it as well.
Prepared by