'Maon' colonists attack olive trees in Yatta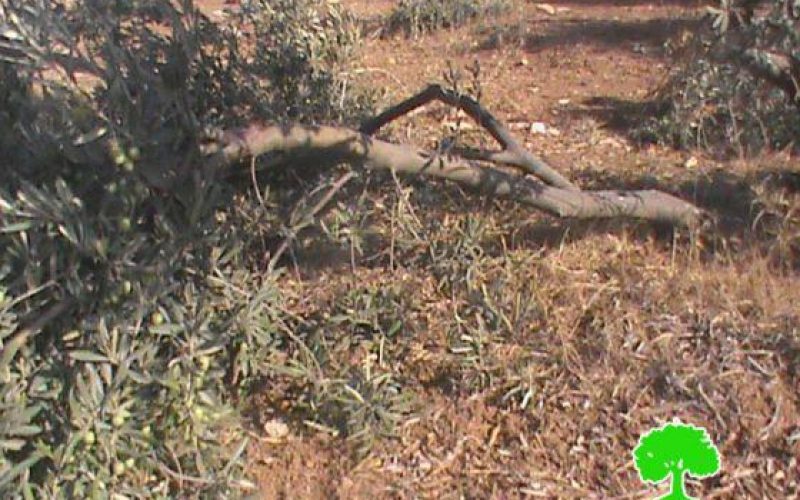 Violation: Attacking and cutting down 10 olive trees
Date: September/ 2013
Location: Al Hamra- Al Twani- Yatta- Hebron governorate
Perpetrators: Colonists of "Maon"
Victims: Family of Rab'i
Details:
In conjunction with the start of olive harvest, colonists of "Maon" have intensified their attacks on olive trees in Al Hamra, Al-Twani, east of Yatta.
On 08/09/2013, colonists attacked 10 olive trees. A bit later, Shehda Rab'i went to his land only to find his trees damaged and their branches cut down using hands and saws. The trees are estimated to be 30 years old.
Next day, Nasser Rab'i found two trees attacked and their branches cut down in the same region of the previous attack. Colonists also stole a tank used by Rab'i to water his livestock.
Colonists also carried out another attack on trees on 25/09/2013 in Al Hamra. Eyewitness said that he saw masked colonists carrying saws and approaching the region where they attacked 3 olive trees before being kicked out by the neighbors. The same scene repeated itself next day but in different spot in Al Hamra.
International supporters in Al Twani complained to the Israeli occupation police about these attacks. Officers of the police showed up and interrogated witnesses but they did not ask people to go to "Kiryat Arba" colony to file a written complaint though the officers were shown photos of the colonists while attacking the trees. All the police did was to assign a watch patrol stationed between 'Maon' and Al Hamra lands in a bid to prevent colonists from pestering people. The patrol was only present for a day.
For more information about the attacks on Al Hamra, kindly check these reports:
Colonists cut down olive trees in Al Twani and expand 'Maon' colony, 16/08/2013 (

in Arabic

,

in English

)

Colonists burn olive seedling and use agricultural lands as pastures in Al Hamra, 04/04/2013 (

in Arabic

)