Expansion Work in Outposts in Nablus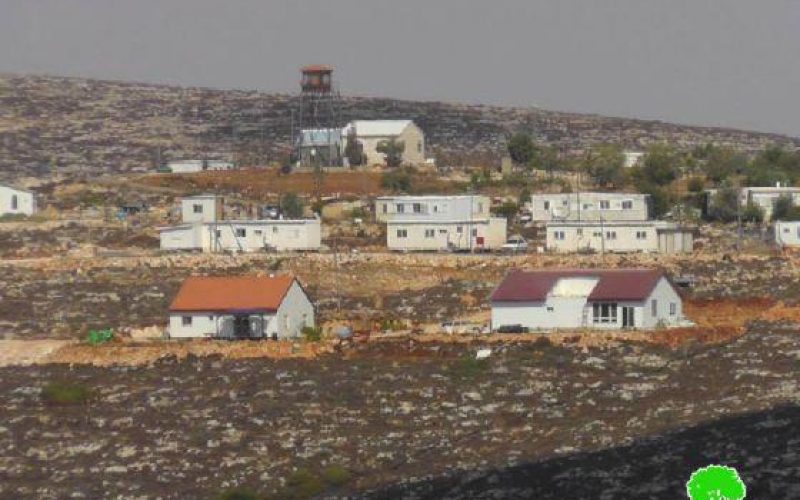 Violation: Expansion work in a number of outposts in the southern countryside of Nablus
Date: 7/08/2013
Perpetrators: The outposts of "Yish Kodsh", "Ahya" and "Adi Ad"
Victims: Villagers of "Jalod", "Qariot" and "Qasra"
Details:
The Israeli occupation outposts are racing against time to add new caravans and expand the area these random outposts take over. To the east of Jalod village, Ahya outpost is located and is considered an expansion to "I'tmar" colony where colonists added 6 caravans in addition to ravaging 4-dunum land in preparation to planting it.
Pictures 1+2: Ahya outpost which is going under expansion
In the northeast of Jalod, colonists have added new caravans in addition to building new control tower. "Adi Ad" is following in the footsteps of the mentioned outposts. Colonists have been working on adding new caravans. It is noteworthy to know that these expansions of the outposts are in synchronization with the kick-start of the installed peace process and Kerry's promises.
Pictures 3-5: Adi Ad expansion
These expansions stand as a proof that Israel has never believed in peace and is always trying to create facts on the grounds. All the mentioned outposts are an extension to "I'tmar" colony which devours vast lands of Nablus. The outposts were constructed and encouraged by the former Israeli Prime Minister "Ariel Sharon" at the outset of the second Intifada in 2001 when the Israeli army perched on the peaks of the mountains and announced them military closed areas which soon turned into random outposts.
The colonists there have not only taken the land over illegally but they are also considered among the most radical. They have carried out hundreds of attacks, some of their results are: 7 martyrs and tens of injured people in addition to burning and uprooting more than 1500 olive and almond trees.
Prepared by
The Land Research Center
LRC