Yacob Dalia, an Israeli Colonists held Accountable of Most of the Attacks on Palestinian Farmers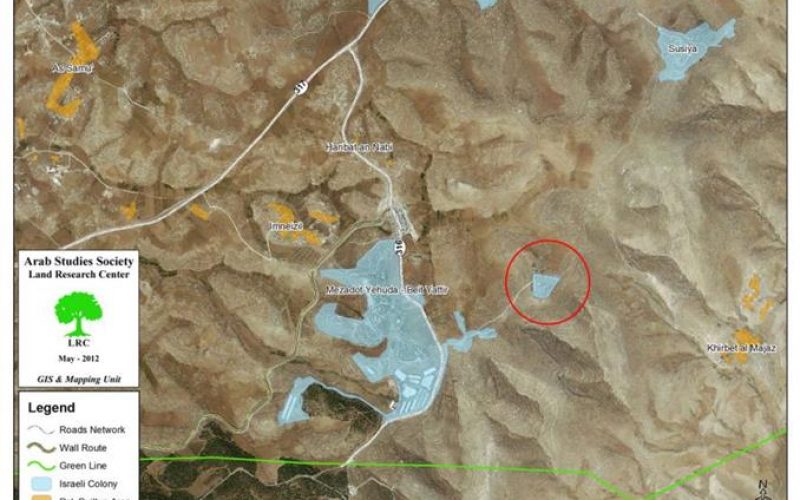 Yacob Dalia is an Israeli colonists living tens of meters away from Mitzpe Yair colony. He works in planting Palestinian lands and herding there. He assumed ownership over tens of dunums of Palestinian lands in Yatta under the protection of the Israeli Army. Palestinians in the area say that Yacob, his family, and another colonist formed a gang that attack Palestinians.
We met with Khaled al Jabareen, a fourty-year-old farmer of Janba village; he talked about the day-tp-day aggressions committed by the Israelis, especially, Yacob Dalia. He said: 'in November of last year, my nephews were herding in the southern part of Janba when Yacob appeared and tried to steal cattle. When I was informed, I used a camera, given to me by a humanitarian agency, to videotape him. Good thing that we managed to bring the cattle back. The next day, Israeli Police officers showed up along Yacob and ordered my nephews presence for interrogation. Issa (16) and Wael (15) were held in custody for one night; they told us about the humiliation and maltreatment.'
He talked about an incident involving Yacob in February, which cost him around 7,000 ILS, which he had to pay to the so-called EPA. He said: 'our sons were herding when Yacob fired a couple of rounds towards the cattle; the sheep and goats started running randomly in all directions; some of them reached the 1948-borderline. Yacob called the EPA which appeared right away and ordered the confiscation of the cattle for violating the environmental protection regulations. I told them that Yacob made the cattle run by firing at it; needless to say, they didn't believe, or didn't want to, and fined me an amount of 7000 ILS.'
Khaled al Jabareen had a lot of stories of Israeli aggressions, specifically, those held by Yacob. Yacob sot some rounds at cattle in 2004, killing two goats.
He also mentioned the attack on his uncle, Mohammad al Jabareen, in 2003, he said: 'my uncle was herding his 252-head flock near the 1948-borderline when EPA officers showed up. They were called by Yacob who works as an observer for the Israeli Authorities. Trucks were called to the scene and the flock was loaded in them and taken to Kiryat Malakhi. All the goats and sheep were slain on claims of being infected. The Israeli Government paid him an amount of 100 JD per head in compensation while knowing that each is worth at least 250. In addition, around 80 baby sheep died due to losing their mothers.'
He pointed that his uncle was forced to sell a plot he owned in order to be able to restart his project. Khaled views the Israeli aggressions as a way to cleanse the lands of the Palestinians and provide more areas for colonization projects.