Demolishing a Residence and a Barn in At Tawil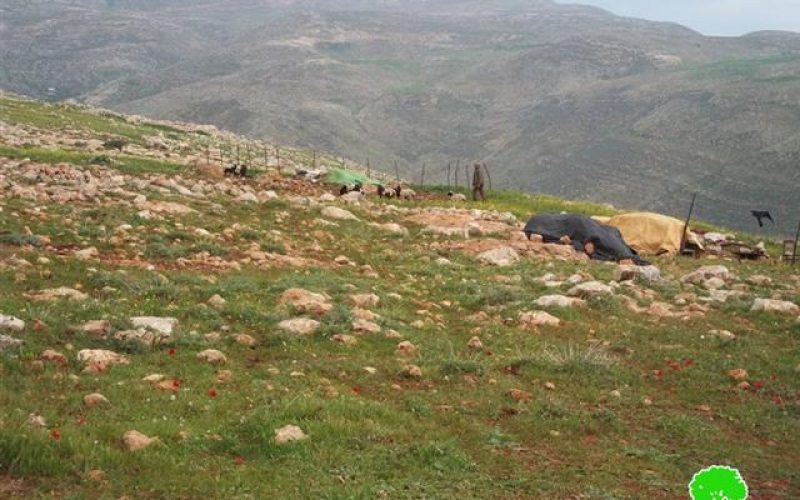 Violation: demolishing a barn and a residence.
Location: At Tawil – Aqraba – Nablus.
Perpetrators: the Israeli Occupation Army.
Victim: Rafe' Bani Jaber.
Date: March 15, 2012.
Details:
At Tawil – Aqraba, has been facing a vicios attack from the Israeli forces since the occupation of the West Bank in 1967. Palestinians have been losing lands to colonization on daily basis; in addition, the Israeli Occupation Army has turned huge areas into military zones, inaccessible by Palestinians. Most of the primitive residences in At Tawil are subject to demolition and most of them had already received demolition orders. Besides, numerous demolition campaigns had been carried out in the area throughout the years.
On March 15, 2012, an Israeli force accompanied by a dozer broke into the village before demolishing a residence and a barn. The structure were the property of Rafe' Bani Jaber, the sole supporter of an 11-member-family (7 children). Rafe' said: 'it is obvious that the Israelis are targeting our right to residency on this land which I lived on all my life and which I have deeds proving my ownership of. Before the occurrence of the previous demolition, I presented the documents to an Israeli Court but they were completely neglected. The Israelis insist on demolishing my shelter every time I built it without showing the slightest of reasons while all I want is living with my family in peace in a land which I inhabited all my life'.
At Tawil – an overview:
At Tawil is part of Aqraba village; it is 1.5 km away from Aqraba residential area. At Tawil is full of Islamic and Roman ruins and it has a number of old wells. Its mild climate seemed to attract people over the centuries.
At Tawil total area is around 30,000 dunums, including 8,000 dunums of arid lands unsuitable for cultivation as well as 15,000 dunums that are used for seasonal crops and 7000 dunums that have been captured by the Israelis.
The area is subject to colonial activity presented in Jetit colony (established in 1973; its total area is 1720 dunums and inhabited by 191 colonists), Ma'ale Afraym (established in 1970; its total area is 4778 dunums and inhabited by 1423 colonists), Itmar colony (established in 1984; its total area is 7189 dunums and inhabited by 651 colonists). It's worth mentioning that At Tawil is inhabited by around 500 Palestinians who depend largely on agriculture and herding in their living.