18 Stop-work Orders in Ibzeq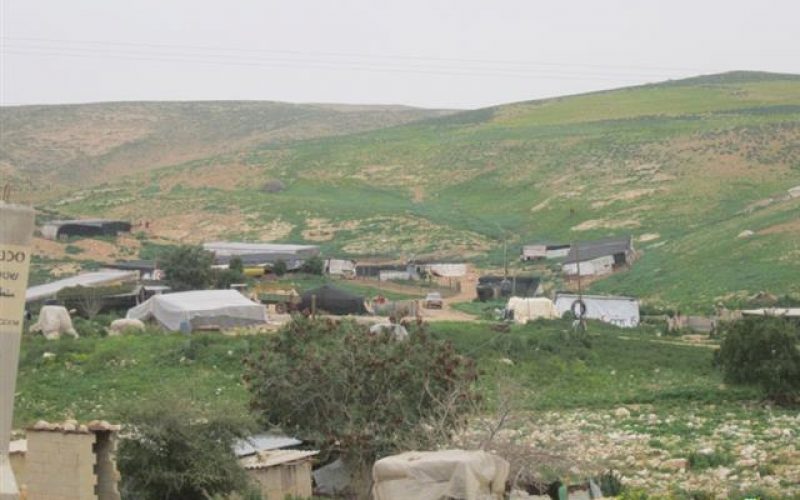 Violation: 18 stop-work orders.
Location: ibzeq – north east Tubas.
Perpetrators: the Inspection Subcommittee – Israeli Occupation Civil Administration.
Date: February 26, 2012.
Victims: 18 Palestinian families (119 people including 66 children).
Details:
As part of the Israeli fierce attack on the Jordan Valley area which aims to eradicating Palestinians and facilitate colonial expansion there, on February 26, 2012, the Israeli Occupation Authorities served 18 families in Ibzeq stop-work orders for their structures. The orders were justified by failing to acquire construction permits in area classified 'C' according to Oslo agreements. The orders specified March 12, 2012, as the date of the hearing session to be held in Bet El Military Court to make a final decision on the target structures. The Threatened structures (19 residential structures and 26 barn) are owned by Mousa Hroob, Nael Hroob, Imad Hroob, Abdul Kreem Hroob, Adel Mohammad Husein Hayel , Turkman Turky Turkman, Amjad Hroob, Ali Hroob, Thaher abu Zaho, Qa'dan abu Zaho, Mohammad Jabareen, Ali Jabareen, Mit'ib Hroob, Safwan Hroob, Adnan Hroob.
Picture 1-5: threatened village
The Israeli orders, if implemented, will result in the expulsion of 119 people, including 66 children. Meanwhile, the Israeli Occupation Authorities is conducting a huge skirmish that destroyed over 400 dunums of agricultural lands in the area.
Turkman Sawatfa, Chairman of Ibzeq Projects Committee, said the Hroob family have been residing in the area since 1961, before the Israeli conquest of the West Bank and they have lease contracts from the original owners. However, this does not stop the Israeli attempts to expel them.
Ibzeq residents lead a very simple life; they use wood and metal slabs to construct their simple houses which lack the basic needs of electricity and water. They get their water using tanks which transfer it from Tubas, 8 km away. They depend on agriculture and herding in their living.
123 people is the total number of permanent residents in Ibzeq (21 households); in addition, there is a number of temporary residents, some nomads who travel around and migrate throughout the seasons. Hroub family, originated from areas located in grounds occupied in 1948, forms two thirds of the population.
Ibzeq total area is around 8000; including 5000 classified as Jordanian Treasury property. The locals are disallowed from using these lands because of the constant Israeli aggressions and threats; the most recent was the aforementioned threat. Moreover, these areas are classified as Israeli Army training ground and a military zone. The Israeli Army has recently announced that exploiting these lands are strictly prohibited; depriving the locals from huge agricultural areas. The Israelis have also confiscated more than 1000 dunums in the area in 2002 for the segregation wall construction.