Setting Ali Ibn Abi Taleb Mosque Alight in Bruqin – Salfit governorate
Violation: Israeli colonists set Ali Ibn Taleb Mosque entrance alight.
Location: Al Baq'an – Bruqin.
Date: December 7, 2011
Perpetrators: colonists.
Victims: Bruqin residents.
Details:
As part of the Israeli war against the sacred sites; on December 7, 2011, Israeli colonists sneaked into Bruqin village and set Ali ibn Abi Taleb Mosque alight. The mosque has been a target for a long time with two previous demolition orders. The colonists approached the village from Ariel colony side; they poured gasoline at the entrance of the mosque and set it alight.
It is clear that the colonists tried in vain to break into the barricaded mosque; however, when they failed, they just torched the entrance. They also wrote offensive slogans on the walls.
Picture 1-2: Ali ibn Abi Taleb Mosque
It must be noted that attacking mosques is one of the pillars of the Israeli Occupation ideology; it seems that they consider Islam and everything that represents it as their enemy. It is the reason why during the last two years more than 10 mosques were targeted with ravaging and burning. In addition, the colonists torched a 1986 Renault 9, owned by Issam Samara, and a JCB dozer.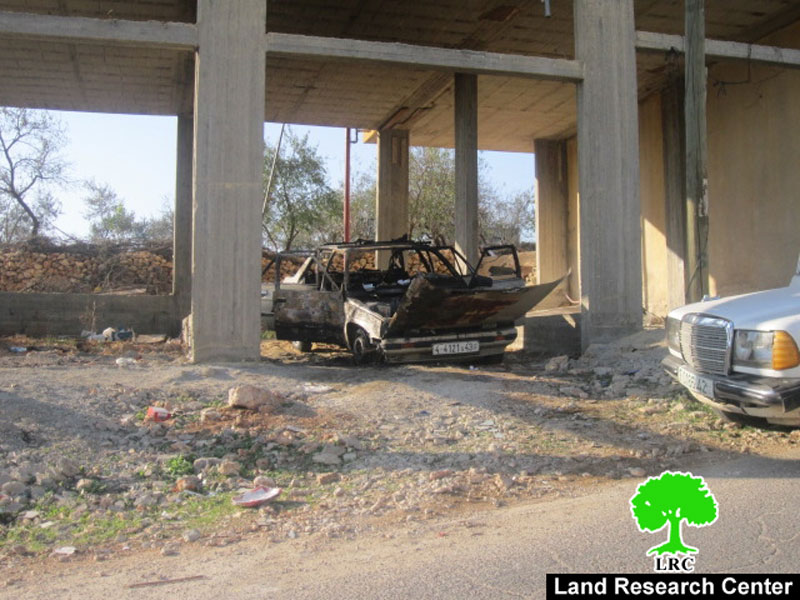 Picture 3: burned Renault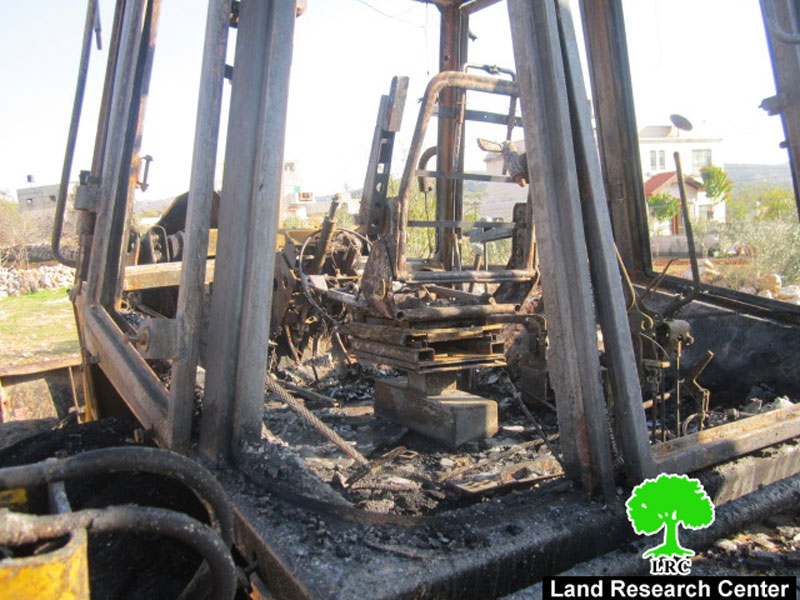 Picture 4: Dozer
Mr. Ikrima Samara, Bruqin Governor, stated to an LRC observer: 'Bruqin face day-to-day harassment; eight houses, the mosque, and even the girls school are threatened with demolition.' It is located 13 km to the west of Salfit city; it is one of the Palestinian villages that depend mostly on agriculture in its income.
The village total area is 13273 dunums including 1336 dunums of built-up area inhabited by around 3500 people. 1200 dunums are planted with olives while 3000 dunums are used for herding purposes; the rest (8000 dunums) are under the nearby colonies control. The village is facing vicious attack from the Israelis; more than 8000 dunums of the village lands were confiscated for colonial expansion purposes.
Table 1: land confiscations in Bruqin:
| | | | | | |
| --- | --- | --- | --- | --- | --- |
| No. | Colony | Establishment date | Built-up area | Type | Built over |
| 1 | Barqan | 1981 | 622.5 | Industrial | Sarta, Bruqin, haris |
| 2 | Bruchen | 1999 | 265.5 | Residential, industrial | Bruqin, Haris |
| 3 | Ariel Gardens | 1978 | 5226 | Industrial | Bruqin |
*GIS unit – LRC