Stop-work and Demolition Orders in Az Zawiya village west of Salfit Governorate
Violation: stop-work and demolition orders served to three structures in Az Zawiya.
Location: Az Zawiya.
Date: July 19, 2011.
Perpetrators: the Israeli Occupation civil Administration – the so-called sub-Inspection Committee.
Victims: number of Az Zawiya residents.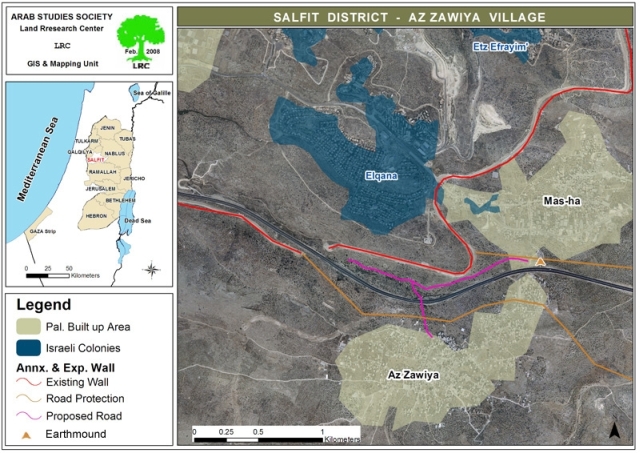 Details:
On July 19, 2011, Israeli troops broke into the village and handed in 2 stop-work and a demolition orders to villagers on the pretext of no permits in area classified 'C' according to Oslo.
Table 1: threatened structures:
| | | | | |
| --- | --- | --- | --- | --- |
| Victim | Area (m2) | Family members | Structure | Notification |
| Iyad Burqen | 80 | 7 | Goat farm | |
| Mahmoud Shqeir | 280 | 6 | Inhabited house | Demolition within 3 days |
| Said Qaddura and bros. | 300 | 54 | Oil presser | Stop work |
| total | 660 | 67 | | |
The Israelis do not recognize the agreements they signed with the Palestinians:
Mr. Qaddura stated to an LRC observer:' before starting the construction; I went to the Salfit SG Department and they assured me that the area is classified 'B' according to Oslo Agreement. I was shocked when I saw them delivering the orders right after I fled.
He wondered:' are our lives up to agreements that the Israelis do not respect or abide to, he even tries to use it as a method for expulsions?'
Az Zawiya:
It is located 15 to the west of Salfit and edging the armistice line. Its total area, after the eruption of the wall, is 2700 dunum including 900 dunums of built up area inhabited by 4900 people. 81% of the population depends mostly, if not fully, on agriculture and the herding. Most of the lands are planted with fig, cactus, and olives.
The village has been facing a systematic land confiscation. It lost 12,000 duums of its lands to the Israeli colonization activities. It lost 12, 000 dunums in 1948. In addition, the eruption of the segregation wall which cost the village around. In 2003, 600 dunums were destroyed as a result of the construction of the segregation wall, 4000 dunums were completely isolated on the western side of the wall, not to mention 400 dunums that were destroyed before changing the route of the wall. In 2000, the Israelis confiscated additional 400 dunums for milling by-pass road '5' which stretched for 4 km.