Expansion in Elkana Colony in Salfit governorate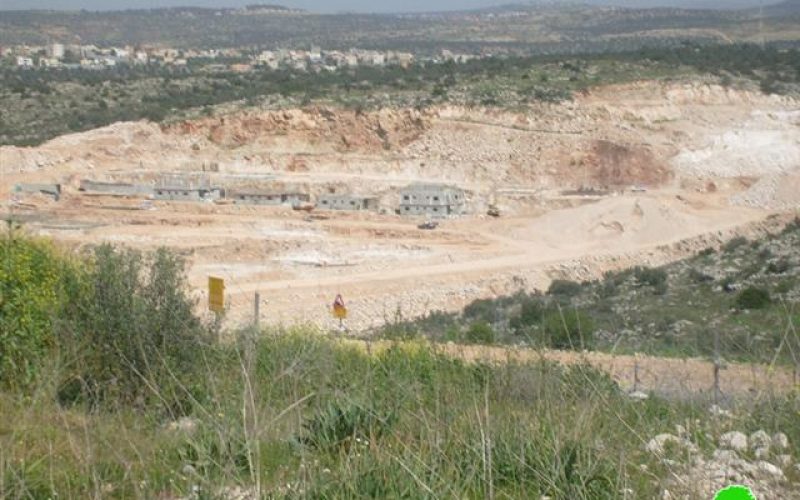 During the past recent days, Elkana colonists started a huge land plowing process that covered more than 120 dunums of Mes-ha lands, parcel 4. The targeted lands is the property of Amer and Shalabi families. The objective is the expansion of the colony from the north western part.
A resident of Mas-ha stated to an LRC Observer: "the Israeli Occupation is planting terror and destruction to the west of Mas-ha were Elkana colony is located; Elkana was built on the ruins of a Jordanian military camp in 1978 to form a foundation of destruction and devastation in the area. It is also used to capture what is left of Mas-ha lands which lost more than 5000 dunums of its lands to the segregation wall depriving most of the residents from their main source of living. Lands that were planted with olives and various other things."
Picture 1-2: expansions in Elkana
The objective of the plowings is merging Elkana A and Elkana B colonies through adding tens of colonial units in addition to improving the foundation in the area, making colonization much easier. The current plowings are being held alongside the placement of several caravans in the area and the milling roads around the colonies.
On the other hand, the Israelis continue their arbitrary procedures against the Palestinians through delaying the issuing of permits to more than 400 farmers to reach their lands located to the west of the segregation wall. The Israelis are justifying their acts using various pretexts, while, at the same time, providing the colonists with all means necessary for them to carry on their destructive and sabotaging aggressions shaped in attacking Palestinian fields and pumping sewage towards Palestinian lands.
Mas-ha:
Mas-ha is located 6 km to the east of the armistice line, 20 km away from Salfit, and 35 to the west of Nablus. It is inhabited by around 200 people. Mas-ha is considered the base for Kafr Qasim village, occupied since 1948. many of Mas-ha residents moved to Kafr Qasim lands before the Israeli conquest in 1948; after the conquest, the village was divided into two parts; 70% of the village was occupied by the Israelis forming Kafr Qaim village.
However, the Israeli gangs back then massacred most of its inhabitants forcing the most of the rest to leave. According to the PBS statistics of 2007, Mas-ha is inhabited by 2003 people; its total area is 7870 dunums including 598.6 of built-up area, 5272 dunums are planted with trees and vegetables in addition to 1000 dunums of deserted and herding areas.
Israeli colonies devouring Mas-ha:
2200 dunums of Mas-ha area was captured for colonial purposes; three Israeli colonies lay over Mas-ha lands:
Elkana: captured 1373.5 dunums of Mas-ha lands.

Eitz Afraym: captured 539 dunums.

Shi'r Tikva: its total area is 1130.5 dunums; 283 dunums are part of Mas-ha lands.
Prepared by
The Land Research Center
LRC