Israeli Occupation Authorities Confiscate 600 Dunums of Brikot Lands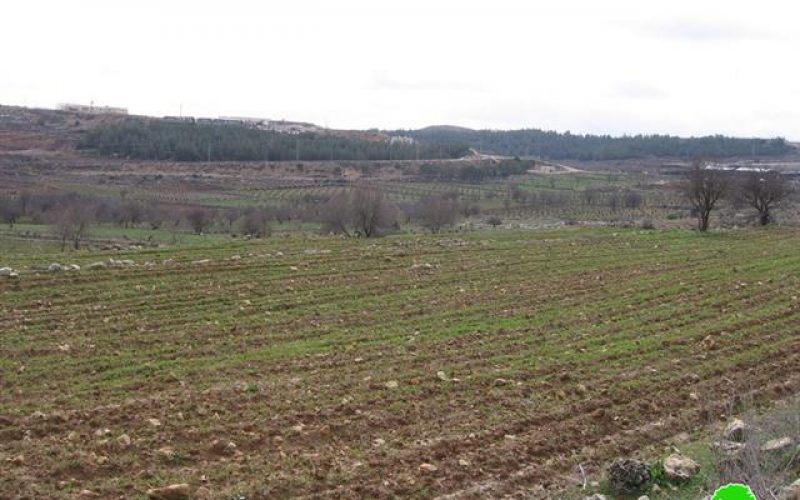 Violation: The confiscation of 600 dunums of Palestinian agricultural lands for the benefit of further colonial expansion.
Date: January 31st, 2011.
Location: The area of Brikot east of the town of Beit Ummar – Hebron Governorate.
Affected Palestinians: The clans of Abu Ayyash, Awad, Hasan, Badwan, Abu Mariya, Eneim, Alqam, Al Alami, Ekhlayyel and Taqatqa.
Details:
The so-called Israeli "Civil Administration" has declared its intention to confiscate a large Beit Ummar piece of land for the purpose of establishing "an educational institution." According to Mr. Nasri Sabarneh, the head of Beit Ummar Municipality, the residents knew about the confiscation from the ad placed in the local newspaper by the "High Planning Council – The Civil Administration." The ad stated that Israeli occupation forces are in the process of confiscating agricultural lands between the colonies of Efrata and Migdal Oz.
Pic.1-3: Pictures of the confiscated land.
According to preliminary estimations, the total area of the targeted lands is around 600 dunums in an area known locally as Brikot east of the town of Beit Ummar. The lands are distributed between planted with grapes, almonds and barley while are parts were not used. The targeted lands are considered one of the most fertile lands in the town as it produces hundreds of tons of grapes in addition to tens of tons of barley and almonds on yearly basis. More than 50 families depend on the said lands as their main source of income.
Mr. Mahmoud Awad, the Beit Ummar lands' expert, indicated that the boundaries of the targeted lands include the village of Umm Salamona from the east, the town of Al Khader from the west, the colony of Efrata from the north as well as Road 369 while the colony of Migdal Oz borders the lands from the south.
Pic.:4 + 5: The colony of Efrata overlooking the Brikot lands of Beit Ummar.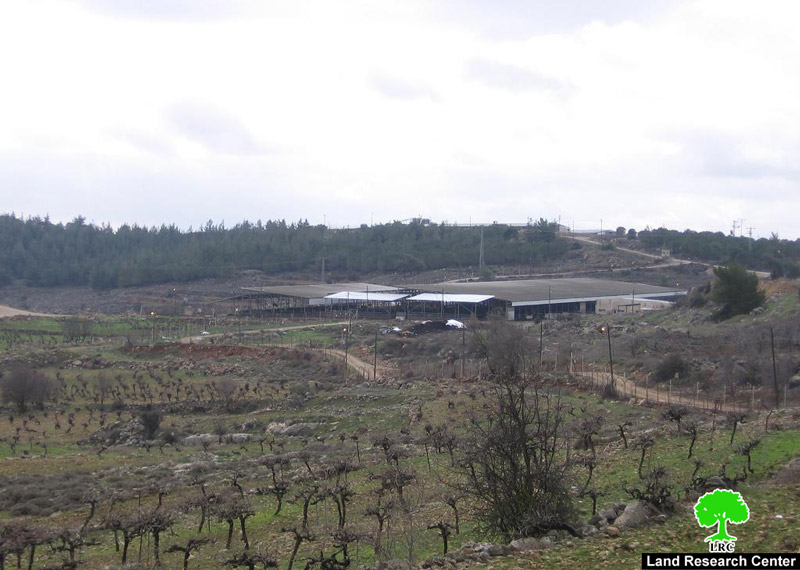 Pic. 6: A farm associated with the colony of Migdal Oz on Brikot lands.
Please note that the targeted lands are surrounded by Israeli colonies, Jewish educational institutions as well as agricultural projects associated with the nearby colonies. It is also worth pointing out that Israeli occupation forces established in the year 1968 the educational institution of "Pisgat Hamfatar" on the eastern section of the Brikot lands. The current plan calls for the further expansion of the institution.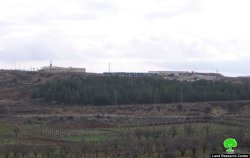 Pic.7: The Jewish "educational" institution of Pisgat Hamfatar
Pic.8+9: The street connecting between the nearby colonies and Brikot lands
The clan of Awad owns the majority of the targeted lands. Owners can produce official papers proving their ownership of the land. On another note, the Brikot lands are also known locally as Wadi Al Battikh, Shu'ub Al Maqar, Thaghrat Al Alami and Khallet Naser Allah. The following table lists the names of lands' owners in the area of Brikot.
No.

Name

Area in Dunums

1

The heirs of Ayyad Awad

30

2

Oudeh Issa Awad

20

3

The heirs of Awad Badwan

25

4

The heirs of Mohammad Hussien Awad

30

5

Hussein Bader Awad and his brother Hasan

15

6

The heirs of Musa Hussein Awad

15

7

The heirs of Mustafa Abdel Fattah Awad

12

8

The heirs of Musleh Abdel Fattah Awad

7

9

Abdullah Abdel Fattah Awad

5

10

Yousef Abdel Fattah Awad

4

11

The heirs of Mohammad Hussein Awad

8

12

The heirs of Khader Muheisen Awad

10

13

The heirs of Hussein Muheisen Awad

10

14

The heirs of Abdel Hamid Muheisen Awad

7

15

Mohammad Murshed and his brothers

6

16

Jabri Rushdi Awad and his brothers

6

17

The heirs of Musa Rasheed

6

18

The heirs of Mahmoud Nimer and the Eneim clan

80

19

The heirs of Mohammad and Bader Eneim

8

20

The heirs of Younis Abu Ayyash

12

21

The heirs of Abdel Halim Abu Ayyash

8

22

The heirs of Fawzi Zaidan

4

23

Na'eim Humeidan Abu Mariyya

4

24

The heirs of Abdel Kareem Abu Mariyya

3

25

The heirs of Shihda Alqam

10

26

Ibrahim Mohammad Hussein Alqam

5

27

The heirs of Hussien Alqam

6

28

The family of Hussein Awad

40

29

Hamed Mahmoud Ahmad Musallam

4

30

Naeim Mirshed Obeid

13

31

Khader Rasheed Obeid

5

32

Ahmad Rasheed Obeid

3

33

The heirs of Khalil Mirshed

3

34

Ahmad Rasheed Obeid

5

35

Nasri Rasheed Obeid

10

36

Mahmoud Abdel Muhsein Al Alami

2

37

The heirs of Issa Abdel Aziz Alqam

2

38

Mahmoud Mohammad Abu Ayyash

3

39

Ahmad Thaher Abu Ayyash

2

40

Mohammad Eneim

5

41

Hani Abdullah Ekhlayyel

3

42

Khalil Hasan Ahmad Ekhlayyel

2

43

Ahmad Bader Eneim

4

44

Ali Abdel Al Aziz

3

45

The heirs of Mohammad Abdel Aziz Ibreigeith

3

46

Diab Sa'eid Awad

2

47

The heirs of Mohammad Mahmoud Al Alami

15

48

The heirs of Hasan Mohammad Al Alami

15

49

The heirs of Jibril Hussein Al Alami

3

50

The heirs of Hasan Abdel Jawad Al Alami

3

51

Ayed Taqatqa

5

52

Open area

89

TOTAL

600
Prepared by
The Land Research Center
LRC