"Expanding the settlement of Betar Illit"
Warmly welcoming to the US Mideast special envoy G .Mitchell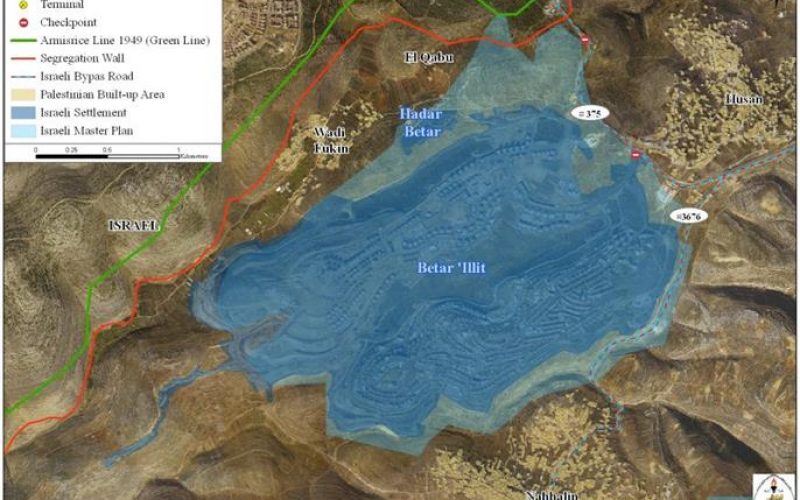 The Israeli government slashed the international community efforts led by the US special envoy G. Mitchell, warmly welcoming the envoy with an approval of adding another 112 housing unit to the illegal settlement of Betar Illit, a 'Jewish only' settlement that was established on Palestinian owned lands in the year of 1985.
Betar Illit settlement master plan area occupies 5848 Dunums of lands located within Bethlehem governorate. The Israeli occupation authorities have allocated the lands for the illegal settlement, out of which 4686 Dunum is used as a build up area, Betar Illit houses 36,400 illegal settlers
[1]
.
The illegal settlement of Betar Illit is located west of Bethlehem governorate, built on confiscated lands from 3 different villages inhabited by Palestinians. (See table.1)
Palestinian villages effected by the establishment of Betar Illit settlement in 1985, Bethlehem governorate

Village Name

Village total boundaries area (Dunum)

Area occupied by settlement (Dunum)

Area in Percentage

Husan

7295

3430

47%

Nahhalin

17250

688

4%

Wadi Fukin

4347

567

13%

Total

28892

4685

16.2
Source ARIJ GIS Unit March 2010
Betar Illit settlement is located in the heart of the triangle Palestinian villages, creating de-facto realty. The Palestinian villages will no longer be able unit because of the settlement.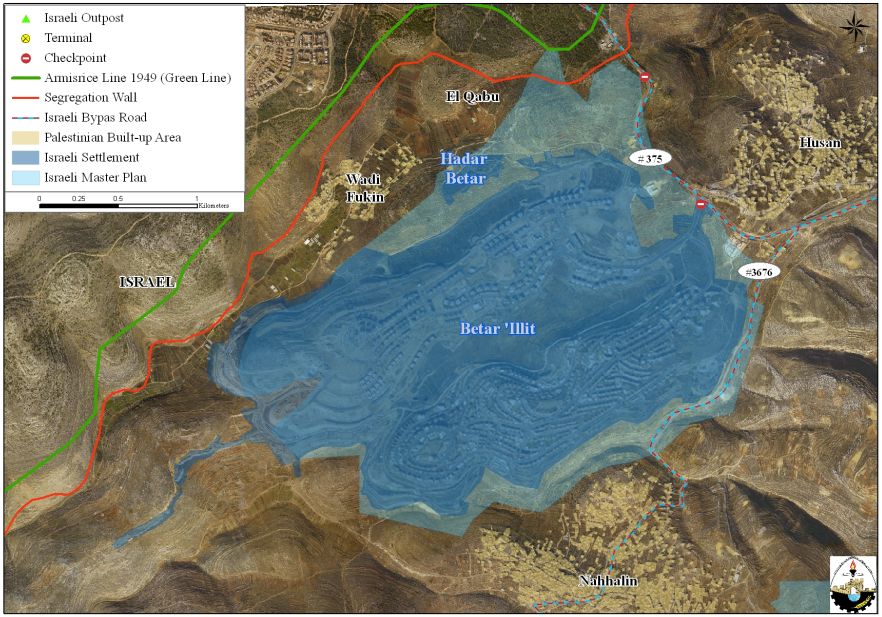 Map 1: Betar Illit Settlement
Source: Geographical Information System – ARIJ, 2010
Betar Illit settlement is on the biggest settlements in what is known as the Gush Etzion settlement block located west of Bethlehem governorate; in fact it is one of the biggest settlements in the West Bank and certainly the fastest growing settlements in terms of construction and population growth.
Betar Illit and the Gush Etzion settlement block is connected by two major By-Pass roads known as route #375 and route #3675, a total length '15 km' of Palestinian owned land confiscated for the build of the Jewish only route network, lands are owned by villagers of Husan and Nahhalin villages.
The consecutive Israeli governments have long been ignoring the international laws of war, as the use and confiscation of lands during times of wars is allowed strictly under security necessities. One may argue that Israel is yet at war, but its actions on the ground contradict the core of such 'exceptions',.
The Forth Geneva Convention states in Article 49 that "The occupying power shall not deport or transfer parts of its own population into the territories it occupies." and Article 174 of the same convention "prohibits the 'extensive destruction and appropriation of property not justified by military necessity and carried out unlawfully and wantonly."
To conclude:
Israel defiance of international well and pressure to freeze settlements' activities to resume negotiation and realize peace between Palestinian and Israelis and the Arab world in general, thus , dismaying any effort invested to bring tranquility into the area.
[1]
Source : Geographical Information System Unit Database – 2010
Prepared by: