Israel Continues to Forge History by Stealing Historical Rocks from Al Aqsa Mosque Compound.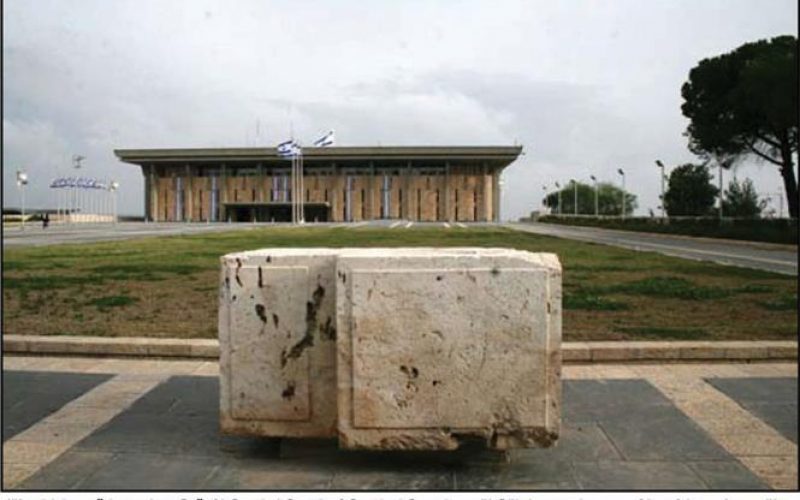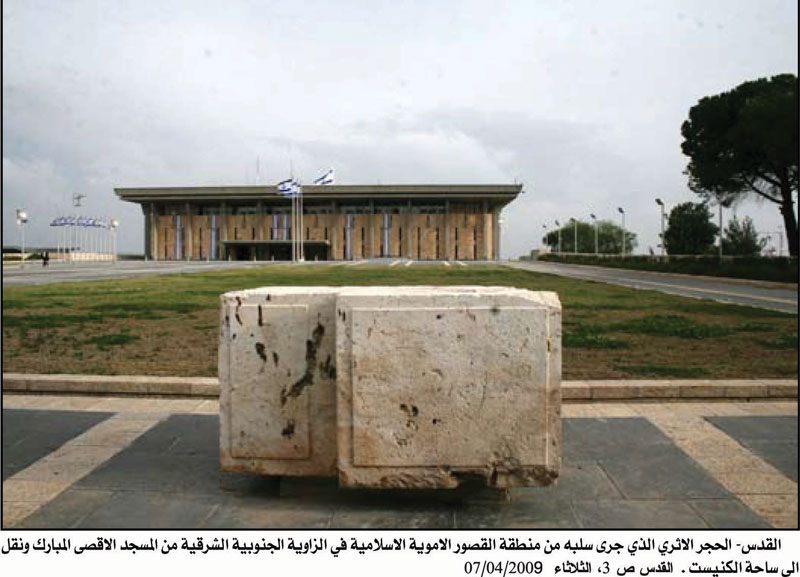 Israeli Occupation Authorities removed a rock from the Ummayad-era Al Imara Palace located south of Al Aqsa Mosque, the theft took place in the first week of April 2009, as Israeli Authorities transported the stolen rocks and place it in the Knesset's from yard.
Ever since its inception in June 1967, Israel has systematically forced Palestinians out of their lands, confiscated their properties, demolished entire neighborhoods, displaced Palestinians from their homesand and replacd them with Israeli colonists.
It has, also, continued to change the historically Arab character of the Holy City of Jerusalem through changing the history and geography of places in the city to suit the Israeli vision. Tunnels beneath Al Aqsa Mosque are but only one method used to establish a fake history associated with the City. Other methods used included the stealing of archeological artifacts as was carried out by the occupation archeology department when it overtook the contents of the Palestinian Museum and other historical items found during diggings throughout the city. Moreover, according to the Palestinian Archeology Directorate, the establishment of the Israeli Racist Isolation Wall has led to destruction of at least 800 archeological sites around the cities and villages in the West Bank including Jerusalem.
The Stealing of Historical Rocks from the Vicinity of Al Aqsa Mosque:
At 10:00 AM of April 5th, 2009 Israeli occupation authorities stole historical rocks from Al Imara Palace located in Al Khatouniya land southeast of Al Aqsa Mosque. The Palace is located a mere 3 meters away from most southeastern corner of Al Aqsa Mosque. The rocks were placed on a small cementy base located in front of Israeli Knesset (which was itself was built atop lands of the village of Lifta).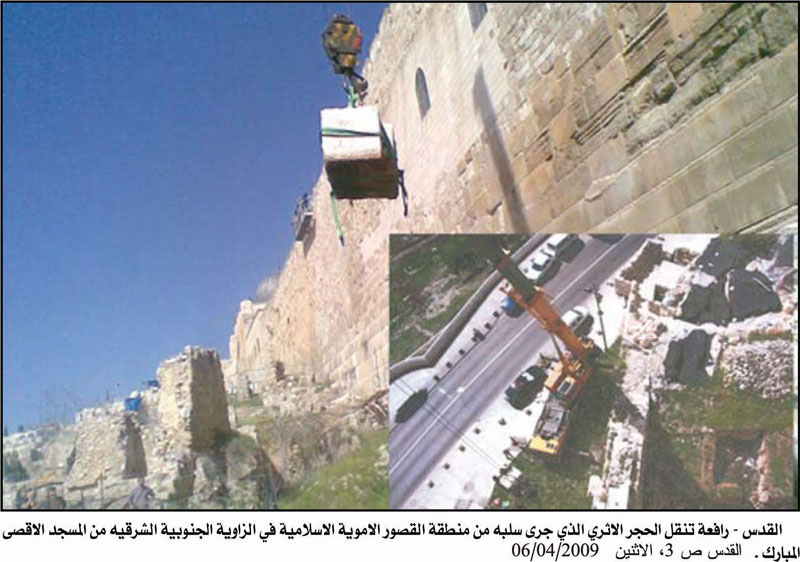 Photo 2: One of the Israeli machineries while stealing the historical rocks.
All of the indicators present at the theft location point at a deliberate attempt by the Israeli authorities to falsify history and forge a new, Jewish, identity on the expense of the age-old Arabic and Islamic character of the City. That is the same goal hoped to be achieved by the groups of Israeli extremists who tried to perform prayers inside Al Aqsa Compound while placing paper clips at the prayers location in an attempt to create a third 'Kotel' according to Eng. Ra'ïef Nijim, who is responsible for Al Aqsa issues in the Jordanian government. As for Dr. Yousef Al Natsheh, the archeological expert in the Islamic Awqaf Department, he indicated that the theft of and violations of Arabic and Islamic archeological artifacts has been on-going ever since the Israeli occupation of 1967 took place. Meanwhile, Dr. Nazmi Al Jo'aba, the director of RIWAQ for Rehabilitation of Historical Buildings, indicated that the stealing of the rocks from the Ummayad palace and the stealing of other historical artifacts is considered to be internationally 'unlawful'.
Prepared by:
The Land Research Center
LRC