While debating about settlements;
"Israel declared the settlement of Modi'in 'Illit as the third Jewish city in the occupied West Bank"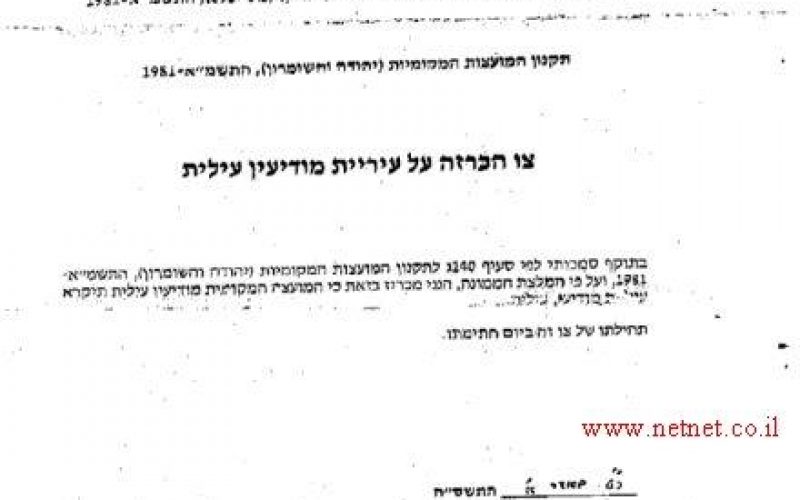 On March 7, 2008, the Israeli Major-General 'Jad Shemny', commander of the Israeli Defense Forces in the Occupied West Bank and with the full support of the Israeli minister of defense, Ehud Barak, issued a new order to reclassify the status of Modi'in 'Illit settlement to that of a municipality. The signed order was sent to Modi'in 'Illit local council, and titled 'Israel Defense Forces' declaring Modi'in 'Illit settlement as a 'municipality'
Based on my authorities under Article 140 C; for regulating
local councils law in Judea and Samaria of 1981, and according to supervisor advisory; I announce that the local council of Modi'in 'Illit to become Modi'in 'Illit municipality. The order is put into effect from the date of its signing.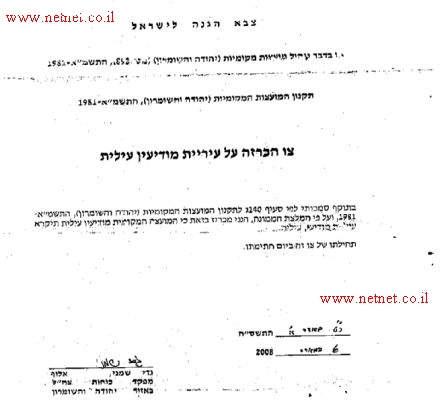 Source: http://www.netnet.co.il
The settlement of Modi'in 'Illit
The settlement of Modi'in 'Illit was established in 1990, located right along the 1948 Armistice Line (Green Line), approximately 8 Km northwest of Jerusalem city; 5 km from the Israeli bypass Road number 443.
Modi'in 'Illit was designated a Local Council in 1996 and in March 2008 it was declared as municipality along with Mattityahu and Hashmona'im settlements. According to the Israel Central Bureau of Statistics (CBS), as of August 2007, the 3 settlements' cluster had a total population of some 40,000 Israeli settlers; making them one of the largest Israeli settlements' cluster in the West Bank in terms of population. The 'settlement' has a high annual growth rate of 18 percent; this is due to the uninterrupted construction of new housing units in the settlement which encouraged such a high growth rate to exist.
The settlement occupy an area of 6,000 dunums (6 km²) and was established on lands originally owned by Palestinians from Ni'lin, Deir Qiddies, Al Midya, Bil'in and Khirbet Al Misbah villages located within the governorate of Ramallah. Table one below details the land areas that were confiscated from the aforementioned villages for the establishment of Modi'in 'Illit settlement
Table 1: Lands confiscated form the neighboring Palestinian villages
| | | |
| --- | --- | --- |
| Palestinian Village | Area confiscated from villages ( Dunums) | Percent of total village boundary |
| Ni'lin | 1817 | 13% |
| Deir Qiddis | 2174 | 26% |
| Bil'in | 753 | 20% |
| Al Midya | 119 | 5% |
| Kharbatha Al Misbah | 793 | 11% |
| Total | 5656 | |
Source: Geo-Informatics Unit Database– 2008 (ARIJ)
Modi'in 'Illit and the Israeli Segregation wall
On June 16, 2002, the Israeli Government started constructing the Segregation Wall in the West Bank. The Wall, came to enfold and annex vast Palestinian lands and as many Israeli settlements to Israel's proper rather than to provide security for citizens of Israeli as claimed by the Israeli Government. Valuable Palestinian agricultural lands and groundwater resources within the West Bank Territory, east of the 1949 Armistice Line (Green Line) were lost for that purpose.
The Segregation Wall plan in the vicinity of newly declared Modi'in Illit municipality include group of 8 Israeli settlements comprising the Modi'in 'Illit settlements bloc toward Israel. See table 2.
.
Table -2: the Modi'in 'Illit settlements' Bloc
SettlementName

Date ofEstablishment

Area 10

(inDunums)

Population in 2004

Modi'in Illit (Qiryat Sefer)

1991

3973

34482

Hashmonaim

1985

1050

2359

Mattityahu

1980

683

1355

Lapid

1996

459

2256

Shilta

1977

978

370

Menora

1998

759

1917

Kfar Rut

1977

835

210

Makkabim

1982

1941

11235

Total

10,678
Source: Geo-Informatics Unit Database– 2008 (ARIJ)
The Segregation Wall in this area isolated 23,460 Dunums (23.5 Km²) of Palestinian lands including agricultural lands, open spaces, water bodies and natural resources. It also caused major disruptions to Palestinians' daily lives especially to their movement to the areas segregated west of the wall and their livelihood and other vital social, health, and educational services as well. Table 3 details the lands that were confiscated from Palestinian villages located in the vicinity of Modi'in Illit bloc to establish the wall:
Table – 3: Palestinian Lands Isolated by the construction of the Segregation Wall

Palestinian Village Name

Total Village Area
(Dunum)

Isolated Area from Village Boundary
(Dunum)

% percent from Total village area

NI'LIN

14794

5449

37%

DEIR QIDDIS

8207

2622

32%

EL MIDIYA

2182

1329

61%

BIL'IN

4040

1968

49%

AL-BURJ

716

716

100%

BIR MA'IN

1010

1010

100%

BEIT SIRA

4659

2957

63%

SAFFA

9672

3392

35%

KHARBATA

7062

957

14%

Total

23460
Source: Geo-Informatics Unit Database – 2008 (ARIJ)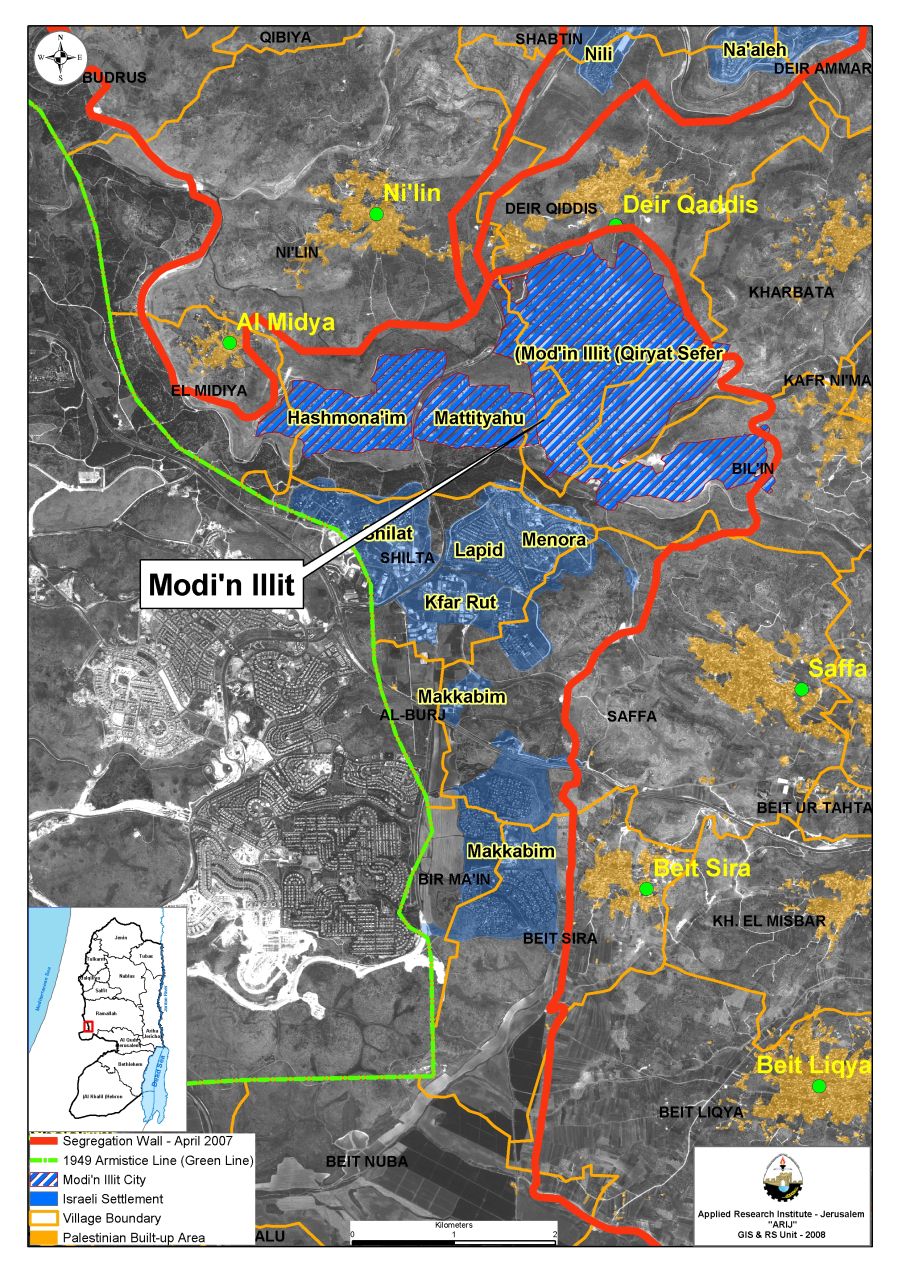 Re-routing the Israeli Segregation Wall around Modi'in 'Illit settlements' Bloc
On September 4, 2007, as the Segregation Wall around Modi'in 'Illit settlements' bloc is near completion, the Israeli High Court of Justice ordered to reroute 1.7 kilometers Wall section, which was built on Palestinian lands of Bil'in village, within a distance of 500 meters away from the village's built up area and closer to the Green Line. The court's order came after a wave of petitions that were filed to the court by Palestinian residents who suffered desperate living conditions caused by the existing Wall to abolish it or if insists, to rebuild it on the 1949 Armistice Line (Green Line) or westwards.
Even after 8 months of the Israeli High court of Justice decision to dismantle the existing Wall section near the village of Bil'in, nothing on the ground has been made yet as even no planned alternative route has been delivered to village's council as was reported at Haaretz daily newspaper on the 24th of April 2008. A spokesman of the Israeli ministry of defense, Shlomo Dror justified the delays in applying the court's order stems from 'budget constraints'. However, no budget constraints when it comes to building new housing units in the settlement as the last few months witnessed massive construction at the settlements.
To conclude:
Modi'in 'Illit is located approximately 3 km northwest of the 1949 Armistice Line (Green Line); this means that Modi'in 'Illit is located within the West Bank Territory, which is not part of the state of Israel. The Road Map plan submitted by the US President George Bush on June 4, 2002, and endorsed by Israel on May 25, 2003, intended to bring the issue of 'establishing a Palestinian state as stated here
'A settlement, negotiated between the parties, will result in the emergence of an independent, democratic, and viable Palestinian state living side by side in peace and security with Israel and its other neighbors. The settlement will resolve the Israel-Palestinian conflict, and end the occupation that began in 1967, based on the foundations of the Madrid Conference, the principle of land for peace, UNSCRs 242, 338, and 1397, agreements previously reached by the parties, and the initiative of Saudi Crown Prince Abdullah – endorsed by the Beirut Arab League Summit – calling for acceptance of Israel as a neighbor living in peace and security, in the context of a comprehensive settlement. This initiative is a vital element of international efforts to promote a comprehensive peace on all tracks, including the Syrian-Israeli and Lebanese-Israeli tracks.'
Changing the status of Modi'in 'Illit into a municipality goes beyond the obvious Israeli contradiction to the avowed policy of the Government of Israel with regards to the Road Map plan as it demonstrate a systematic pattern to consolidate the settlements' program and even take it to a whole new level, where Israel plans to illegally legitimize the existence of such settlements' blocs, specifically those isolated by the Segregation Wall (Ariel settlements' bloc, Ma'ale Adumim settlements' bloc, Gush Etzion settlements' bloc, Giv'at Ze'ev settlements bloc).
Prepared by
The Applied Research Institute – Jerusalem