The Israeli Segregation Wall hits Al-Khader village lands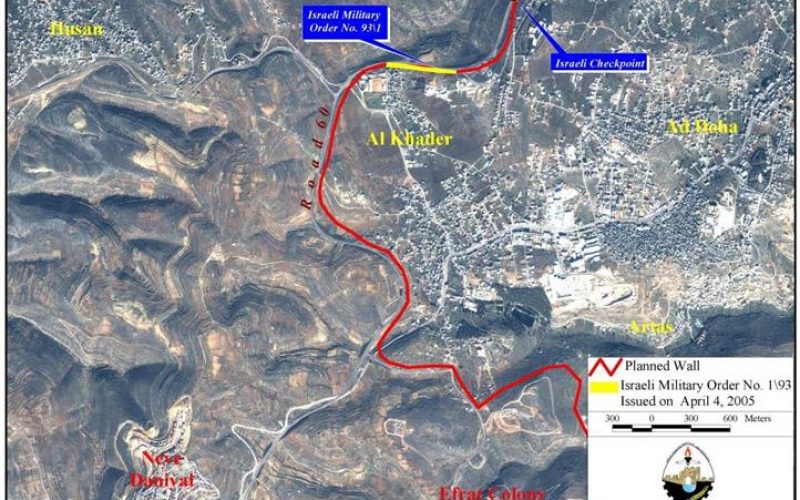 Residents of Al-Khader village west of Bethlehem district were served with military orders in the conventional manner of the Israeli Army (placing the military orders under a rock) informing them that their lands has been declared closed military areas. The Israeli military order signed April 4, 2005 targets an area of 7.5 Dunums (500 meters length, 15 meters wide) of agricultural land located at the town's northern sector; along the Israeli bypass road number 60. The military order numbered (1/93) did not justify the reason for declaring the marked lands closed military area other than that it will be used for military purposes. Furthermore, the military order advised the landowners who wishes to object to the military order to do so via the District Coordination Office (DCO) in Bethlehem within 7 days of receiving the order or contact the custodian of Absentee property at Etzion (the Israeli Civil Administration). (See Map below))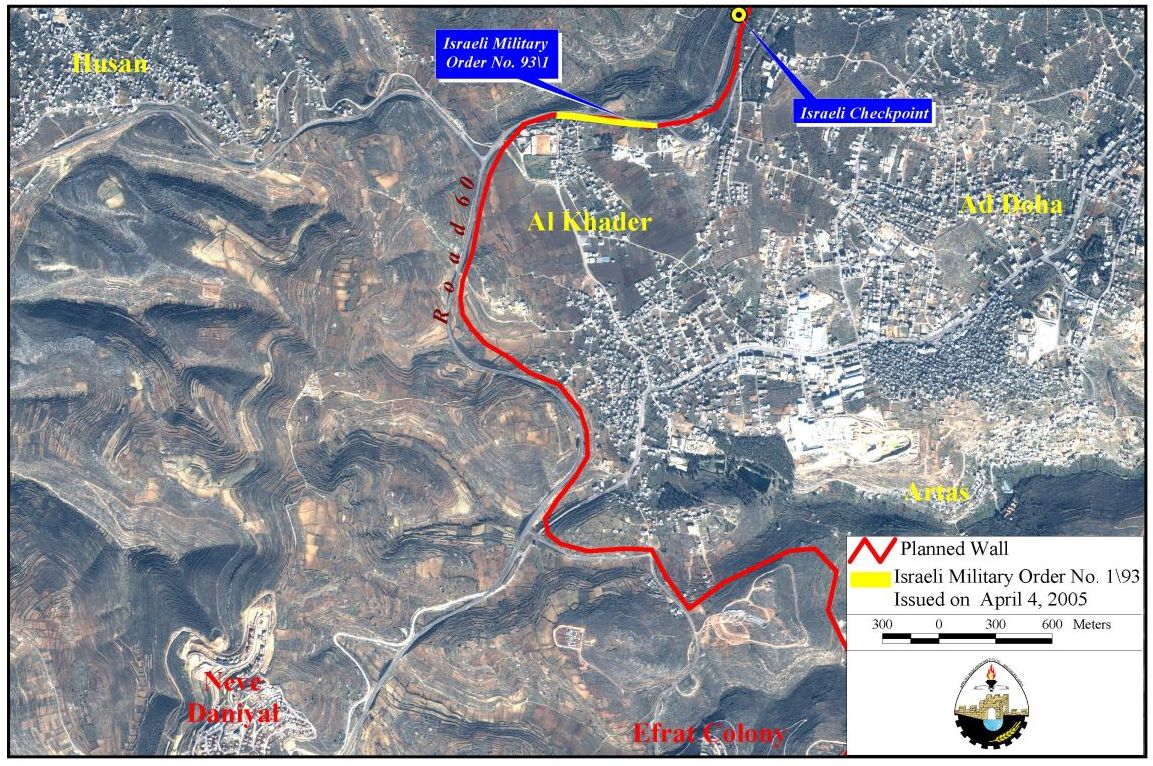 What the Israeli would not say bluntly?
The fact of the matter is that the Israeli government gave the Israeli Army permission to proceed to recommence work on the Segregation Wall in Bethlehem district starting with the relatively least damaging areas. The military order is also the first of many others to follow during the months to come to complete the route of the Segregation Wall that will isolate the western rural areas from Bethlehem district (Hussan, Battier, Nahaleen, Wad Foukeen and Jab'a villages). The planned route of the Segregation Wall not only will entrap Al-Khader village completely as the south and eastern accesses of the village will remain open toward Bethlehem district. However, the northern and western accesses of the village will be shut off by the Segregation Wall denying the residents access to considerable areas(8400 Dunums, 42% of the village total area) including agricultural lands (87%, 6000 Dunums of total agricultural lands in the village) all located behind the Wall. Access to these lands will be conditional and limited to certain individuals who are eligible to receive entrance permits to these lands. Some of the Israeli requirements to grant permits to landowners beyond the Segregation Wall are:
Israeli issued documentation of landownership.

Fully paid land tax receipts for previous years.

Security clearance issued from the Israeli Civil Administration.
Even if residents were able to meet all the above, the permits are restricted to a limited timeframe and to the actual owner of the land. The following table shows the impact of the Israeli occupation on Al-Khader village.
Lands toxically damaged

200

Lands Segregated by the Wall

8400

Lands confiscated for settlements

2000

Palestinian houses demolished

Between 2000 & 2004

25

Uprooted trees

10,000
Source: ARIJ Database 2005
Conclusion:-
Despite Israel's statements that the Segregation Wall is meant for defensive purposes, the Wall does not follow the route of the Armistice line (the internationally recognized border between the West Bank and Israel). Instead, the Wall cuts deep into occupied Palestinian territory in the West Bank and Gaza Strip, isolating many thousands of Palestinians from the remains of the OPT, creating small ethnic ghettos completely surrounded by walls and fences, and appropriating large tracts of Palestinian land.
Prepared by:
The Applied Research Institute – Jerusalem