The Segregation Wall Plan in Hebron Governorate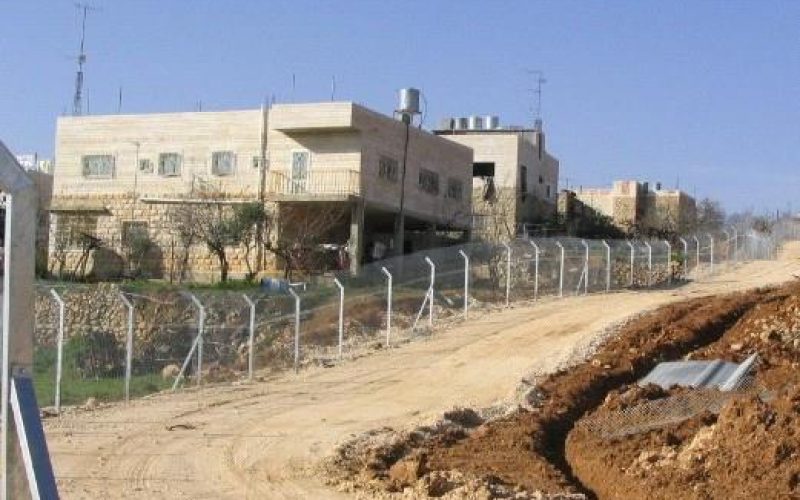 Introduction
Israel intensified its colonial activities following the 1967 war to control over more Palestinian lands under security tricks and justifications. In 1981, Began government started to declare Palestinian lands as ''State Lands'' as a first step to seize most of the uninhabited and uncultivated lands in the West Bank and Gaza Strip.
Such lands make up almost 50 % of the Occupied Territories total area and are identical to Area C (areas under full Israeli control) according to Oslo II agreement. These lands face de-facto annexation today in many aspects as the number of Palestinians living in such places is small and they are prevented from building new houses to accommodate their growing numbers.
With the erection of the Israeli Segregation Wall, as is currently undergoing construction, Israel is no longer in need to use any more legal loopholes to take control over Palestinian lands. The path of the wall has become, along with the ''illegal'' settlements and security zones, the leading tool in drawing unilateral borders as envisioned by the Israeli government.
What is being left for Palestinians is a mere 50 % of the West Bank area, which is a major threat for Palestinians as such borders come atop ruins of the peace process, which will add more elements of unrest and chaos in the region. This scenario is being implemented by the Israeli forces in Hebron governorate starting from the vicinity of Israeli settlements such as Kharsina (Ramat Mamre) and Kiryat Arba where more than 1500 dunums are expected to be expropriated for the path of the wall as well as for creating a ''security zone'' around these two settlements.
Background about Hebron Governorate
Hebron governorate is considered the largest among West Bank Governorates in terms of size and population. Its area was 2076 km2 before the UN partition plan is implemented in 1948, while its current area is about 1060 km2, which means a loss of 51 % of its original size.
Hebron governorate houses a population of 479206 according to the Palestinian Central Bureau of Statistics (PCBS 2003). The population density of the Governorate is 452 individual per km2. See Map 1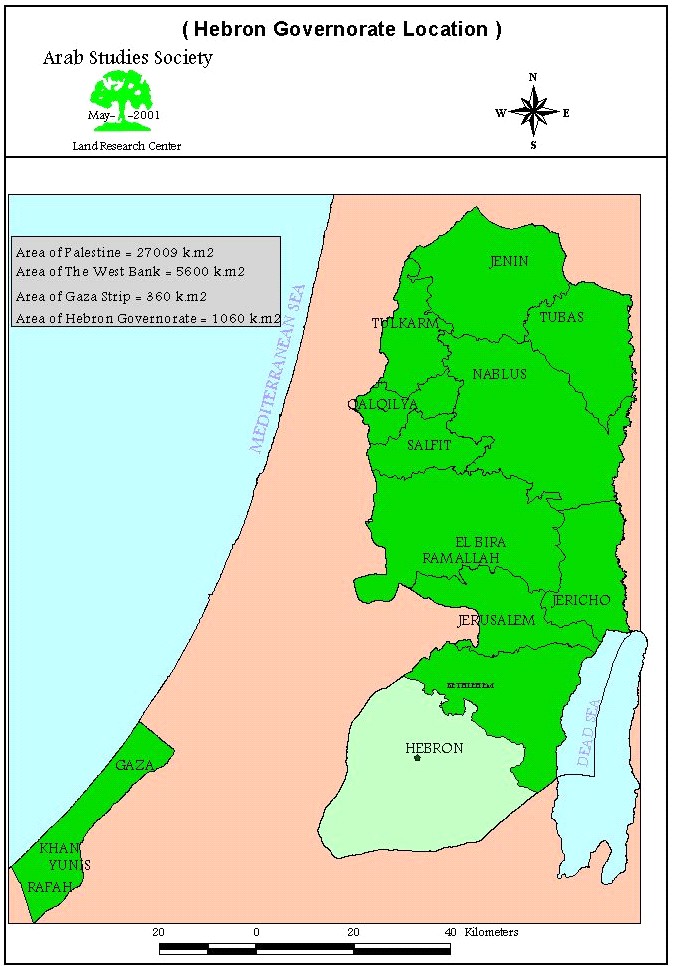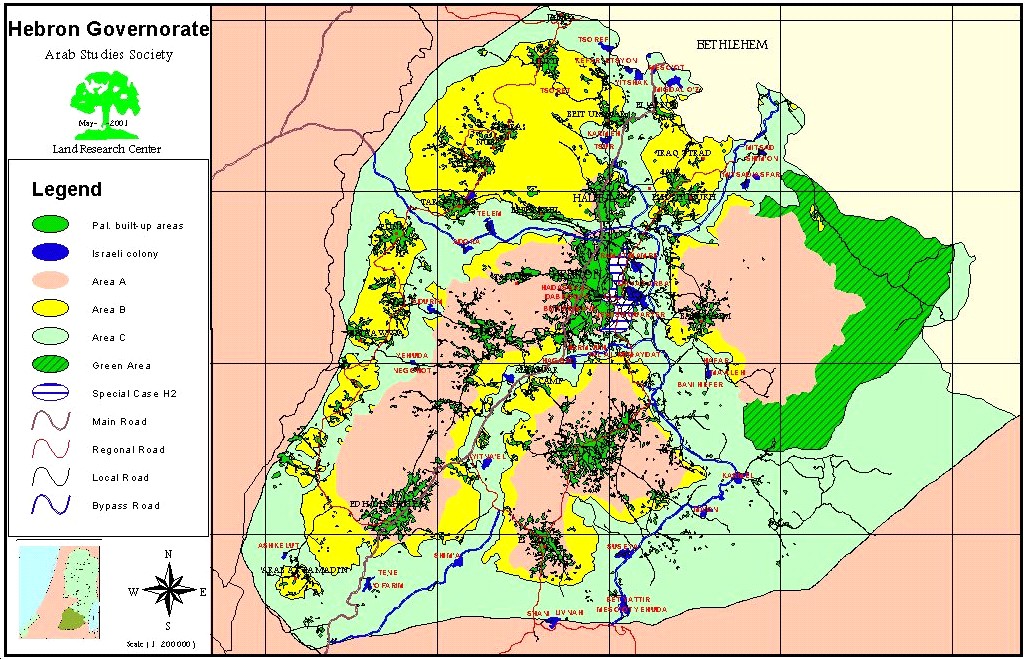 Settlements and Outposts in Hebron Governorate:-
Israeli settlements occupy 5.3 km2 (about 0.5% of Hebron Governorate total area) as illustrated in map 2. These settlements are distributed along three parallel lines in addition to the existence of a colonial belt at the southern section of the Governorate. Settlement of Kiryat Arba and its northern neighborhood, Kharsina also known as Ramat Mamre, are the largest Israeli settlements established on Hebron lands and house a total population of 6400 Israeli settlers controlling an area of 604.375 dunums. The population of these two settlements constitute half the number of settlers living in Hebron governorate, which is 12,000. See Map 3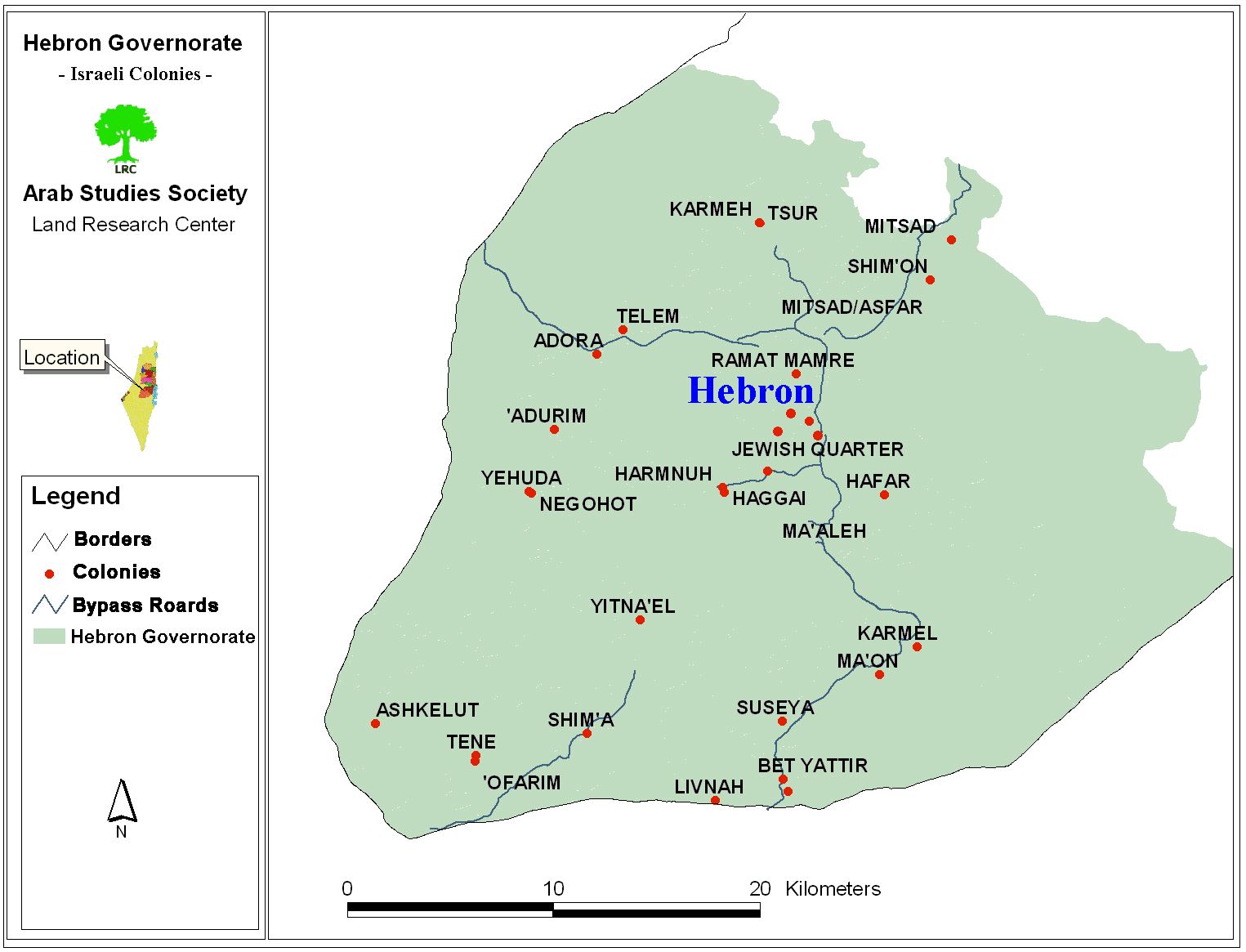 There are 25 Israeli-declared ''legal'' settlements in addition to 15 ''illegal'' settlements and outposts established since 1996. Israeli prime minister Ariel Sharon called upon settlers to occupy hilltops and put caravans atop of them before ' losing them to Palestinians in negotiations' in an attempt to expand existing settlements' borders and create new facts on the ground.
Most of the Israeli settlements in Hebron have been established during the early eighties except for Kiryat Arba' settlement which was established in 1968. The rest were established feverishly after the signing of the 1979 peace treaty between Egypt and Israel.
Bypass roads:-
Israeli bypass roads crises-crossing Hebron Governorate came with the advent of the Oslo Accords with a total length of 117.1 kilometers (See map 3). It divides the Governorate to three separate entities as illustrated in map with the possibility of adding a fourth entity if the bypass road next to Al Samou' village is linked to Road 60. Taking into consideration, Palestinian landowners are prevented from using their land located 150 meters along both sides of the bypass roads, we conclude that establishing such roads led to Israel control of 34.4 km2 land, about 3 % of Hebron total area.
Palestinian communities:-
The number of Palestinian communities in the Governorate is 138, of which Hebron city is the largest. The total area of these populated communities is about 80 km2 (about 7.5 % of the Governorate total area). See Map 4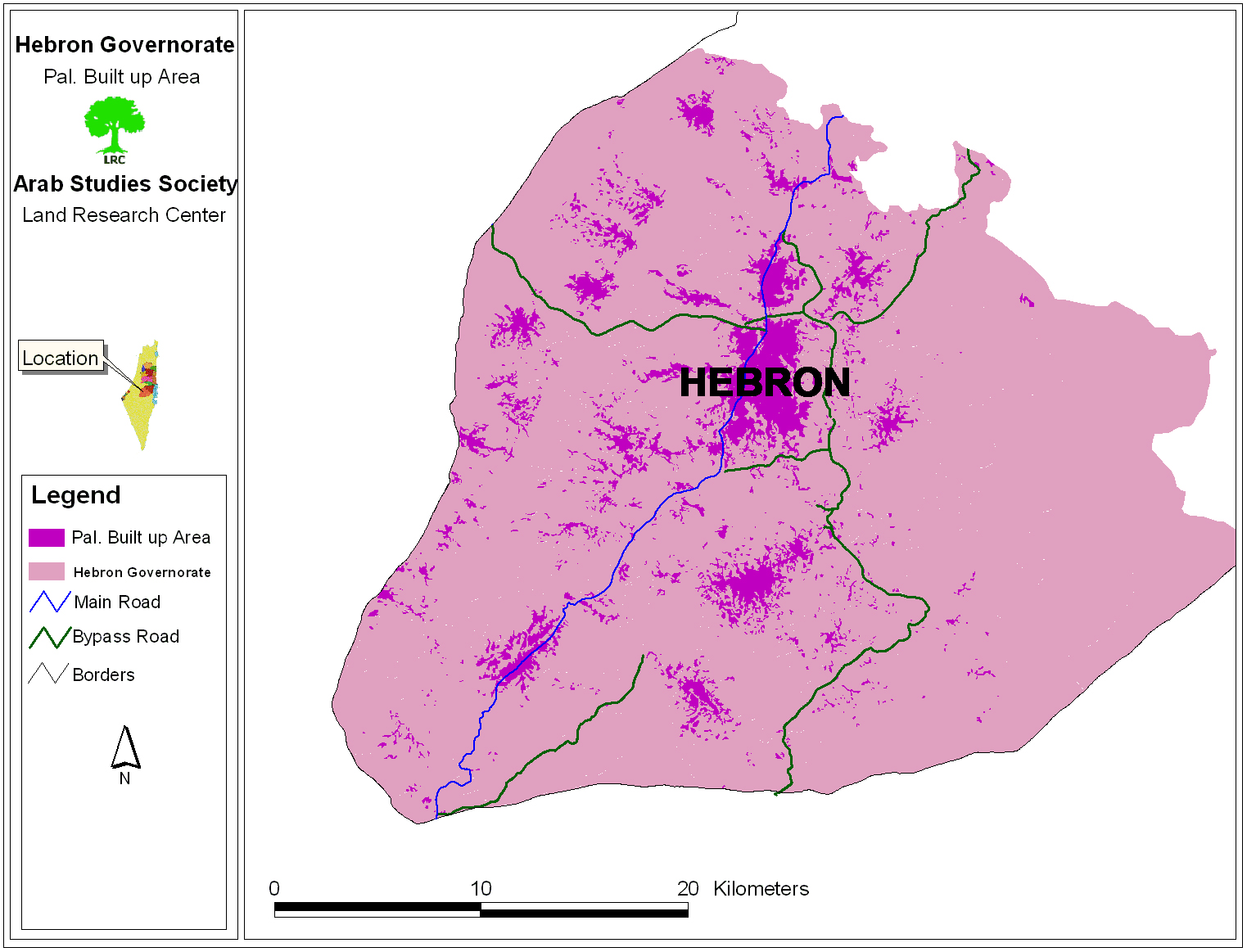 The Wall plan in the Governorate of Hebron:-
The erection of the Israeli Segregation Wall in Hebron Governorate, if implemented as planned, will isolate 414.5 thousand dunums of Palestinian land, which constitutes 40 % of the Governorates' total lands, including 92.5 thousand dunums in the western part of the governorate and 322 thousand dunums in the eastern part of the governorate as illustrated in map 5.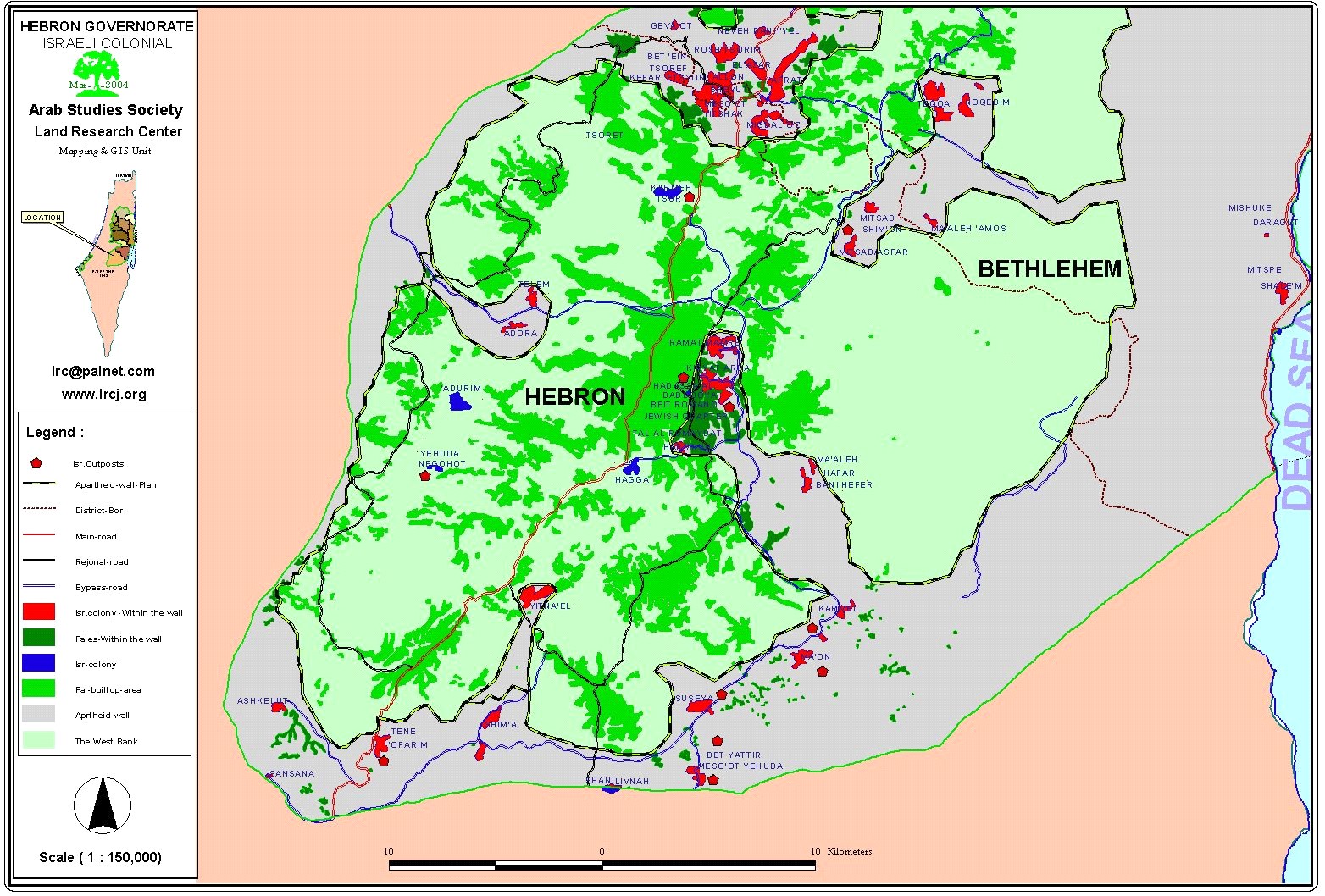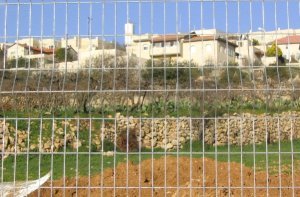 The settlement of Kharsina inside the wall established on the land of brothers Musbah & Hamid Abdul Latif I'seila in the south western side of the settlement, Photo courtesy of LRC
According to map 6, Hebron old city; in addition to 71 Palestinian communities located south, west and east of the Governorate, will be targeted by the Israeli policies of expansion and isolation. The map also indicates that Israeli penetration into Palestinian lands will vary in length between few kilometers up to 20 kilometers such as the case in areas located southeast of the Governorate where dozens of small gatherings of Palestinians from Yata, Samou', Ad Dhahiriya and Ar Ramadin towns are located. Furthermore, the map points to the incursion of the wall into the heart of Hebron city to devour the Old City alongwith its four Israeli settlements. It is expected that more iron gates, barbed wires and military checkpoints will be erected in the Old City as well as an escalation of pressure on Palestinian residents forcing them to leave the area to ensure a geographical link between Israeli settlements located in that part of the city and the Ibrahimi Mosque.
One of the main goals of the Segregation Wall in Hebron governorate is to annex and link the largest number of settlements through the establishment of ''geographical pockets or fingers'', especially in the west of the Governorate to include Telem and Adora settlements located in the southern part of it and to assure the linkage between the Otni'el settlement and other colonialist blocks located to the south of Yata town.
Furthermore, the path of the wall guarantees the establishment of a geographical pocket which links between the colonialist block south of Yata and the settlements of Kiryat Arba and Kharsina, as well as including the settlement of Pene Hever (Ma'ale Hever) which is located to the south of the Palestinian town of Bani Nu'eim.
In terms of population, the wall is expected to isolate and segregate about 53,500 Palestinians including the seven Bedouin groupings located to the east of Yatta town; in addition to Ar Ramadin and Al Frureijat Bedouins located to the south of Ad Dhahiriyah town. See map 5, table 1 & table 2.
Other effects of the wall include the forceful eviction and transfer of Palestinians living in its vicinity as well as confiscating their lands and source of income; thus increasing unemployment rate and causing major damages to the Palestinian economy, especially that it depends largely on agriculture. Moreover, the wall is designed to ensure Israeli control over Palestinian natural resources, such as water, gas, natural stones and queries, etc.
Effects of the Segregation Wall on Palestinian population in Hebron Governorate:-
A) Communities that will be isolated behind the Wall:-
There are 29 Palestinian communities that will be totally isolated from the rest of the governorate with a total population of 53540. This number forms 10.7 % of Hebron total population. The following table lists the 29 communities threatened to be isolated behind the Wall
Table 1: the 29 communities threatened to be isolated behind the Wall in Hebron governorate
No.
Name of Compound
Location (to HebronCity
Population

1.

Al Ramadien

Southwestern Bedouin village.

2,300

2.

Arab Al Frureijat

Southwestern Bedouin village.

350

3.

Khirbat Ar Rahwa

40

4.

Khirbat Zanouta
South west
10

5.

Khirbat Al Simia
Southwestern
1300

6.

Khirbat Ghuwein al Fauqa
South
50

7.

Khirbat Al kharaba
South
5

8.

Haribat an Nabi
South
55

9.

Khirbet at Tabban
South east
30

10.

Khirbet Bir al Idd
South east
110

11.

Khirbet al Majaz
South east
5

12.

Khirbet Sarura
South east
55

13.

Maghayer Al Abid
South east
30

14.

Khirbet al Fakheit
South east
25

15.

Qawawis
South east
40

16.

Khirbet Asafi
South east
30

17.

Imneizel
South Bedouin village
250

18.

Khirebt Tawil Ash Shih
South east
145

19.

At Tuwani
South east
100

20.

Al Faqeer
South east Bedouin village
350

21.

Khashem Al Karm (Umm Amer)
South east Bedouin village
500

22.

Al Najada
South east Bedouin village
230

23.

Arab Al Ka'abneh
South east Bedouin village
400

24.

Arab Al Hathaleen
South east Bedouin village
300

25.

Al Zuweidin
South east Bedouin village
500

26.

Al Buweib
South east
450

27.

Hureiz
South east
750

28.

Birin
South east
130

29.

Hebron
The Old City
45000

TOTAL

53540
B) Palestinian communities that will be Isolated From their Lands:
43 Palestinian communities with a total population of 300640 are going to be isolated from their lands due to the construction of the Wall. These communities constitute 60% of Hebron total population. By this, the total percentage of Palestinian population who will be totally isolated behind the Wall and separated from their lands is about 70. Table 2: Palestinian population isolated behind the Wall and separated from their land.
No.

Community name

Location
( to Hebron City)

Population

1.

Beit Ummar

North west

10,000

2.

Khirbat Safa

North west

1,000

3.

Surif

North west

11,000

4.

Khirbat Al Dier

North west

300

5.

Khirbet Musharif

North west

50

6.

Hitta

North west

530

7.

Qila

North west

700

8.

Bir Musallam

North west

200

9.

Tarqumiya

North west

11,500

10.

Idhna

West

15,000

11.

Al Kum

West

1000

12.

Deir Samit

South west

4500

13.

Beit Awwa

South west

6200

14.

Asikka

South west

600

15.

Al Majd

South west

1500

16.

Beit ar Rush at Tahta

South west

400

17.

Beit ar Rush at Tahta

South west

750

18.

Anab al Kabir

South west

300

19.

Al Burj

South west

2,000

20.

Adh Dhahiriya

South west

22,000

21.

Khirbet Shuweka

South west

100

22.

As Samu'

South

14,000

23.

Yatta

South

33,000

24.

Al Karmil

North east

2250

25.

Khalet al Maiyya

North east

1000

26.

Ar Rifaiyya

North east

245

27.

Umm Lasafa

North east

430

28.

Ad Deirat

North east

300

29.

Khurisa

North east

35

30.

Ad Duweir

North east

550

31.

Biar al Arus

North east

700

32.

Zif

North east

700

33.

The City of Hebron

122,000

34.

Al Jalajel

East

300

35.

Bani Na'im

East

15,000

36.

Al Uddeisa

North east

1150

37.

Ad Duwwara

North east

1300

38.

Ras at Tawil

North east

500

39.

Beit 'Einun

North east

1800

40.

Irqan Turad

North east

400

41.

Ash Shuyukh

North east

5300

42.

Sa'ir

North east

10000

43.

Hamrush

North east

50

Total

300640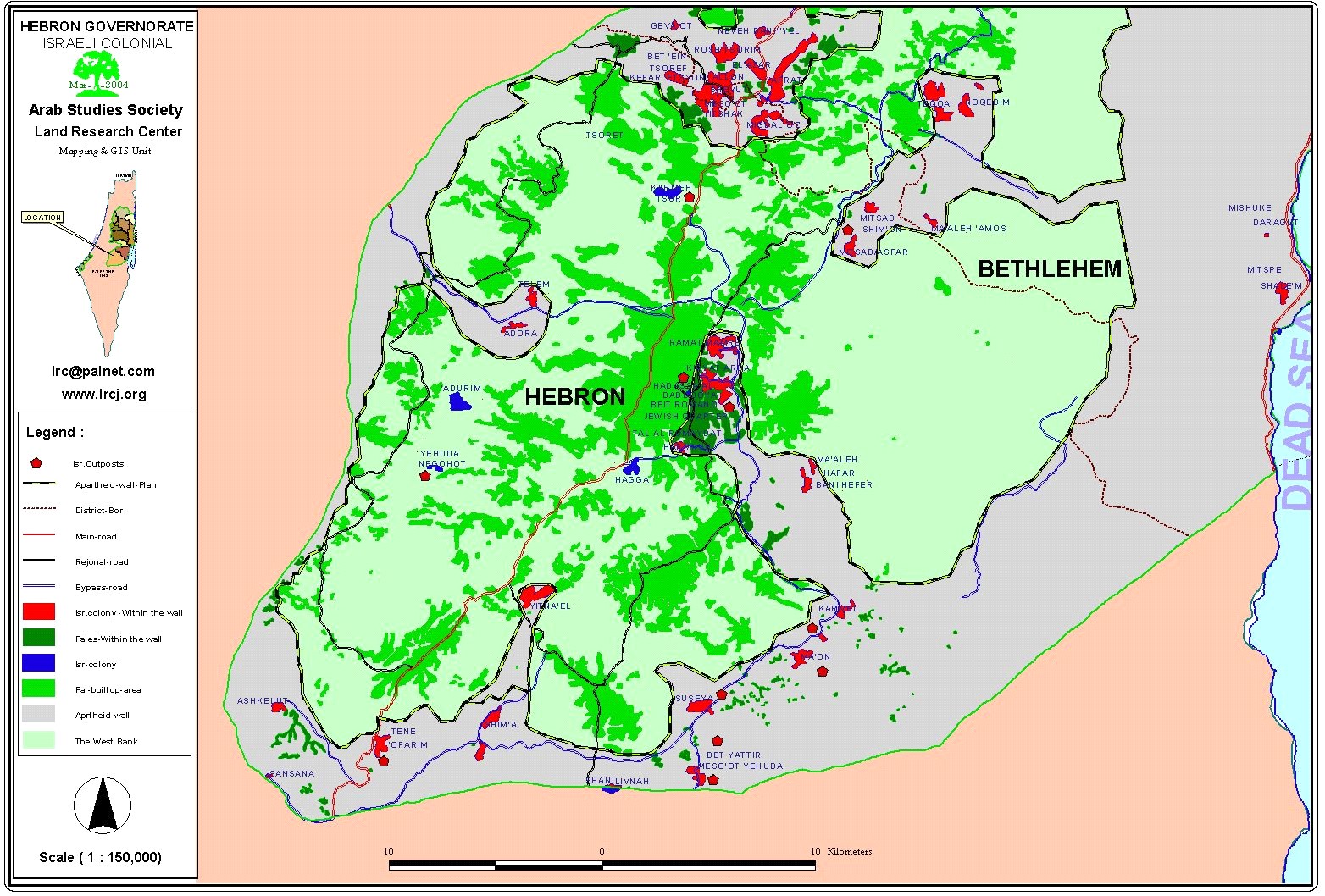 Map of Palestinian communities and built up areas that will be either isolated behind the Wall or isolated from their land
Israeli 'legal ' settlements and ''Illegal'' outposts that will be annexed into Israel by the Wall in Hebron governorate:
A total of 27 settlements and outposts are expected to be annexed into Israeli proper due to the wall. Number of settlers residing in those 27 settlements reach to 12,000, which is an estimate number as Israel is unwilling to provide information about the exact population number of settlers residing in ''illegal'' outposts. The following table details the ''legal'' settlements and ''illegal'' outposts by location, outpost and population expected to be annexed into Israel:
Table 3: ''legal'' settlements and ''illegal'' outposts by location, outpost and population expected to be annexed into Israel proper
No
Settlement
Outpost
Location (toHebron City)
2001 PopulationCensus
1
Telem
Northwestern
97
2
Adora
Northwestern
271
3
Eshkelot
Southwestern
171
4
Sansana
Southwestern
NA
5
Tene ( Ma'ale Omarim)
Southwestern
561
6
Yitna'el
Southwestern
560
7
Shim'a
Southwestern
296
8
Shani
South
483
9
Mezadot Yehuda ( Beit Yattir)
South
422
10

Ashal
Few kilometers to the noth of Mezadot Yehuda south of Hebron
10
12

Yattir south

West of Mezadot Yehuda south of Hebron

NA
13

Giva't Abigal
2.5 kilometers to the south of Ma'on south of Hebron
5
14

Ma'on Farm
1.0 kilometers to the east of Ma'on south of Hebron
5
15
Suseya
Southeastern
482
16
Ma'on
Southeastern
283
17
Karmel
Southeastern
246
18
Pene Hever ( Ma'ale Hever)
Southeastern
304
19
Kiriyat Arab' and Kharsina ( Ramat Mamre)

East

6400
20
Hazon David
East (close to Kiryat Arba')
NA
21
Sdah Qalb
East (close to Kiryat Arba')
NA
22
Mount Manuh
Southern tip of the City of Hebron
NA
23-26

4 colonial nuclei inside Hebron city:
1. Tel Ar Rumayda
2. Beit Hadasa
3. Beit Romano
4. Abraham Avino

The heart of the City of Hebron
550
27
Asfar ( Metzad)
Northeasterm
268
TOTAL
11514
Table 3 also indicates that most of the settlements and outposts planned to be annexed to Israel are located in the southern and eastern areas of the Hebron Governorate, where Palestinians are most likely to expand and prosper. The goal behind targeting these areas is to paralyze and block any possibility of Palestinian growth in the future, especially that the northern part of the Governorate is sealed off in the face of Palestinian expansion due to the presence of Gush Etzion block of settlements; in addition to the limitations in the western part of the Governorate due to its proximity to the Green Line. See Map 5
The Wall plan Exempts the Annexation of Three settlements:
Upon looking at the path of the Segregation wall, one can deduce that there are three Israeli settlements that will remain within the Palestinian territories. They include the following: Table 4: Israeli settlements remaining within the Palestinian territorie
No.

Name of Settlement

Location (vis-a-vie Hebron City)

Population

1

Negohot Yehuda

South west

409

2

Haggai

South

400

3

Karmei Zur

North

500

TOTAL

1309
The Inception of Erecting the Wall in Hebron governorate:-
Work on the establishment of the Segregation Wall in Hebron governorate started in June 2003 as Israeli Army, along with the help of the Israeli settlers, constructed a segregation wall in Wadi An Nasara area at the southern edge of Kiryat Arba' settlement. The erection of that part of the wall was done by the end of July 2003 as the Israeli bulldozers paved the road for an easier access for settlers leading to the Ibrahimi Mosque and other settlements in its vicinity. See photo 3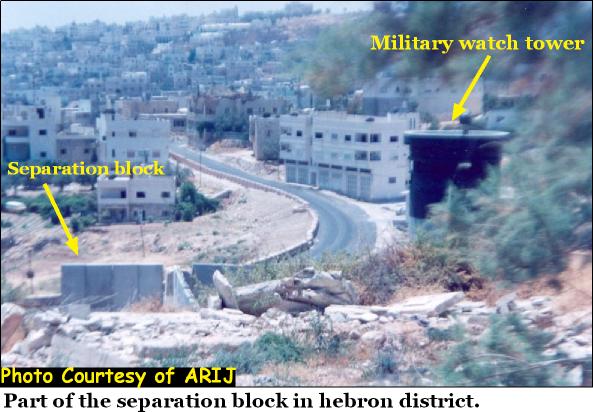 Wadi An Nasarah-Part of the road and wall erected last July to facilitate the
movement of Israeli settlers from Kiriyat Arba' to and from the Ibrahimi mosque. Photo courtesy of LRC
The essence of this part of the wall included the enlargement and the pavement of the street located at the border of Kiryat Arba settlement to be used exclusively by settlers on their way to and from the Ibrahimi Mosque and other settlements existed in the heart of the city. A number of Palestinian families were put under siege between the settlement and the wall. Members of these families are not allowed to leave or to enter their houses without a prior Israeli permission checked on daily basis by Israeli soldiers stationed in that area to provide protection for settlers. Among the owners, Mr. Sa'id Da'na has been isolated from his friends and family members as nobody is allowed to visit them for any reason whatsoever.
The Continuation of the Wall Erection Process:
Israeli occupation forces continue to erect the Segregation wall in the vicinity of Kiryat Arba and Kharsina settlements from all directions as the Israeli bulldozers are working on Palestinian lands located in that area. Work is being concentrated right now in the areas of Ein Bani Sleim (located to the south of Kharsina) as well as Al Buweira (located to the north of Kharsina). See Photo 4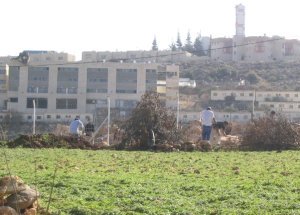 Settlement of Kharsina in the background
In the foreground – Workers from Thailand are building the apartheid segregation wall on the land of Mr. Ziad Abdul Rahman Sultan in the northern side of the settlement. Photo courtesy of LRC
Orders to acceleration the construction of the Wall in Hebron:-
Israeli defense minister, Sha'ul Mofaz, has issued orders on February 29th, 2004 to accelerate the construction of the southern part of the Segregation Wall. He informed journalist this piece of information while touring what has become clearly known as the ''Jerusalem Envelope.'' He also mentioned that there are legislative obstacles preventing the progress of the wall in some areas especially in Jerusalem area. See Photo 5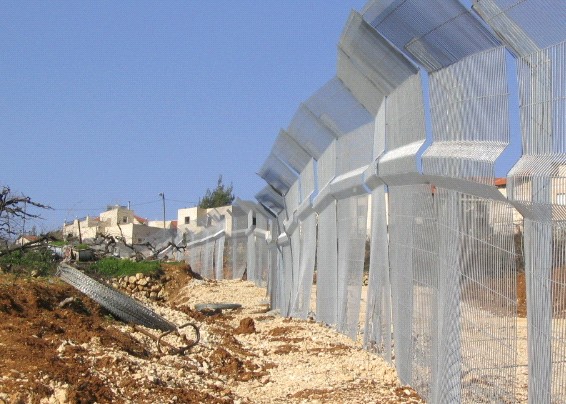 Kharsina settlement- Works are underway day and night to accomplish the task of Apartheid & Separation at the expense of Palestinian land and future. This part of the land is owned by Mr. Khalifa Da'na.
Photo courtesy of LRC
The Bottleneck:-
In case the planned Segregation wall in Hebron governorate is implemented, it would circulate the Governorate from all its sides, leading to confiscation of more than half of its lands. Such siege and encirclement will put Hebron in a closed canton like other West Bank Governorates. Such Israeli policies aim at isolating West Bank Governorates from each others as well as preventing any normal expansion of the Palestinian population.
In terms Hebron Governorate, its gateway to other governorates would be a narrow strip of land (a bottleneck) that runs through the town of Halhul leading to the only iron gate erected by Israeli occupation force on Road 60. This gate will control the movement of all those wishing to travel out to other Palestinian governorates such as Bethlehem and other governorates in the north of the West Bank.
In the case the gate is open, Palestinians have to choose between one of two bitter traveling options; either through:
1. Road 60 using busses (as private Palestinian cars are not allowed to use this road and getting a permit to access the road is considered to be an illusion) until they reach the permanent military checkpoint at Kfar Etzion. Soldiers at this point will, then, conduct a thorough and detailed inspection of all passengers which in turn causes a great delay to people headed to work, schools and universities.
2. Through the village of Sa'ir to Sa'ir Valley, Taqu' until they reach the military checkpoint erected at the southern entrance of the village of Za'tara (a.k.a Al Freidies checkpoint). Soldiers manning the checkpoint usually make Palestinian passengers wait for long time intervals before forcing the majority to go back to places they came from. It is worth mentioning that the second option doubles the trip taken in the first option as Palestinians have to travel a distance of no less than 50 kilometers to reach Bethlehem instead of the usual 27 kilometers if they were to take the first option.
Yet, according to the issued wall map in Hebron governorate, the second option will cease to be the choice of travel for Palestinian due to the wall circling Asfar settlement (Metzad) located to the northeast of Sa'ir town. If that scenario is implemented, Palestinians would be forced to go through Sa'ir, Khirbat Kawaziba, Beit Fajjar and Taqu' to reach the Freidies checkpoint. Such road is narrow and unpaved, full of cracks and punctures which doesn't allow smooth car rides.
Conclusion:-
We, at the Land Research Center, conclude that in the case of the implementation of the third phase of the Israeli segregation wall (orders to do just that has been recently issued), a real disaster is expected to take place against humans, land, property, natural resources and sources of income in the Governorate of Hebron. Israeli violations will be unparalleled as more than two thirds of the population as well as more than half of the lands of the largest Governorate in the West Bank will be negatively affected as a result of the erection of the Israeli isolation wall in two ways; a direct way as Palestinians will be isolated from their land and in an indirect way as difficulties will arise in the fields of travel, population expansion as well as agricultural and industrial development.
We strongly believe that Israeli authorities knew beforehand the size of the catastrophe caused by the third phase of the wall and that is why they left its implementation to the end. In this case, Israel would have prepared world opinion to accept its results after it created facts on the ground through the implementation of the first and second phases of the wall.
In putting this case study in the hands of European officials and public opinion, we strive to illustrate to them the reality of the situation on the ground and the reality of Israeli intentions and actions which practically cancels the two states formula, that is, two states for two peoples. As such, we call upon official and popular movements in Europe and the world in general to work feverishly and seriously to put an end to Israeli expansionist plans which are taking place under the eye and sight of the whole world at the expense of the future of a whole nation – the Palestinian people.
We demand that all governments in the world, international organizations, peace and freedom loving powers that support the right of self determination in addition to human rights organizations and organizations affiliated with the United Nations to carry out their designated responsibilities towards stopping Israeli violations in Palestine. The Center stresses that all Israeli practices in the West Bank and Gaza are in total contradiction of international laws, covenants and treaties and demands all signatory countries to rise up to their responsibilities and exert extensive pressure on Israel to dismantle the first and second phases of the wall as well as to stop executing the third phase of this inhumane and colonial project.
Prepared by
The Land Research Center
LRC