Victims of the Israeli Segregation Wall: A Humane Perspective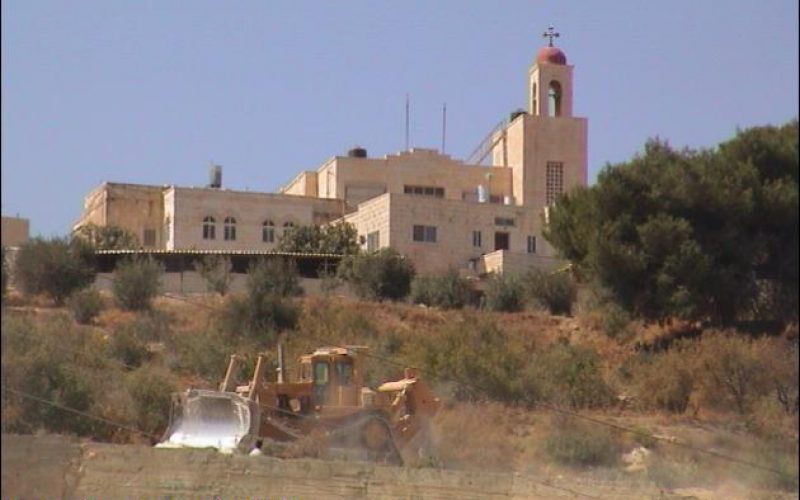 While calls for unification and open boarders are on the rise, the Israeli occupation forces are fashioning new means to suffocate and repress Palestinians for their so claimed ''security''. The Israeli implanted Segregation Wall has kept many Palestinian residential areas stranded and slashed with no concern or bother to what their livelihood status will become. The Israeli vulturing went even a step further as always to prey on monasteries lands, See Photo 1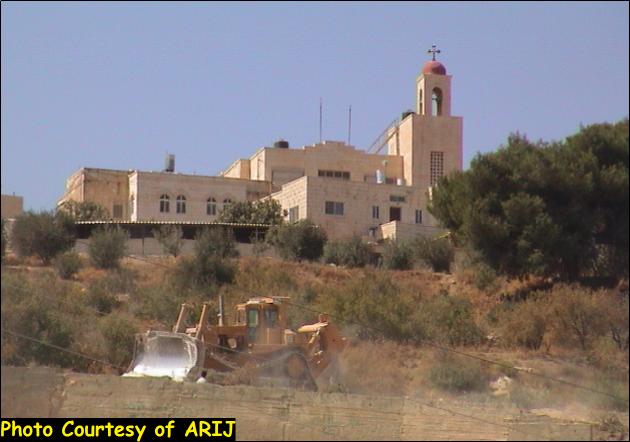 Today, four new Palestinian residential areas became the latest edition to the ongoing list of victims from the so-called Israeli 'Security Wall'. The Israeli military orders to confiscate the land and to build the Wall, will have no significance on the Israeli security as they proclaim, but will have a devastating sequences on the Palestinian residents. The Palestinian areas targeted by the segregation wall southeast of Jerusalem are:
Al-Sawahereh Al-Sharqieh. Population: 4,910 residents.

Ash-Sheikh Sa'd. Population: 2,267 residents.

Abu Dis. Population: 11,413 residents.

Al-Eizariya. Population: 16,395 residents. See Map of military orders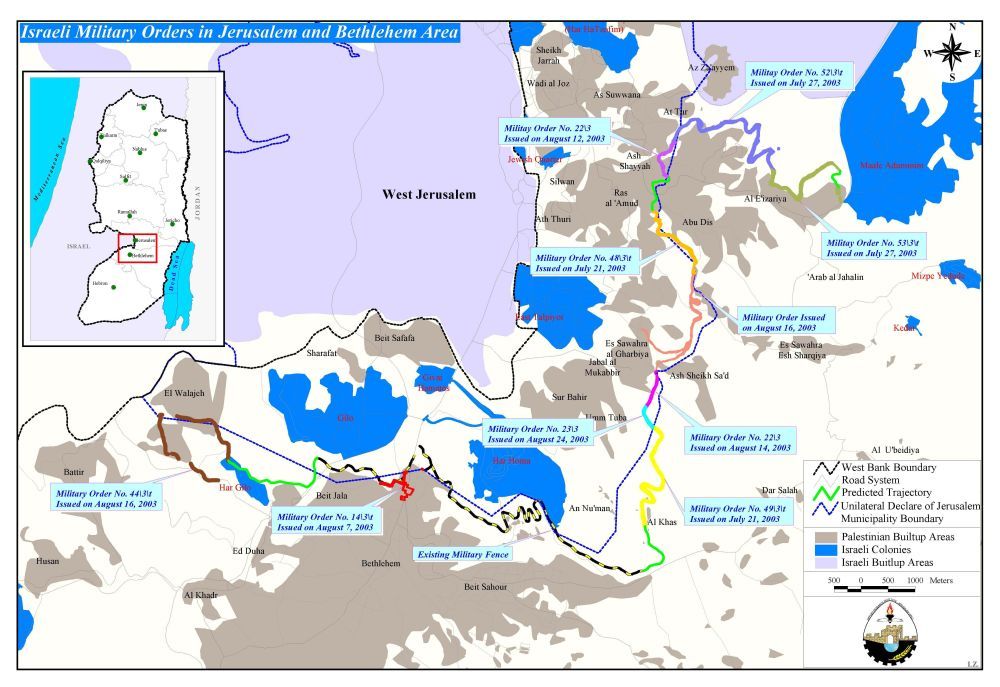 See also Part of the Wall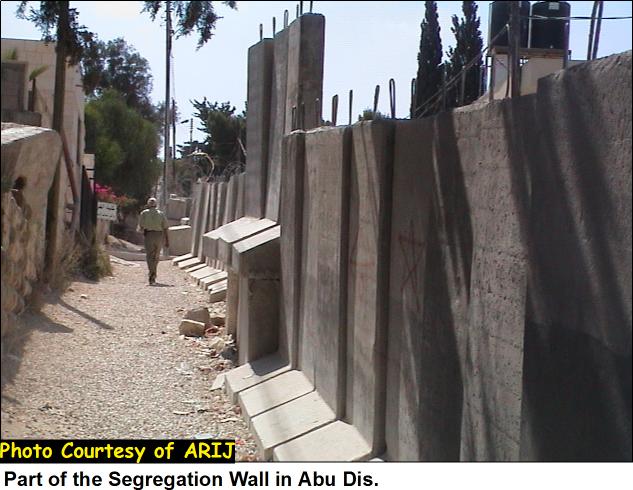 The impact of the segregation wall has left the above areas suffocated and disrupted. The total number of the Israeli military orders issued for land confiscation was 11 consuming approximately 971.8 dunums, a total length of 21.08 Km of Palestinian land; including parts of several monasterial lands 'Der Almahaba', 'Der Gargoury' and 'Der Beit Fajey' in Al-Eizariya. See Photo 2 & Photo 3
The existing wall literally penetrates the Palestinian residential areas splitting the communities into two parallel entities, See Photo 4 & Photo 5
There is one entrance opening that allows the residents living east of the wall to step to the other side. It is located in Al-Eizariya and the Palestinian people call it ''Hajiz Al-Bawabeh'' the Gate's Checkpoint. See Map 2 & Photo 6
This single gate is the mere way access for approximately 35 thousand Palestinian to meet each other, their families, go to work, go to school, hospitals or conduct their trade. See Photo 7, Photo 8 & Photo 9
It takes a person one to four means of transportation to reach the gate, depending where they are living. See Photo 10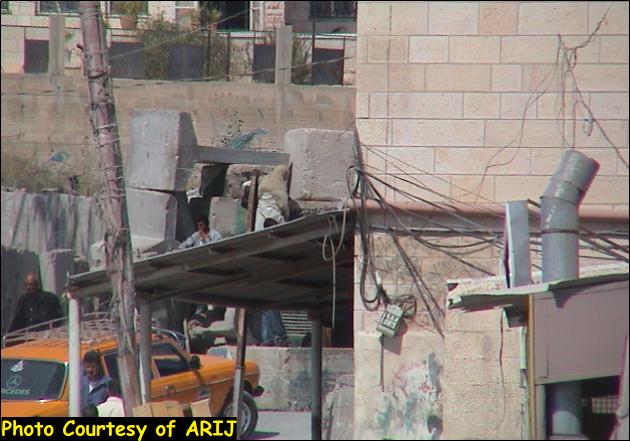 The Gate's Checkpoint is an absurdity to use; usually there are lines of people waiting to get through and it is all up to the mood of the Israeli soldiers' at the gate to let the people cross and that translates into hours of waiting under the burning sun where many fainted. See Photo 11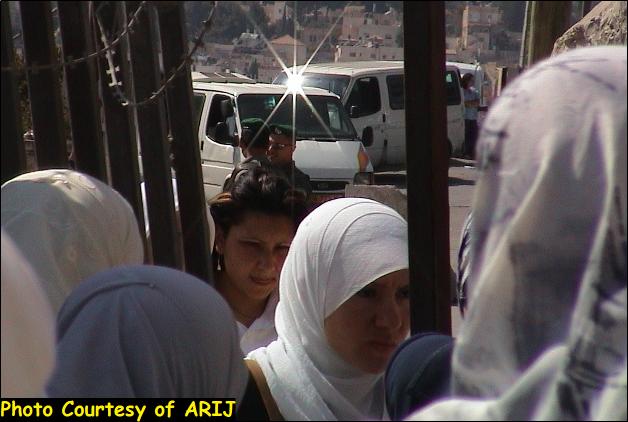 Since the checkpoint became impractical way to utilize, it became crucial for the residents to find new means and ways to carry-on with their daily lives. People (Men, women, elderly, infants, school children, workers) now, riskily climb the wall from both sides trying to get to their work, school, families or get to the hospital. Many of them were injured, or subjected to beatings, arrest and/or fined by the Israeli soldiers. See Photo 11 & Photo 12
Further impact of the wall was the tearing of the agricultural lands from the residential areas. People where banned from their lands; to cultivate it, hundreds of fruitful trees where uprooted; including decades old olive trees, which put the entire agricultural development status there at the risk of extinction.
Prepared by:
The Applied Research Institute – Jerusalem