Flash news about the Apartheid Wall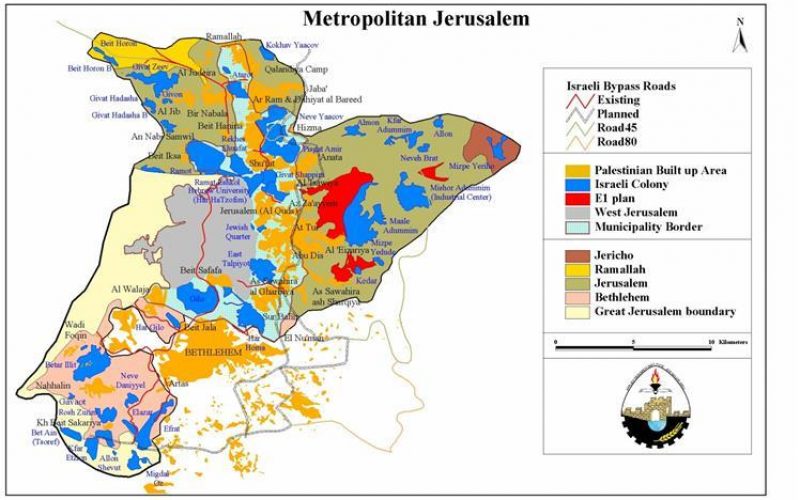 The Israeli government started recently to construct the Apartheid wall around Jerusalem, which will be 22 Km in length. The wall will separate physically the city of Jerusalem with its two parts, East and west, from the West Bank. The Separation Wall will be an indirect implementation of the Israeli unilateral vision of ''Metropolitan Jerusalem plan''. In addition, the wall will lead to the preemption of the two states vision living side by side with East Jerusalem as the Capital of the future Palestinian State. The Israeli plan of Metropolitan Jerusalem will annex more lands from the West Bank, such as the annexation of Rachel's Tomb area Belonging to Bethlehem district into what is called the Envelope of Jerusalem. See Map 1 and Map 2
By the end of November, the IOF invaded Bethlehem for the 6th time to construct the wall around Jerusalem, breaking the so-called Bethlehem-Gaza Understandings. Since then, the people are living under curfew all the time, except for around 5-6 hours a week when the IOF allows the people to go out for shopping.
On the 5th of December 2002 at the occasion of the feast of Ramadan, Israeli Occupation Forces- IOF- asked the people living alongside the main road where Rachel's Tomb is located, to give their ID numbers, as a sort of a census. That area is about 78 dunums containing 35 Buildings where about 500 Palestinians live. See Photo 1 and Map 3
Phase one of the Separation Wall is planned to be 114 Km long as a first step, and starts at the village of salem located to the northwest of Jenin to Izbat Salman village located to the south of Qalqilya. The second part of this phase is the envelope of Jerusalem. Accurate data about the length of this part of the wall is not yet available, while Israeli media mentioned that the wall length surrounding Jerusalem would be 22 Km. The media also mentioned that a length of 1 Km of wall construction costs around 5 Million New Israeli shekel -NIS- (Yedi'ot Ahronot daily Newspaper, 5/12/2002), where phase one will cost up to 800 million NIS.
Plan for phase two of the wall construction is still unapproved by the Israeli Government. However, On the 4th of December 2002 Sharon and the Israeli Defense minister Shaoul Mofaz agreed on the construction of 42 Km long wall between Kufr Salem west of Jenin till the village of Bardala southeast of Jenin to separate Bisan, Bet Shan colony and Marj Ben Amer area from the West Bank. The area of this part is expected to be 47,533 dunums, which represents about 1 % of the West Bank area. See Map 4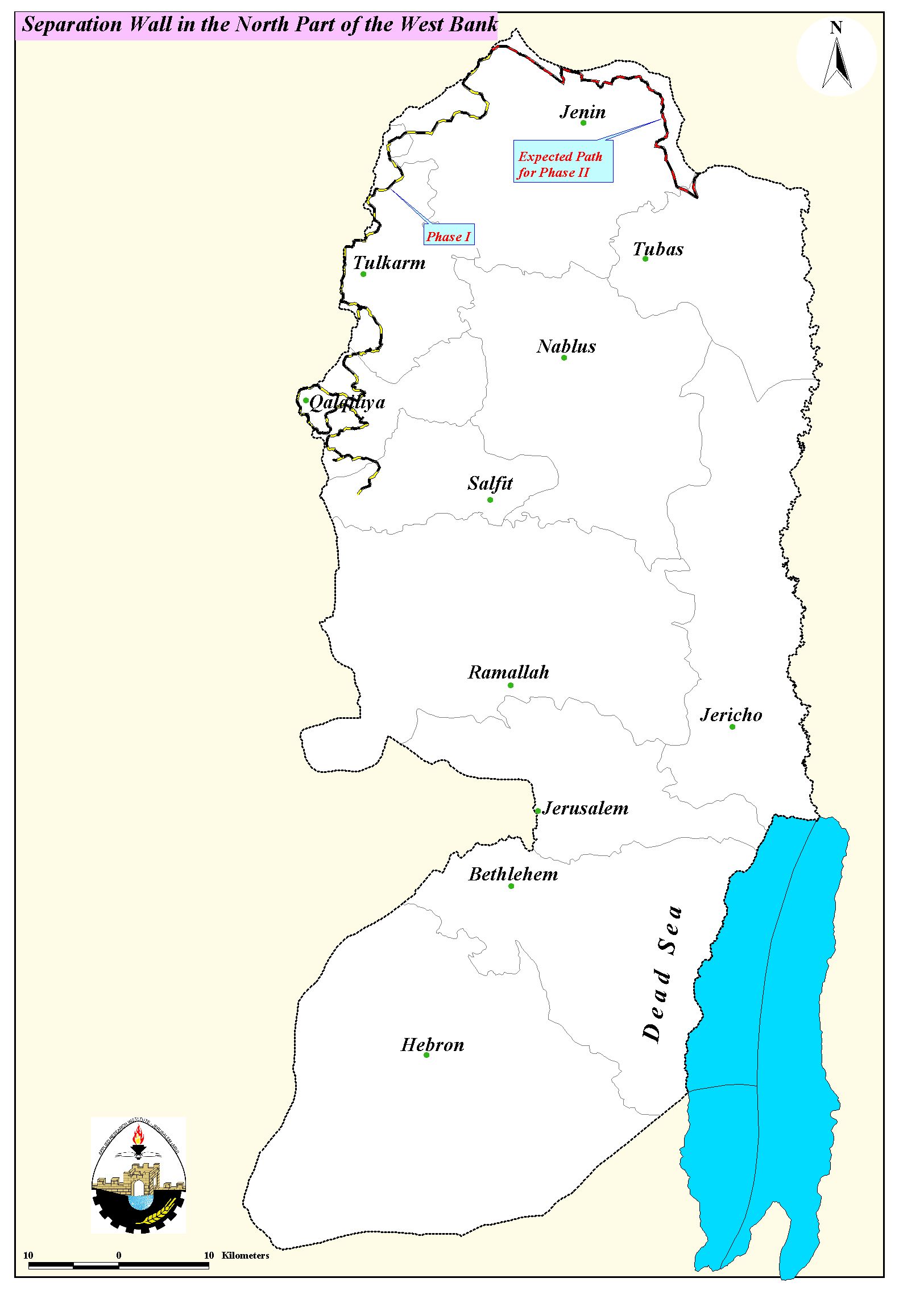 Prepared by:
The Applied Research Institute – Jerusalem