A concrete arrow in the heart of Hebron city.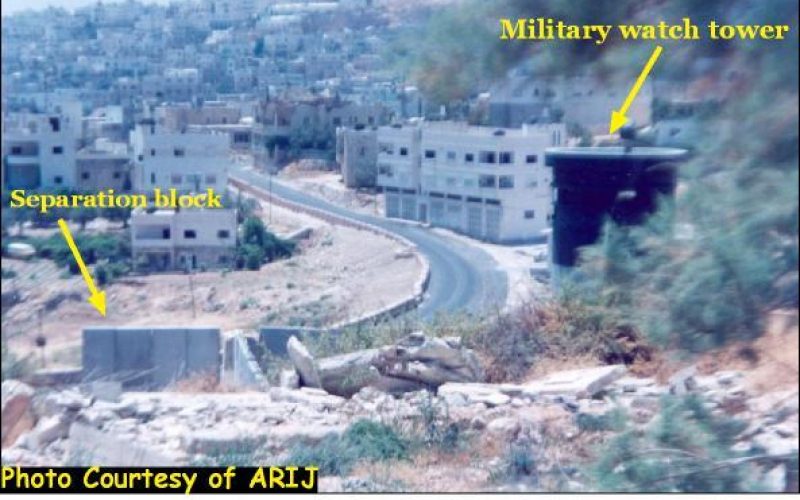 Since September 28,2000, Hebron City has been totally blockaded; all the entrances have been closed by concrete blocks and checkpoints that completely isolated area H1 (Municipal area transferred to Palestinian Authority) from the district villages. The Palestinian residents of area H2 (Municipal area remaining under Israeli rule) have been living under some of the worst conditions in the Palestinian territories. They have been under curfew, with no connection to other parts of the city. Many people have been killed and hundreds injured. People have suffered water cuts and electricity blackouts, 32 schools have been closed and four are being occupied by Israeli soldiers and converted into military bases. This restriction has hindered the ability of Palestinians in Hebron city to enjoy the right to live an ordinary life and resulted in the hampering or freezing their daily activities, which causes a lot of frustration and despair.
In the wake of the attack by the Islamic Jihad Group that left 12 Israelis dead in Hebron city, November 15,2002, Israeli Prime minister Ariel Sharon and Defense minister Shual Mofaz announced a decision to carry out a new IDF military operation in Hebron. They also called for bolstering the settlements, mainly in Hebron, to protect the Jewish settlers in '' Kiryat Arba' settlement. In addition, they also declared the non-validity of 1997 agreement between the late Israeli Prime Minister Nitenyaho and President Yaser Arafat.
As a response to this Israeli decision, the Israeli forces have sent oral orders to the families living in the area were the incident took place to demolish their houses in order to establish a 300 meters promenade with 3 meters high concrete walls erected on each side on the existing road leading to Ibrahimi Mosque. A new road with a length of 400 meters is under construction in order to link this promenade with Kiryat Arba' settlement. Thus linking the settlement with the Jewish neighborhood located at Hebron city center, which according to the Israeli Government will reinforce the safety of the Jewish settlers and eliminate the Palestinian presence in the old city of Hebron. As a result 44 houses are threatened to be demolished and thus more families become homeless. See Map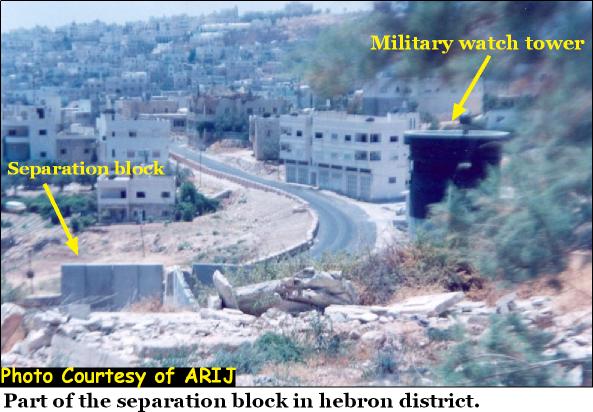 The presence of Israeli settlers and soldiers in Hebron is a source of constant suffering for the Palestinians. The Palestinians that reside in Hebron live in extraordinary conditions that disrupt their daily lives in ways that make peaceful coexistence practically unattainable. The Hebron district is only one case in point illustrating the threat posed to the viability of a future Palestinian State by isolating the Palestinian communities from each other.
Prepared by:
The Applied Research Institute – Jerusalem