Israeli settlement Activity in Yanoon Al Foqa Village, Nablus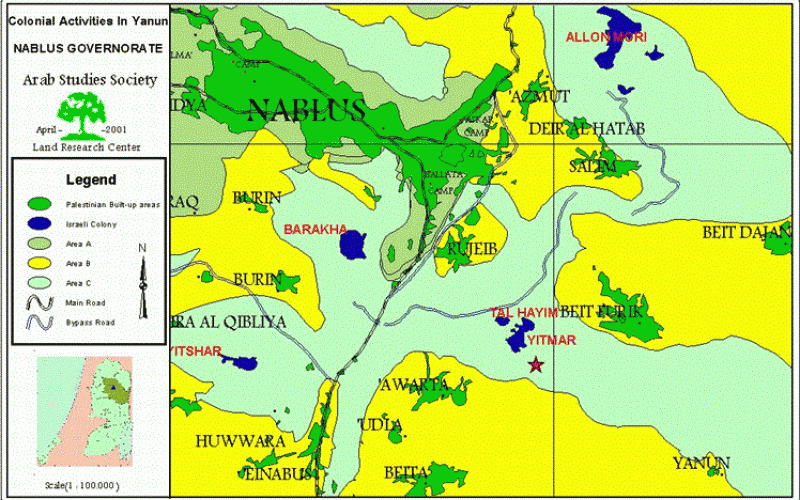 Location:
The village of Yanoon Al Foqa is located 17 kilometers to the east of the city of Nablus. The area of this village is about 16,500 dunums and its affairs are being run by local committee. Israeli authorities denies the village any basic services such as electricity, water, roads, and schools as the students of the village go to the nearby Aqraba village to get their education. Furthermore, residential building in this village is prohibited as it lays within the C Area according to the Oslo classification system. The village's 115 inhabitants work in the agricultural sectors especially in growing olive trees and wheat.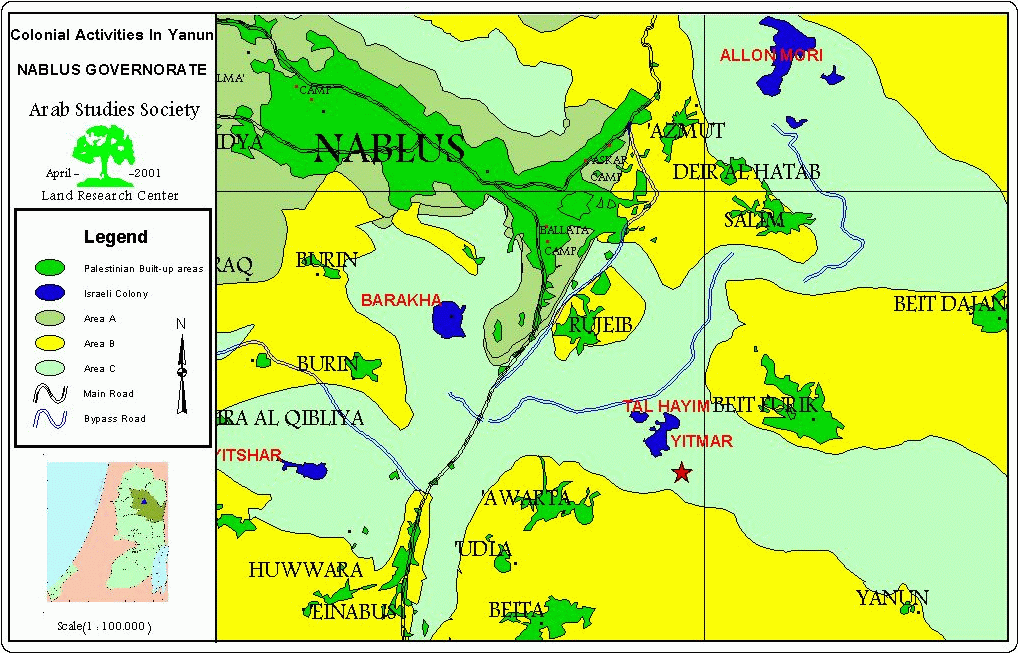 The Colonial Activity:
The activity took place on the 15th of March 2001 (after the Sharon election) as 4 mobile caravans were placed on Khillat Al Nisnas location in the village. The goal was to expand the settlement of Itmar, Hill C. The land upon which the caravans were placed is owned by the Bushnaq family. This family has been living in the United States for tens of years. The relevant Israeli authorities took advantage of the family's absence and confiscated more than 3,000 dunums and used it for the expansion of the settlement of Itmar. This activity is the latest in a chain of activities that took place in the past copule of months as eye witnesses reported that Itmar settlers planted olive bushes on a 500-dunum piece of land as a prelude to its confiscation. Furthermore, they have uprooted 750 olive trees last December. The trees were owned by the family of Mr. Nabeeh Al Deib from the nearby village of Aqraba.
The Settlement of Itmar:
The settlement was established back in 1980 on lands that belonged to the village of Awerta. The expansion of this settlement throughout the years called for the confiscation of thousands of dunums from the villages of Beit Foreek and Yanoon. The colonial site Jadoneem was establsied in 1997 on lands confiscated from the villages of Awerta and Beit Foreek while three other colonial sites were established in 1998, 1999, and 2000.
These three sites were established on lands confiscated from the villages of Beit Foreek and Yanoon. They are located to the east of the mother settlement and were given the names Hill A, Hill B, and Hill C. The location of these three settlements were carefully chosen as to encircle the village of Beit Yanoon Al Foqa as Hill A is located to the north of the village while Hill B is located to the west of the village and Hill C is situated to the east of the village.
Prepared by
The Land Research Center
LRC