Expansion of Har Gilo settlement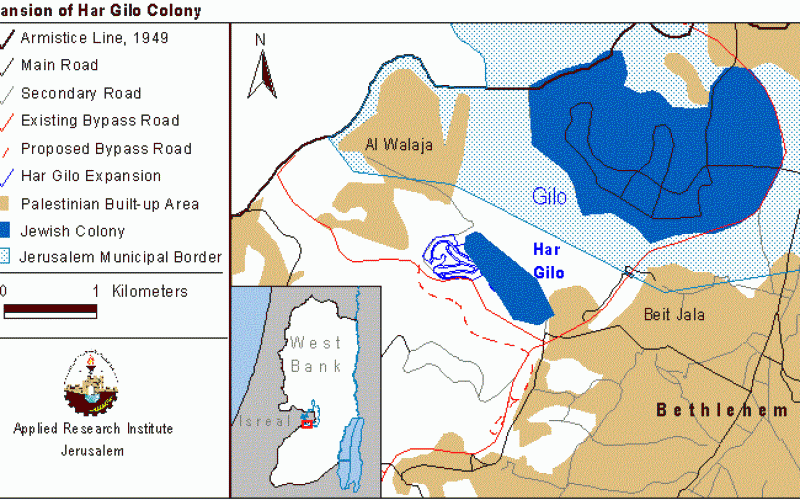 Al Walaja, a Palestinian village of about 2,500 residents, is located 6 kilometres to the northwest of Bethlehem and 10 kilometres southeast of Jerusalem. It was completely destroyed in the 1948 war and the villagers rebuilt a new village on the opposite side of the 1949 Armistice Line . Then in 1967 Israel occupied the new village. Today Al Walaja is surrounded by Jewish neighbourhoods of Jerusalem to the north and the colonies of Gilo and Har Gilo to the east (see map) that are two of the 27 Israeli colonies currently in Bethlehem District.) that are two of the 27 Israeli colonies currently in Bethlehem District.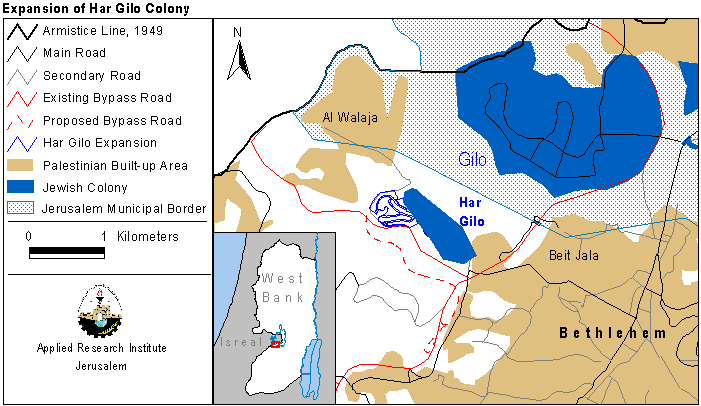 Al Walaja has been a victim of frequent violations by the Israeli authorities; click for more. Since half the village was included within the unilaterally expanded boundaries of Jerusalem Municipality, the Israeli authorities have been keen to suppress the residents of the village. Travel restrictions, house demolitions, and land confiscations are all part of an attempt at making life as hard as possible on the Palestinians in Jerusalem. There are currently eighty houses threatened with demolition in Al Walaja. There is also a demolition order for a mosque.
Lately, and during the Al-Aqsa Intifada, the Israeli authorities fenced a plot on the entrance of Al Walaja with barbed wire; see photo 1, , photo 2 . Several months ago bulldozers had opened tracks in that land but no fence was put. The two kilometer-long fence encloses 155 dunums of the Palestinian land for the expansion of Har Gilo settlement; the settlement houses 350 settlers. Moreover, the plan also includes a bypass road linking the settlement to the main north-south bypass road, Road 60. This way, the Jewish settlers can move in and out of the settlement without passing next to Palestinian houses on the outskirts of Beit Jala; see map. .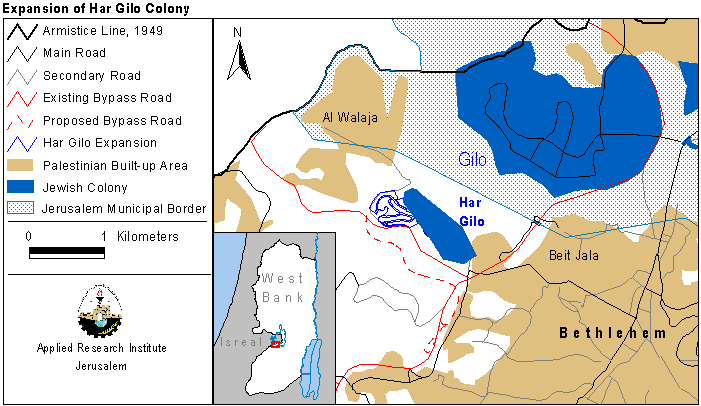 The expansion has the effect of chocking Al Walaja. That's because the only entrance to the village is now on the borders of the expansion. Har Gilo already blocks the natural connection between Al Walaja and Beit Jala. With this new expansion the strangulation is tighter.
The Israeli harsh policy towards Palestinian areas within or adjacent to the Jerusalem Municipal boundaries is that of constant harassment. Israel's often-reiterated intention to keep Jerusalem its ''eternal and undivided capital'' means that it will use all the means at its disposal to achieve that goal; even if that entails breaking international law and depriving the Palestinians of their basic rights.
Prepared by:
The Applied Research Institute – Jerusalem