Halt of Work Notices for Houses and Facilities in Qarawat Bani Hassan / Salfit Governorate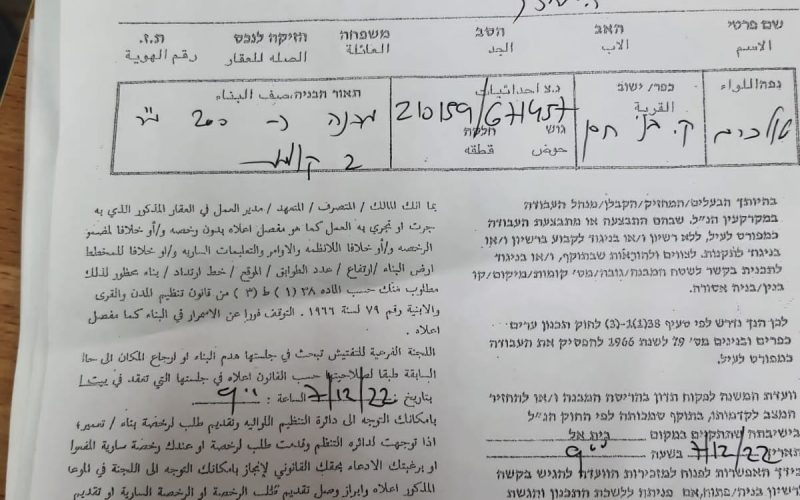 Violation: Halt of Work Notices.
Location: Qarawat Bani Hassan town/ Salfit Governorate.
Date: November 22nd 2022.
Perpetrators: The Israeli Occupation Civil Administration.
Victims: 8 Palestinian families.
Description:
The Israeli Occupation Heavily targeted Qarawat Bani Hassan west Salfit city, the town suffers from small built up area , while the Occupation targets every new structure in area "C" of Oslo accords.
Tuesday, November 22nd 2022,  The building inspector at the Israeli Civil Administration raided Qarawat Bani Hassan west Salfit , and headed to Al-Mayadeen neighborhood north east the town, then served halt of work notices for 8 houses and facilities , on the pretext of building without a license.
The Occupation Authorities served halt of work notices and sat December 7th 2022 , as the date of the building and organization session in Beit El military court , to decide the fate of the structure.
The following table shows more information about the targeted facilities:
Affected Citizen

Family members

Military order no

The targeted building (details)

Photo

males

females

No. of children

'Awni Mareo'

5

3

2

A small park built of bricks and a 100 m2  ceiling + a pool + squares + and a wall on 1 dunums.

Qutaiba Rayan

2

2

2

Two floor under construction house , about 150 m2.

Mohammed Marei'

4

3

3

Two floors under construction house , with a total area of 180.

'Ammar Marei'

1

1

0

Two floors under construction house 170 m2

'Ali Rayyan

3

5

4

Two floors house , the second one is under construction (300 m2)

Ayman Marei'

3

1

2

One floor under construction house 130 m2

Abdul Kareem Marei'

1

1

0

Two floors house 260 m2

Ayoub Fathi 'Assi

5

4

7

One floor house and a basement 200 m2 (under construction)

total

24

20

20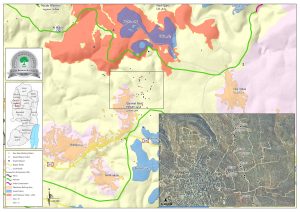 During the past three years , the occupation targeted Qarawat Bani Hassan with more than 47 military notices , they also demolished a house on the pretext of building without a license , the village from all sides is targeted by the occupation.
In Reality , the Issue is not about unlicensed construction , the occupation authorities took a decision to empty the lands that surround Qarawat Bani Hassan for colonial expansions, it is surrounded by "Nofim" and "Yakir" north , and large areas of confiscated lands , and blocked by "Burkan" and "Kiryat Notafim" south , and the occupation is taign more lands of Qarawat Bani Hassan for future expansion of the colonies.
About Qarawat Bani Husan:
The village is located 12 km northwest Salfit. Qarawat Bani Hasan is edged by Biddya village from the west, Sutra from the south ,Deir Istiya from the north and Haris from the east.  Qarawat Bani Hussan has a total population of 5513 people  (2017 PCBS census).
The village has a total area of 9,443 dunums , of which 565 dunums are a built up area.
Israeli settlements devoured (324) dunums for the following settlements:
| | | | |
| --- | --- | --- | --- |
| Settlement name | Establishment year | Area of confiscated lands | Number of settlers |
| Barkan | 1981 | 144 | 1981* |
| Kiryat Netafim | 1982 | 180 | 891* |
* Source: The Israeli Ministry of Interior – 3 January 2019
Bypass 505 devoured 129 dunums.
Oslo accords divided the land as  the following:
B area: (849) dunums.
C area : (8,594) dunums.
Prepared by
 The Land Research Center
LRC