Halt of Work and Construction Notice for a Farm in Duma South Nablus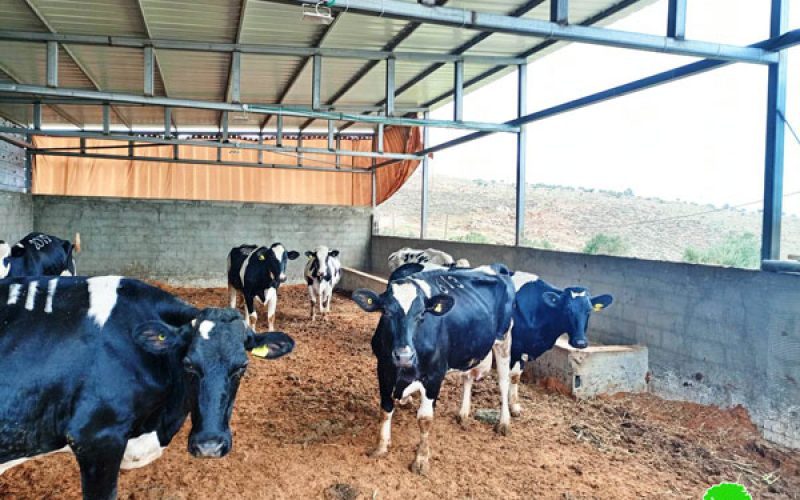 Violation: Halt of Work and Construction Notice for a cow farm belongs to a Women Cooperative association.
Location: Duma village / Nablus governorate.
Date: November 6th 2022
Perpetrators: The Israeli Occupation Civil Administration.
Victims: Duma cooperative association for animal stock development.
Description:
Sunday, November 6th 2022 , about 9:00 am , a massive army force accompanied by the building and organization inspector at the Israeli civil Administration raided Duma South Nablus , and gave citizen Samaher Dawabsha , head of Duma cooperative association a halt of work notice for a cow barn that belongs to the association.
Samaher Dawabsha told LRC :
"Five military vehicles related to the Israeli Occupation raided Juhaina area in Duma village , and the building inspector gave me a halt of work notice for the barn , on the pretext of building without a license in area "C" . The halt of work notice is numbered 32524 and targets a cow farm."
Dawabsha asserted : "The cow barn produces Dairy products, it contains 7 cows, and the shack has a total area of 150 m2 , this barn belongs to 17 women at the village , and benefits 60 people , the barn provides a source of income for the families."
Dawabsha said that the produced Dairy products are marketed at the surrounding villages, and asserted that they headed to the village council to submit a legal file to combat the military notice through the Jerusalem Legal Aid and Human Rights Center.
Duma village:[1]
Duma is a Palestinian village in Nablus Governorate, located southeast of Nablus City. It is bordered by Al Jiftlik and Fasayil (in Jericho Governorate) to the east, Majdal Bani Fadil to the north, Qusra and Jalud to the west, and Al Mughayyir (in Ramallah Governorate) to the south
[1] GIS-LRC
Prepared by
 The Land Research Center
LRC