Demolition and Removal Notice for a Residence in Furush Beit Dajan / Nablus Governorate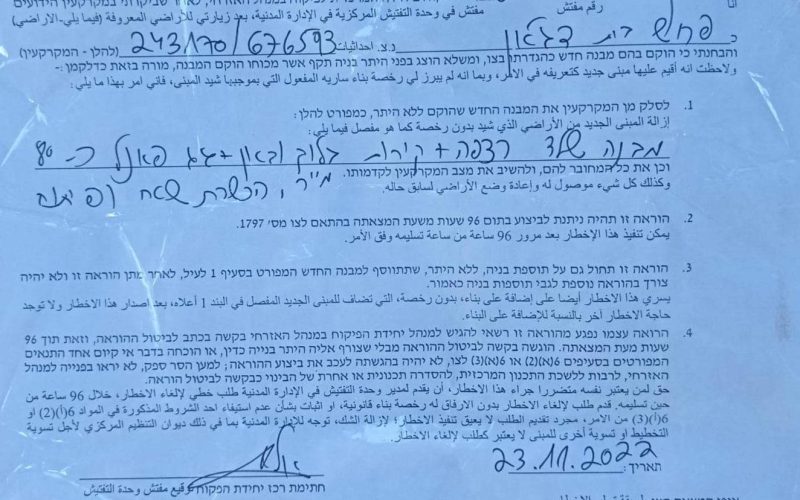 Violation: Notice of Removal for a residence.
Location: Furush Beit Dajan / Nablus Governorate.
Date: November 23rd 2022.
Perpetrators: The Building and Organization in the Israeli Civil Administration.
Victims: Citizen Mohammed Hamid.
Description:
Wednesday, 23rd of November 2022, about 10:00 am, a massive army force accompanied by the building and organization inspector raided Furush Beit Dajan village northeast Nablus and headed to house of citizen Mohammed Hamid , hanged a notice of removal on the  under con struction house house.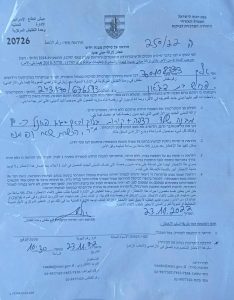 Demolition Order no.20726 : which targets house of citizen Mohammed Hamid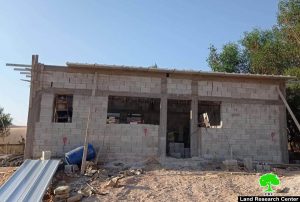 Photo 1: The targeted house for Hamid's family
Mr. 'Azem Mohammed, Head of Furush Beit Dajan village council said:  This type of notices (removal in 96 hours) of removal for a building in 96 hours. Is difficult to freeze in Israeli courts , it also never accepts petitions for this kind of notices. Such notice order removal of new buildings in area "C" on the pretext of building without a license. Noteworthy, area C  is about 60.9 % of Palestinian lands.
The affected citizen Mohammed Hamid (32 years) told LRC:
"Wednesday, About 10:00 am I was surprised of a call from the building and organization officer telling me that he hanged a removal notice for the building on the residence door. The workers who worked at the construction also told that an army force of two military vehicles broke into the house to deliver the notice."
Citizen Mohammed Hamid: I went to Furush Beit Dajan village council once I received the notice , and they gave me some advices on how it is possible freeze the notice through preparing a legal file and contacting a Human Rights Institutions , in my case "Jerusalem Legal Aid and Human Rights Center" , the Beit Dajan village council also Participated in several workshops organized by LRC for Legal advisory between 2018 -2020, which enables them to provide legal aid to the locals.
About Furush Beit Dajan[1]: 
25 km to the East of Nablus, Furush Beit Dajan is bordered by Ein Shably and Tammoun (north) , Beit Dajan and Al-'Aqrabaniya (west), Tammoun (east)and Aj-Jiftlik (south).
Furush Beit Dajan has a total population of (723) people according to 2017 census, The village has a total area of 20,082 dunums , of which 225 dunums are a built up area. The Occupation confiscated (2494) dunums for the following:
Established in 1971, Humra settlement devoured 1320 dunums and inhabited by 188 settlers.
Bypass road 57,508,578 devoured 703 dunums.
Military camps devoured 471 dunums.
The village was classified C area in Oslo accords.
Prepared by
 The Land Research Center
LRC