The Occupation Demolished a House Belongs to 'Aideh Family / South Hebron city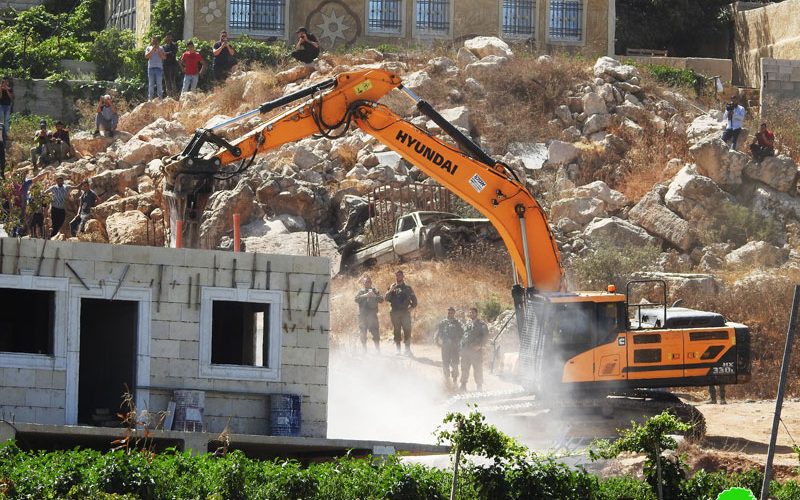 Violation: Demolition of a citizen's house.
Date: October 3rd 2022.
Location: Beit 'Einun  – East Hebron.
Perpetrators: The Israel Civil Administration.
Victims: Citizen Hisham 'Aideh and his family.
Description:
Monday , October 3rd 2022 , the Israeli Occupation demolished a house belongs to citizen Hisham 'Aideh, on the pretext of building without a license nearby Beit 'Einun east Hebron.
About 11:00 pm , a massive army force , border guards , employees from the building and organization department accompanied by a Hyundai Excavator and a Volvo bulldozer raided the area, and arrived at Joret Bahlass location east Hebron.
The machineries drove across vine yards about 1 km before arriving to 'Aideh house, which consists of two floors , the first floor is a basement , and the second floor composes of two apartments , one of the apartments is inhabited by M'utaz , his wife and five children. And the other apartment, is inhabited by Muntassir , his wife and children.
The Occupation forces ordered the residents of the house to get out , then threw all their properties to the ground , cut the power supply system , then carry out the demolition.
The targeted house is (400 m2) and composes of two floors , built of stones and cement for more than three years.
M'utaz 'Aideh told LRC: "We were devastated when the occupation authorities arrived at our house and destroyed it.  In the morning of that day , I went to work in Tarqumiya , and only few hours later , my wife called me and told me that the occupation forces will demolish my house , I came back quickly to the house , and saw the occupation forces demolishing it.
The Occupation troops demolished the house that we dreamt of for a long time and finally got to live at it, after living for 10 years in a rented appartment , we were delighted to move into a new home . However, it didn't take so long before the occupation forces came to destroy our home.
The Occupation machineries demolished the houses and furniture , but the most painful was a room newly made for my children as a gift from their uncles , that was completely destroyed before they could sleep on it for one night."
'Aidah said that he received a halt of work notice on the house , on the pretext of building without a license , and started preparing a legal file to submit it to the official bodies , he also assigned a lawyer from the Saint Yves institution, but all in vain  because the occupation forces demolished the house anyway.
Noteworthy , the Occupation authorities never provides licenses for Palestinians , for one aim which is to keep the location a reserve for colonial expansion.
Legal Feedback:
The demolition of Palestinian homes and structures by the occupation authorities is part of their violations of international and humanitarian law, and the violation of the right to adequate housing for Palestinian citizens guaranteed by international law and international treaties presented by the following articles:
Geneva fourth convention of 1948:
Article 33, Individual responsibility, collective penalties, pillage and reprisals. "No protected person may be punished for any offense he or she has not personally committed. Collective penalties and likewise all measures of intimidation or of terrorism are prohibited. Pillage is prohibited.
Article 53 prohibits the destruction of property, as this article states the following: "The occupying power is prohibited from destroying any private, fixed or movable property related to individuals or groups, the state or public authorities, or social or cooperative organizations, unless the war operations inevitably require this destruction.
Article 147, taking of hostages and extensive destruction and appropriation of property, not justified by military necessity and carried out unlawfully and wantonly.
Article 17, dated December 10, 1948 states that "No one shall be arbitrarily deprived of his property".
Prepared by
 The Land Research Center
LRC