Notice targets an agricultural structure in Fara'a east Idhna town / Hebron Governorate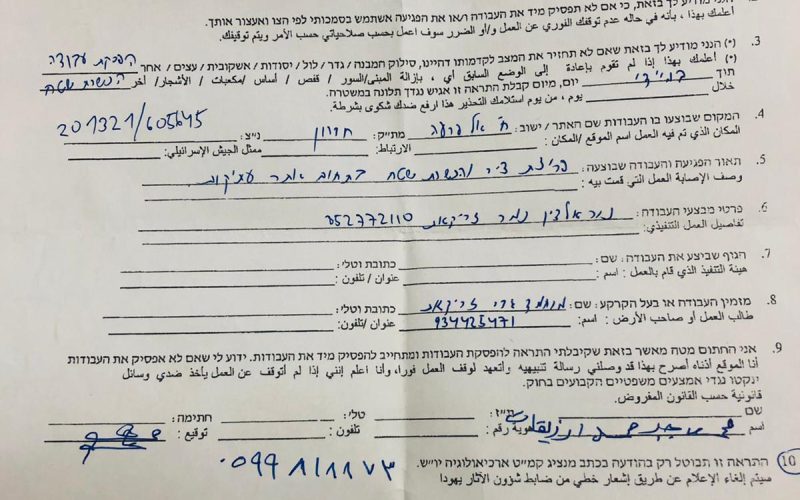 Violation: Notice targets an agricultural structure.
Date: October 31st 2022.
Location: Fara'a – Idhna town / Hebron governorate.
Perpetrators: Antiquities department at the occupation authorities.
Victims: citizen Mohammed Irziqat.
Description:
Monday, October 31st 2022 ,  the Occupation authorities served a notice of demolition for an agricultural project with an area of 7 dunums belongs to citizen Mohammed Irziqat , on the pretext of building without a license in an "Antiquities area" in Fara'a east 'Idhna Hebron governorate.
Irziqat also told LRC reporter that he started rehabilitating the plot one year ago, and last year he started planting the plot with olive saplings on (1 dunums) , and grape saplings on another dunum, he also built retaining walls.
Photos 1-4: a view of the targeted plot
The affected citizen Irziqat said that the area where the occupation claims to be an antiquities site is 500 m away from his land , and continued working on his project until October 31st 2022 , when the occupation authorities came back to the location and served halt of work notice.
The notice is numbered (1086) and ordered the owner to demolish the retaining walls immediately , the forces also threatened to confiscate the excavator in case the excavations continued.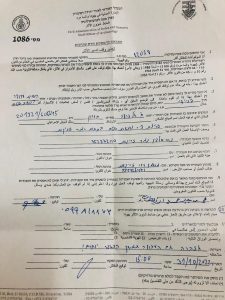 Notice no  (1086) which targets Irziqat Land
Irziqat was also rehabilitating a 60 m road to the plot, the owner confirms that there are no activities at the site , and that the land is being cultivated for years.
Adora colony is 700 m north of the threatened plot , the colony goes under massive expansions , while nearby Palestinian structures are under demolition threats.
Fara'a area:
Fara'a area is located east Idhna and to the west of Teffpuuah town , it is the home of several Bedouin families . While also a number of families from Tarqumiya , Idhna , and Dora come to the area in spring and summer to work in agriculture and Cattle breeding.
Fara'a is known for (Fara'a spring), the occupation authorities and colonists harass and attack farmers frequently, and take control over the spring during Jewish occasions.
Adora colony overviews Fara'a from the east.
Prepared by
 The Land Research Center
LRC