Halt of Work and Construction Notice for a Residence in An-Nabi Elyas / Qalqilya Governorate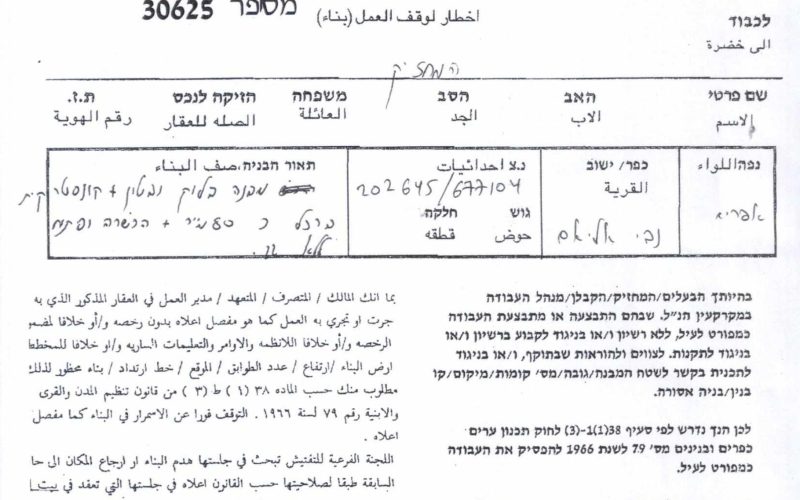 Violation: Halt of Work and construction notice.
Location: An -Nabi Elyas village/ Qalqilya governorate.
Date: October 11th 2022.
Perpetrators: The Israeli Civil Administration.
Victims: Citizen Dia'a Nabridi.
Description:
Tuesday morning October 11th 2022 , the building inspector at the Israeli Civil Administration targeted an agricultural residence with a halt of work notice on the pretext of building without a license in An-Nabi Elyas east the village.
The targeted residence belongs to citizen Dia'a Dabrishi, from the Occupied Palestinian territories of 1948 , the owner supports a family of 4 among them 2 females , and 2 children within a family. The Occupation also claims that the targeted building is in area C which is under full Israeli control , and controls constructions Palestinians conduct in their areas.
According to the notice number (30625) , the occupation sat October 26th 2022 , as the date of the building and organization session in Beit El military court to decide the fate if the structure.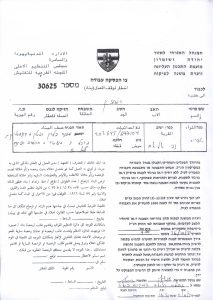 Halt of Work notice no 30625 which targets house of Citizen Nabridi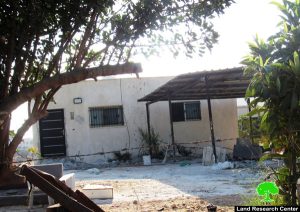 Photo 1: A photo of the targeted residence
The affected citizen told LRC the following:
"About a month ago , I bought a plot in An-Nabi Elyas area , with a total area of a dunum and a half to establish a small farm , but before the construction was completed , the occupation served a halt of work notice on the pretext of building without a license , but I insist to stay here and complete the construction in the near future."
The notice targeted a residence with a total area of (80 m2) and a kiosk built of steel sheets in front of the building.
An-Nabi Elyas village is heavily targeted by the occupation, during the past four years , the LRC field team notices that the majority of the notices target facilities that provide for the families , noting that since the occupation opened bypass 2018 the village witnesses daily assaults.
About An-Nabi Elyas village:[1]
It is located 6 km to the east of Qalqiliya governorate and is edged by Izbbet Al-Tabib and Aslah villages from the east, Arab Abu Fardeh area from the west, Jayyous town from the north and Ras Tayreh from the south.
The village populates 1399 inhabitants (2017 census) that are relative to three main families namely ( Hannun, Khleif and Majd).
Nabi Elyas has a total area of 4435 dunums, of which 123 dunums are considered the village's built-up area. Noteworthy, more than 2200 dunums of the area were isolated behind the apartheid wall and became subject to colonial activities of takeover and expansion.
[1] GIS-LRC
Prepared by
 The Land Research Center
LRC