Colonists Uproot 30 Olive Saplings in Haris village / Salfit governorate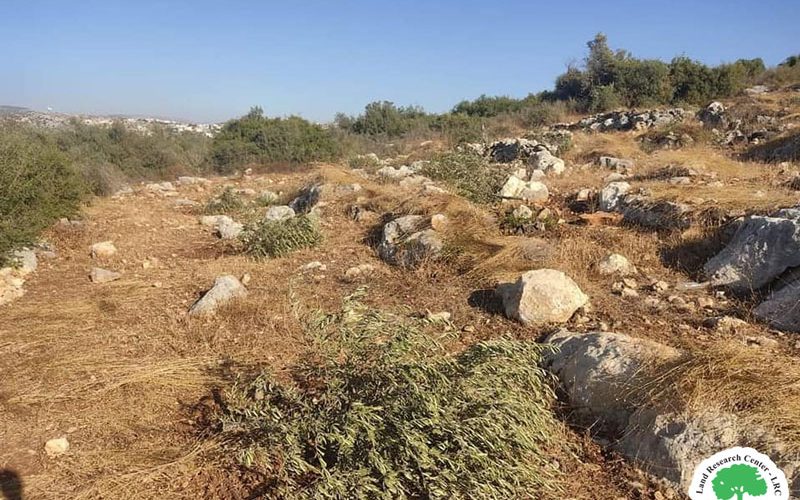 Violation: Colonists' cut and sabotage 30 olive saplings.
Location: Haris village / North Salfit city.
Date: September 11th 2022.
Perpetrators: Colonists of Rivava.
Victims: Farmer Hashim Shimlawi.
Description:
A group of Radical colonists from the illegal colony Rivava raided p Haris village Sunday morning, September 11th 2022 , and entered an agricultural land with a total area of a dunums and a half in a location known as Khallet Hadidiya and At-Tayrat west the village and nearby Rivava colony.
Noteworthy, illegal colonists uprooted 30 olive trees aging five years old before cutting them with sharp tools, which had a devastating effect of family of farmer Hisham Shamlawi (51) from Haris village had inherited this plot from his father.
Citizen Hashim Shamlawi told LRC the following:
"In February 2022, I added more olive saplings at the plot, noting that the planting took three phases one of them in 2009 and another one in 2014 , the last one was this year, every time Israeli radical colonists raid the plot to cut and steal olive trees , they even attacked me several times, and terrorized me hoping that I would  stop coming to my land , but I will always come back. Other than being dear to my heart, the plot provides a source of income for my family of 6 (among them 2 females and 1 child).
Shamlawi asserted ,
"I went to my plot to look at the damage of the colonists' assaults, the so called Colony Guard came and threatened me."
During the past three years, colonists sabotaged several olive trees at the location , and the so called governmental properties guard also uprooted a number of trees at a nearby location , This exact location is obviously targeted in Israeli plans of expansion for Rivava colony that were announced few months ago.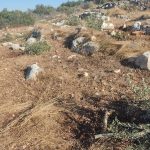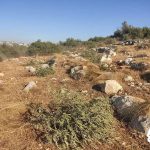 About Haris: [1]
7 km to the northwest of Salfit governorate, Haris is located with a total land area of 8769 dunum, of which 190 dunums are the village's built-up area. Haris is surrounded by the villages of Deir Istiya from the north, Kifl Haris from the east, Kfar ad-Dik and Bruqin from the southwest and Qarawat Bani Hassan from the west.
It has a total population of 3740 people according to the census of Palestinian Central Bureau of Statistics for 2009. Those people hail from the following families: Abu Atta, Dawoud, Salamih, Sultan, Shihada, Souf, Faz', Awwad, Qasim, and Klaib. The Israeli occupation confiscated 3631 dunums from the village as follows: 
Israeli colonies confiscated 2672 dunums as detailed in the below table
| | | | |
| --- | --- | --- | --- |
| colony | Year of establishment | Confiscated area\dunum | Number of colonists |
| Kiryat Netafim | 1982 | 188 | 384 |
| Revava | 1991 | 269 | 703 |
| Burkan | 1981 | 177 | 1207 |
| Burkan Industrial | 1981 | 1346 | — |
| Ariel Industrial | — | 692 | — |
| Total |   | 2672 | 2294 |
726 dunums were confiscated to open the bypass roads numbers ( 505, 4765, 5506)
The apartheid wall confiscated 233 dunums for its establishment. Upon its completion, the wall will isolate 7135 dunums
According to Oslo Accords, the lands of Haris are classified as follows:
631 dunums are classified as area "B"
7815 dunums are classified as area "C"
[1] GIS-LRC
Prepared by
 The Land Research Center
LRC