Colonists Attack farmers in Khirbet Ad-Daliya in Ramallah and Al-Bireh governorate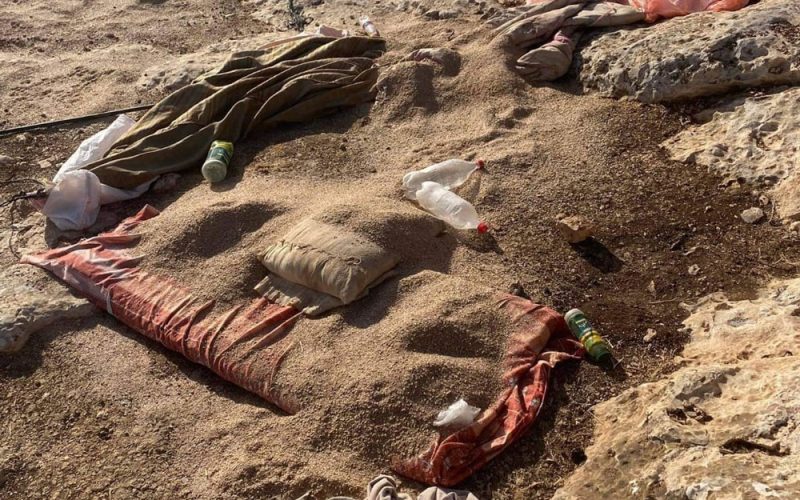 Violation: Attacking farmers tents and sabotaging agricultural tools.
Location: Wad Ad-Dalia east Al-Mughayyir village / Ramallah and Al-Bireh governorate.
Date: August 18th 2022.
Perpetrators: A group of colonists.
Victims: Citizen Marzouq Na'asan.
Description:
August 18th 2022 , a group of armed troops raided the outpost east Al-Mughayyir village , nearby Wad Al-Daliya village, colonists took advantage of the calmness and raided tents that belong to citizen Khalid An-Na'asan.
The affected citizen Marzouq An-Na'asan told LRC:
"At that day we were staying at Al-Mughayyir away from our tents , we had slept at the village to attend a wedding for our relatives , and when we were back we were shocked of the damage caused to our tents."
Colonists also cut plastic water lines that connect the reservoir, to the tents and the plants around it , the water pipes are 45 m, in addition to confiscating feeders and destroying tents with sharp tools."
Na'asan asserted, we suffer everyday from Israelis' violations , the occupation won't stop attempts to kick us from the area , despite that we have legal papers to prove that we own the land.
The affected farmer went under Israeli arbitrary measurements in June 7th 2022, and they did not receive any previous notices , noting that he supports a family of 6 members among them 2 females.
Ad-Dalia is one of the areas that are continuously targeted by Israeli violations , with the obvious reason of emptying the area for future colonial expansions.

Al-Mughayyir:[1] 
Al Mughayyir is located 30 km to the north east of Ramallah; it is inhabited by around 3,249 people according to the PCBS statistics conducted in 2017. Most of the village agricultural fields are located in its eastern parts; its total area is 33055 dunums, 501 of which are built-up area. The Israeli occupation confiscated 37 dunums of Al Mughayyir lands for bypass #458.
According to Oslo Accords, about 95% of the village is under Area C while only 5% is under Area B.
Area B: 1,695 dunums
Area C: 31,360 dunums
[1] GIS-LRC
Prepared by
 The Land Research Center
LRC