The Israeli occupation authorities bulldozed lands in the village of Birin, south of Hebron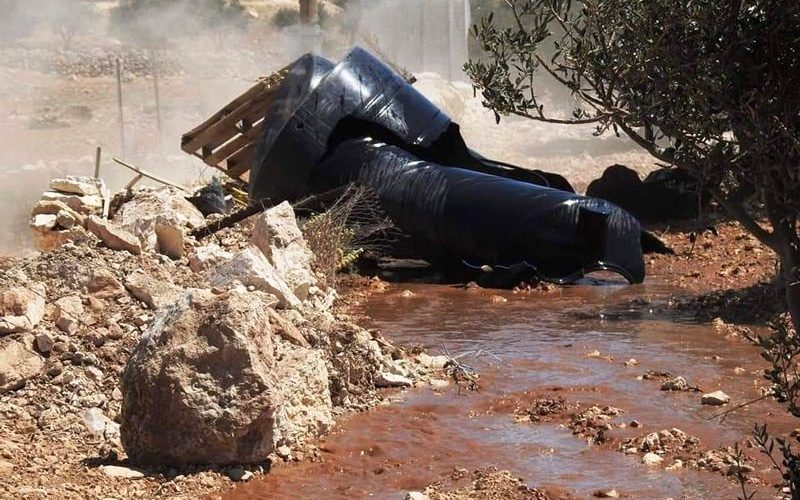 Violation: bulldozing a plot of land.
Violation date: 05/07/2022.
Location: Birin village – south of Hebron.
The aggressor: the so-called responsible for government property.
Affected party: the citizen Al-Sursur.
The details:
On Tuesday, July 5, 2022, the Israeli occupation authorities razed a plot of land, uprooted trees, and destroyed the surrounding fences, in the village of Birin, south of Hebron Governorate, under the pretext that it was classified as "state land".
A force of the occupation army and the so-called Civil Administration stormed the village, accompanied by a civilian bulldozer produced by the "Caterpillar" company. They headed towards the lands of Ayman Al-Sarsour, southeast of the village, and bulldozed a plot of land measuring 4 dunums.
The occupation bulldozer uprooted the seedlings planted in the plot about five years ago, as it uprooted about (40 olive seedlings), (20 almond seedlings), and (50 seedlings of cypress and pine) that surrounded the plot.
It also bulldozed the fence surrounding the plot (stone terraces topped with barbed metal wires and sticks) about 300 meters long, and destroyed (3) plastic tanks that the citizen used to save water in, for the purpose of irrigating the crops on his land.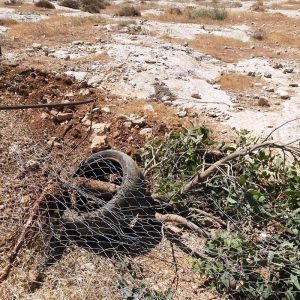 Photos 1-5 shows the process of bulldozing the lands of the citizen Al-Sursur
The affected citizen had worked to reclaim this plot at his own expense, to be a source of income for his family, consisting of (8 members – including 6 children – 3 females).
On 12/5/2022, the citizen Al-Sursur received a notification from the occupation authorities issued by the so-called responsible for the governmental and abandoned properties, bearing the number (001315), ordering him to vacate the plot of land within (45 days) from the date of the issue, on the grounds that these lands are Classified as "state land".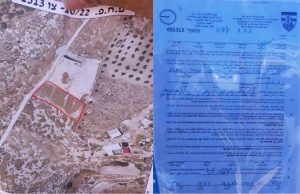 Notification No. 001315 to evacuate the lands of citizen Ayman Al-Sursur
It should be noted that the occupation authorities have classified these lands as "state lands – state property" in accordance with their military orders issued in the West Bank and in accordance with the laws inherited from the Ottoman era and the British Mandate. The citizen worked and reclaimed his land and/or planted it. He was soon sent a notification of "eviction", i.e. uprooting what he had planted, demolishing what he built on it and returning it to its previous condition.
Khirbet Birin[1]
Khirbet Birin is located to the southwest of the town of Bani Na'im, and its population is about (300) people. From the eastern side, the Khirbet borders the settlement of "Bani Hefer" and to the west by bypass road No. 60. The residents of Khirbet/small village, depend on agriculture and livestock, there is only 1 elementary school in the Khirbet from the first to the seventh grade. The Khirbet was named after the presence of two ancient artesian water wells in it.
[1] GIS- LRC
Prepared by
 The Land Research Center
LRC