Work-stop notices of homes and commercial establishments in the village of Al-Rafa'iya, east of Yatta,  Hebron Governorate
Violation: notices of suspension of work.
Violation date: 7+15/6/2022.
Location: Al-Rifa'iya village – Yatta / Hebron Governorate.
The perpetrator: the so-called civil administration of the Israeli occupation  of the West Bank.
Affected party: A number of citizens of the village of Al-Rifaiah.
The violation details:
On Wednesday, 15/6/2022, the Israeli occupation authorities issued notices to stop work and construction in the homes and facilities of a number of citizens in the village of Al-Rafa'iya, east of Yatta town, south of Hebron, under the pretext of lacking licensing.
Mr. Mahmoud al-Amour, a member of the village council of Khallet  al-Maiya and al-Rifa'iya explained that a force from the occupation army and the so-called Civil Administrationhad raided the village, and upon arrival the Israeli building inspector issued work-stop notices and attached them to the threatened buildings, and took pictures of them.
Al-Amour confirmed that some of the houses which were targeted by the occupation authorities have been inhabited for several years, and the latest Israeli measure came as a continuation of the policy of tightening the noose around the village and preventing urban expansion in it.  This policy began few years ago during which a number of homes and facilities have been demolished in the village.
In its notices, the occupation authorities demanded a full stoppage of all construction works under the pretext of un-licensing, and said that a hearing session will be held soon to discuss what they called "the demolition of the buildings or the restoration of the place to its previous state." Table (1): Work-stop notices by owner name, No. of family members, structure type, area, construction year, notice number:
No.

Owner name

No. fam.

Mem.

Structure type

Area M2

Construction year

Notice No.

1

Hamza Mahmoud Al-Amour

5

3 storey house

320

2014

2

Fouad Musleh Al-Amour

5

2 storey House

200

2019

3

Rasmi Shehda Al-Amour

5

-1 storey House

 

-1 ready cistern

150 –

 

-100 M3

 

2015

4

Raed Muhammed Al-Amour

15

A grocery store

70

2018

5

Jibreel Shehda Raba'i

10

1 storey house

180

2020

40459

6

Iyad Mosleh Al-Amour

12

1 storey house

120

2020

7

Qusai Khaled Al-Najjar

4

Car wash + 2 mobile rooms

200

2020

Total

56

 

1240M2

+

100M3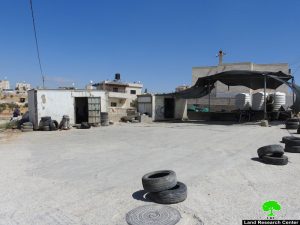 In relevant information, on 7/6/2022, the occupation authorities notified Mr.  Jibrin Muhammad Mahmoud al-Adra to stop work in a stone workshop which is located in the western part of the village under the pretext of un-licensing.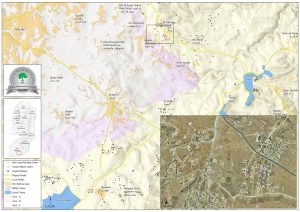 The work-stop notice bears the number of 40456. The threatened stone workshop was built on a 1-dunum piece of land about two years. It contains a tin building with stone saws and electric tools used for cutting and shaping the stones. This workshop is the only income for a family of 8 members, including 5 children under the age of 18. It is, also, a source of livelihood for one employee who supports a family of 4 members, including 2 children.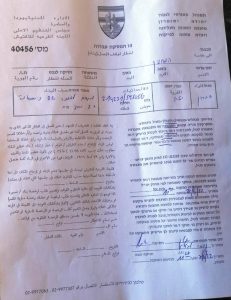 Photo of the work stop notice No. 40456 targeting the stone workshop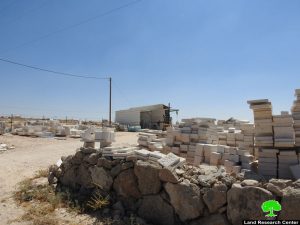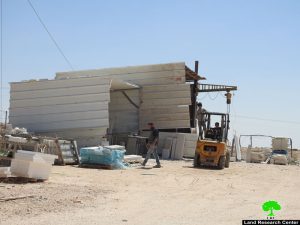 Picture 8+9: The target stone workshop
Prepared by
 The Land Research Center
LRC