Orders to stop work in 12 homes and facilities and a decision to demolish a commercial facility in Deir Ballut village, Salfit Governorate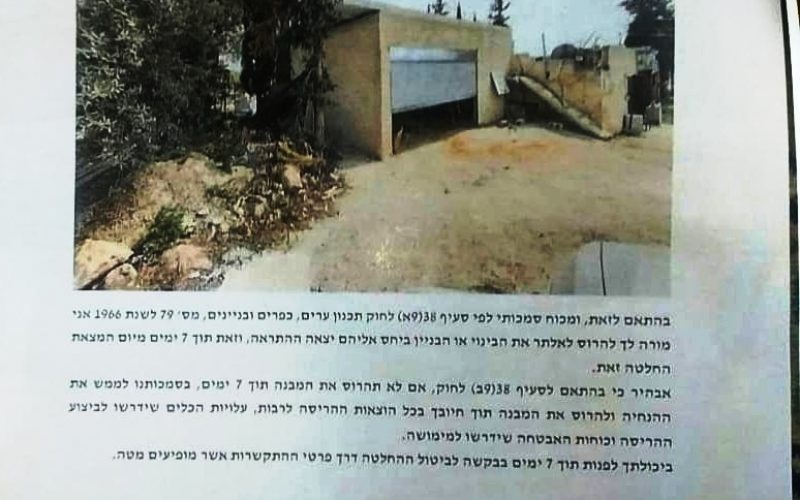 Violation

: orders of halting work and construction.

Location: Deir Ballut village / Salfit governorate.
Date of violation: 28/06/2022.
The aggressor: the so-called civil administration of the occupation.
Affected party: 13 Palestinian families from the village.
Details of the violation:
On Tuesday afternoon, June 28, 2022 AD, the so-called construction inspector of the Israeli Civil Administration targeted 12 residential and agricultural facilities in the villege of Deir Ballut, west of the city of Salfit, by sending orders to stop work and construction on the pretext of not having a license to construct in Area C of the Oslo Accords.
Those notifications were concentrated in the northeastern side of the town, known as the "Al-Marj" area, which became the only outlet for citizens to build in in light of the acceleration of the attacks and the closure of most of the village's lands in favor of settlement expansion.
According to the notifications that were handed over, the occupation has set the date (20/7/2022) as the date for a session of the Construction and Organization Committee to consider the legality of these facilities and houses, as the committee takes the settlement of "Beit El" as its headquarters.
In addition to the foregoing, the occupation notified Ahmed Khalil Abdullah (41 years), from the village, to demolish his commercial facility located at the eastern entrance to the town, under the pretext of non-licensing, the facility is used for commercial purposes. And which was built of bricks and a tin roof.
On 10/5/2022, the affected citizen was handed a demolition order based on the unjust military law No. (1797), which includes the removal of any modern building within a period of (96 hours). However, the court's response came on 06/28/2022 by rejecting the petition and insisting on demolishing, knowing that the facility has been in existence for more than a year and is considered a source of income for the family, which is used as a car wash.
Name of affected citizen

Number of family members

Work stop notification number

The nature of the threatened facility

Area in
m²

Photo

Male

female

Children

Bakriya Youssef Abdel Razek

2

4

1

90

Brick agricultural building with tin roof

32108

Muhammad Adib Mishaal Abdullah

4

5

3

170

One-storey residential building

Aied Ratib Awda Joda

2

1

1

2000

Rehabilitation of an agricultural plot and the construction of retaining walls

Zahi Aref Youssef Joda

4

3

5

150

One-storey house and leveling under construction

Fadi Aref Youssef Joda

4

4

5

10

Brick and concrete agricultural room

Saeb Ali Ahmed Qaraosh

2

3

1

40

Brick building of tin roof

Ubada Suleiman Saleh Mustafa

1

1

0

240

Two storey house ready to move in

Qadan Suleiman Saleh Mustafa

4

2

4

200

Two-storey house under construction

Ahlam Mahmoud Daoud Youssef

2

2

2

120

One floor ready to move house

32102

Majdi Hamdallah Muhammad Tofaha

1

3

2

150

One floor residential house

Mahmoud Tayseer Youssef Abdullah

4

3

5

140

One-storey residential house

Nael Youssef Ahmed Youssef

4

3

1

250

Two-storey residential house and a platform under construction

Ahmed Khalil Ahmed Abdullah

2

3

3

90

Commercial facility is a metal barracks with brick walls

A+B The decision of the Inspection Subcommittee (Beth El) to demolish within 7 days

 

Total

36

37

33

3750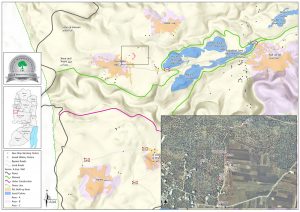 It is noteworthy that the village of Deir Ballut suffers from great distress in the areas allocated for construction, which prompted dozens of families in the town to build on their lands classified as "C" according to the Oslo Accords, which are under full Israeli control, and therefore most homes and facilities in that area are at risk of halting construction and a different past of them is threatened with demolition.
Moreover, the recent decisions to stop construction in the village of Deir Ballut, and according to the records of the Municipal Council, the number of notified houses in the town since 2000 to date has risen to more than 60 facilities between residential, agricultural and industrial, and even water tanks used for agricultural purposes were also not spared from construction halt notices. It should also be noted here that the town's structural plan area is narrow, amounting to 743.5 dunums, out of the town's total land area of 18,000 dunams.
Deir Ballut[1]
24 km west Salfit, Deir Ballut is surrounded by Rafat village (north), The green line occupied territories of 1948 (west), Kafr Ad-Deek village (east), Al-Lubban Al-Gharbi village (south).
Deir Ballut is populated 3,870 people in 2017 census. The town's people are from several families, namely: Tufaha, Khair, Abdullah, Qassim, Qaroush, Mesha'l, Mustafa, Musa and Hadrous.
Deir Ballut has a total area of 11,339 dunums, of which 503 dunums are a built up area.
Deir Ballut is popular with rain-fed agriculture such as (Armenian cucumber, Ladies fingers, garlic and others), in addition to olives and wheat.
Deir Ballut contains a water spring in Wadi Al-Ein area, and the town's people depend on the National Israeli water company, in addition to rain water harvest cisterns for daily use water.
Oslo accords classified the town's lands as the following:
B area: 689 dunums.
C area: 10,710 dunums.
[1] GIS – LRC
Prepared by
 The Land Research Center
LRC