Eviction order for 90 Dunums an At-Tayba village lands in Tarqumiya / Hebron Governorate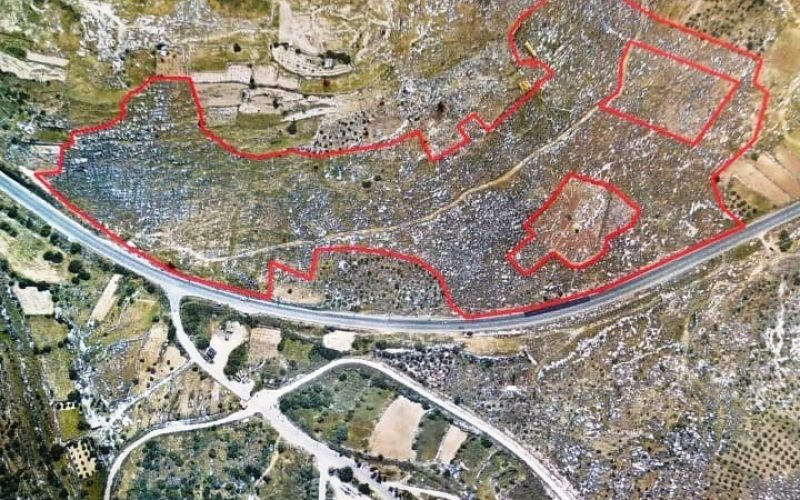 Violation: Eviction Notice for lands and demolition of gazebos.
Date: June 27th 2022.
Location: Khirbet At-Tayba – Tarqumiya / Hebron governorate.
Perpetrators: The Israeli Civil Administration.
Victims: Citizens from Tarqumiya town.
Description:
Thursday, June 23rd 2022, an army force accompanied by the Civil Administration officer raided "Al-Hardash" area in At-Tayba east Tarqumiya , in Hebron governorate, and served a notice of  eviction for a plot with a total area of (90 dunums).
The occupation authorities served a notice of eviction numbered (01102) and attached by an aerial photography for the plot , according to the notice the eviction should take place within 72 hours after issuing the notice , and threatened to take the owner to court in case they did not implement the eviction.
Eviction notice number 01102 and the attached map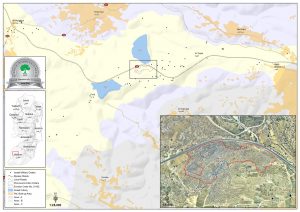 The eviction notice targeted a plot with a total area of (90 dunums) that citizens had rehabilitated and planted with 150 olive saplings , thw lands belong to the targeted families (Fatafta, Al-Marqatan, Dhabayna).
In June 27th 2022 , A massive army force raided At-Tayba village accompanied by vehicles from the Israeli civil administration raided the area, accompanied by workers from the Civil Administration , the occupation forces used electric tools to demolish the workers.
The targeted pergolas were sat to be a resting place for farmers as they work at their lands, the pergolas compose of metal columns , woods and plastic sheets sat on a baton floor , the pergola has a total area of (20-25 m2 ).
The Occupation demolished all pergolas notified by the occupation authorities with eviction in (June 23rd 2022), that means that the threat was implemented after (75 hours) and citizens were forcedly evicted from their lands and pergolas.
The pergolas belong to:
Mohammed Fatafta.
Hamza Fatafta , and his brothers.
Nabeel Fatafta.
Mohammed Fatfta and his brothers.
Nasha'at Fatafta.
Mohammed Ahmed Fatafta.
Abdul Mahdi Fatafta.
Mohammed Kamel Fatafta.
Abdul Min'im Fatafta.
Nassir Al-Marqatan.
At-Tayba in Tarqumiya have been heavily targeted by the Israeli Occupation, this area is a fertile land , but the occupation served notices to every room , pergola , or agricultural structure. The Occupation authorities also implemented several demolition operation against agricultural lands , ravaged vast areas of lands , confiscated construction materials , and issued several eviction notices. While illegal Israeli colonies "Telem" and "Adora" grow everyday on citizens' confiscated land.
Prepared by
 The Land Research Center
LRC